As tears and tributes for the fallen in the 9/11 bombing attacks echoed throughout the city, one life was being remembered uptown, one that had nothing to do with the terror attacks. It was the life of an 18-year-old rising basketball star who was gunned down in a Harlem project one year ago.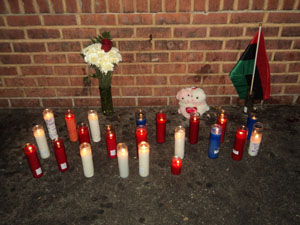 Balloons, cards, and red and white candles illuminate the memory of the fallen athlete outside the building where she was killed. It was just one year ago, in the wee hours the morning, that Tayshana was dancing with her friends in the courtyard of the Grant House Projects. What seemed to be a "fun" night quickly turned tragic when two young men approached the teen with a gun, eventually chasing her up four flights of stairs and shooting her to death.
Her friends and family still wear T-shirts and pictures around their necks with the words "RIP Chicken," Tayshana's official nickname from birth, because her parents thought she looked like a wet duck when she was born but decided the name "Chicken" was better.
A year later the mood at the Grant House Projects is less somber than it was last year. People come and go, adding their own candles and taking pictures with their smartphones.
A stone's throw away at Columbia University, the fall semester had barely begun when news of the high-school basketball phenom's death dominated the headlines. After hearing the news, I knew I had a story and I was eager to piece together the last 24 hours of this young teen's life.
Tayshana Murphy was an 18-year-old with a bright future and a big heart. She had dreams of going to college and playing in the WNBA. Colleges were already beginning to take notice, including Virginia Commonwealth University, which continued to monitor her progress even after she tore her ACL and had to sit out the season.
By her senior year, ESPN's HoopGurlz ranked her 16th in the nation among high-school point guards. She had skills that could intimidate most athletes, according to Ed Grezinsky, the head coach at Murry Bergtraum High School, the school Tayshana had just transferred to, and where she thought she'd get her big break playing for their all-star basketball team.
Off the court, Tayshana was an average student, as described by several of her classmates. Her main focus was basketball and not academics; her older cousin Alysha Green even remembers her saying that she wanted to play with men. "She thought she was too good for the women's league," Alysha said.
But Tayshana was the perennial jokester. When her friends least expected it, she'd crack a silly joke or break out in an outlandish dance. The people around her couldn't help but laugh or join in, even her teachers.
Her humor, charm, and green eyes made her just as popular off the court as she was on it. "When we was playing together, she would bring a lot of girls to the games," a former teammate at Bishop Loughlin, Simone Charles, said.
Tayshana identified as a stud lesbian and wore men's Addidas tracksuits, Burberry shirts, and sagging Guess jeans, exposing her boxers. According to her friends, she felt comfortable wearing baggy pants and loose shirts because they made her feel "superior" and "powerful."
Initially Tayshana's murder was considered a hate crime. The day after her death, derogatory slurs were painted on the stairwell of the fourth floor at 3170 Broadway. Later in the investigation, the hate-crime theory was dropped, and detectives tied the homicide to a dispute between the Grant and Manhattanville Houses that has been in existence for over 30 years.
The neighborhood used to be a nice place to live, longtime resident Anna DaCruz, 33, says. She paints a scene of all the residents outside in the summertime, with music playing and people having fun with each other. But the violence has always been there, something she knew when she first signed her lease. "In Manhattanville, its not about whether you're a boy or girl," she says. "If people have problems with someone, gender doesn't matter. They will hurt you because they think that's what you deserve."
The 26th police precinct is across the street from the Manhattanville Houses. A desk in the corner office belongs to Community Affairs Officer Jason Harper, 38.
Born and raised in Harlem, Officer Harper is familiar with the Grant and Manhattanville feud, which has existed since he was a teenager, and which may have factored into Tayshana's death. "It's about bragging rights," he says, adding that the feud began when youths from both Grant and Manhattanville would hang out and horse around. "When the line was crossed and someone felt disrespected, that's when things got carried away and they did things to humiliate one another," he says.
He describes the early disputes between the two projects as mere hand and cuff incidents. Today, the response has escalated, and young people are resorting to weapons. "Now it becomes much bigger than before, because the younger generation have bad conflict resolution skills," he says. "Instead of talking it out, they want to fight it out, kill it out."
Two days after the murder, police found and arrested two men who were suspects in Tayshana's murder, based on surveillance camera footage and other police evidence. According to court documents, Robert Cartegena, 20, and Tyshawn Brockington, 21, were found huddled in a bedroom closet in Columbia, S.C.
Both were charged with murder in the second degree. Terique Collins, 24, of the Manhattanville Houses, was also arrested a few days later and accused with providing the murder weapon. His charge would be second-degree criminal possession of a gun.
Court documents in the case do not provide a clear-cut reason as to why or how the suspects were involved with Tayshana, and all three pled not guilty.
Tayshana had a serious side to her when she was on the streets. By the time she was 17, she had two arrests and a third-degree assault charge on her juvenile record. "Teenagers get into fights, and a fight is a fight," her father Taylonn Murphy said. "Tayshana was never arrested for a gun, and she was never arrested for a knife." Although Taylonn said he was disappointed in his daughter's arrests, in a place like the Grant Houses, violence is inevitable. "When you come from the projects, people don't want to talk about solutions. They just want to fight you, because that's the only way they think they are understood," he said.
Taylonn remembers one fight where another girl was spreading rumors about Tayshana's girlfriend. "She was very protective of her friends and people she loved, so when it came down to it, she would fight for them or with them," he said. Kellee Thompson admitted to having "jumped" a girl with Tayshana. "I was having problems with this girl, so me and Tay went to fight her," she said. After the fight Kellee was arrested, and Tayshana spent the rest of the night at the 79th precinct, waiting for her to be released. It wasn't until she spent an entire night locked in a cold jail cell that Kellee recognized the caring, loving, and protective side of Tayshana. "The cop told me that she was dozing off and was really tired, but she stayed the whole night, until I got out," she said. "He told me, 'That girl out there really loves you. Stop putting her through this!'"
Kellee and Tayshana had been in a relationship off and on for seven months before Tayshana was murdered. After they first met at a state playoff game against Christ the King High School in the Bronx, the two made it official and began dating. "We were always together. It became a pattern, always seeing each other and spending time together, because we enjoyed one another's company," Kellee said.
Tayshana was also very close with her mother, Tephanie Holston. Her friends often joked that there were two things Murphy couldn't go to bed without: her thumb and her mother. In one of her poems, entitled "Harlem Love," she wrote about her relationship with her family:
"My family is my biggest motivation.
My family is my biggest helping hand.
My family is who I live for, I'll do everything I can."
Almost six months after Tayshana was murdered, family and friends gathered at the State Supreme Court in downtown Manhattan for an evidentiary hearing. The three men accused of murdering Tayshana were escorted into the courtroom and were instructed to sit beside their lawyers. Four police officers stood directly behind the men, making it almost impossible to see their 5'6" and 5'7" frames.
At the end of the hearing, no new evidence was provided. The lawyers for the suspects requested more time to get reports from the medical examiner, and the judge set another hearing for April 19, 2012.
As the men were led out of the courtroom, Murphy's friends and family shifted in their seats and made comments about the ruling. "Don't drop the soap," said one woman in the third row.
"Are you serious? They just gonna get away like that?" another man said as he stood up to leave the room. Taylonn Murphy stood outside the courthouse with a cigarette in hand and a thoughtful look on his face. He was dressed in Tayshana Murphy paraphernalia: a navy blue sweater with a picture of his daughter posing with a basketball; a white T-shirt with the words "Ball in Peace" and an image of Tayshana with a pair of angel wings; and a chain with his daughter's birth and death dates. After speaking with some of Tayshana's friends, Taylonn became visibly distraught over the hearing and said he hasn't given up hope that the justice system will work.
Throughout the year, the tributes never stopped. The 18-year-old's Facebook page has 5,236 friends, many of whom post regularly, with some messages as simple as "I miss you" or "Goodnight Chicken." The case has been adjourned until Sept. 27, and no changes have been made to the original indictment.
One year later, the family and friends of Tayshana Murphy still await justice. They wait and remember quietly. There is no fanfare on the anniversary of her death, no television crews or news reporters, just friends dropping in to say, "We miss you."