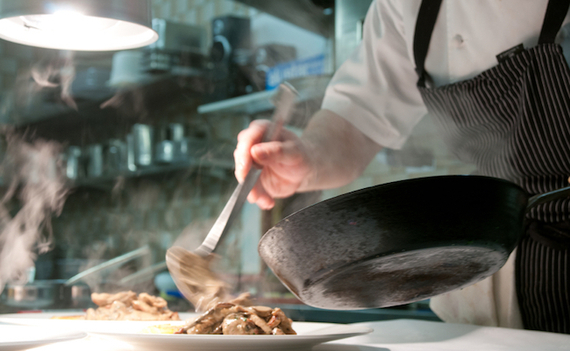 By Steve Nicastro
When it comes to funding restaurants, banks tend to shy away.
"For the first-time restaurateur, or someone who's opening a second or third location, a traditional bank loan is likely not an option," says Andrew Rigie, executive director of the New York City Hospitality Alliance.
But there are still plenty of financing options available for restaurant owners despite lender jitters over the first-year failure rate among eateries.
When exploring funding options, here are five questions to ask yourself:
1. Should I try a merchant cash advance?
You've likely heard of an MCA. Restaurants in particular may qualify for this type of funding easily because they typically generate a high volume of credit card receipts. You get a rapid cash infusion and, in exchange, sacrifice a portion of future credit and debit sales.
It's quick money when you may need it most, but a merchant cash advance comes at a hefty price. The annual percentage rates -- the true cost of a loan including all fees -- range from 70 percent to 350 percent. So exhaust your other options before heading in this direction.
2. Can I get the funds I need with a credit card?
Business credit cards can provide quick, flexible access to funding. They're a revolving line of credit, which means you can use the card and repay the balance as many times as you need to, as long as you don't exceed the card's credit limit and make the required minimum monthly payments, typically 2 percent to 3 percent of the total card balance.
Business credit cards may also offer benefits, including rewards and sign-up bonuses. However, they may come with high interest (your specific rate will depend on your credit score) and numerous fees (such as late-payment fees and annual fees). They're better for short-term purchases and working capital than large investments.
3. Do I only need financing for new equipment?
Equipment financing allows business owners to finance the acquisition of a specific asset or set of assets, says Cory Damm, vice president of LeaseQ, a marketplace for commercial equipment financing. "It gives the non-stellar-credit business owner the opportunity to leverage debt to help grow their business."
For example, a restaurant owner looking to buy a $100,000 commercial oven through equipment financing would use the oven as collateral, which means if the owner fails to make the payments, the lender can sell the oven. Equipment financing can be obtained through banks, credit unions and other financial institutions.
4. Do I need a smaller cash infusion?
If you need to borrow a small amount of money and can pay it off quickly, a short-term business loan may be the best way to go. You can typically borrow from $5,000 to $250,000, with repayment terms ranging from a few months to two years. These loans tend to come with looser qualifications and faster funding but generally cost more than other types of loans.
If you don't qualify for business loans but you have strong personal credit, a personal loan is another option. Prosper, for example, offers personal loans that can be used for business purposes, with the potential benefits of low interest rates and a fast and simple online application. On the downside, failure to repay the loan will damage your personal credit, and because it's technically a personal loan, the interest paid is most likely not tax deductible.
5. Do I need a larger loan (and is my business strong)?
Perhaps you're looking for $250,000 to $500,000 to invest in the expansion of your restaurant. If this is the case, long-term business loans are a better fit. More time to repay means payments are more affordable.
Qualifying may be a bit more difficult, however. Lenders want to see strong annual revenue and cash flow, a certain number of years in operation, and a good personal credit score. You may also have to provide collateral to back the loan. When comparing lenders, restaurant owners should carefully weigh the repayment terms, APR and collateral requirements before making any decisions.
Steve Nicastro is a staff writer at NerdWallet, a personal finance website. Email: Steven.N@nerdwallet.com. Twitter: @StevenNicastro.
To get more information about funding options and compare them for your small business, visit NerdWallet's small-business loans page. For free, personalized answers to questions about financing your business, visit the Small Business section of NerdWallet's Ask an Advisor page.
Photo via iStock