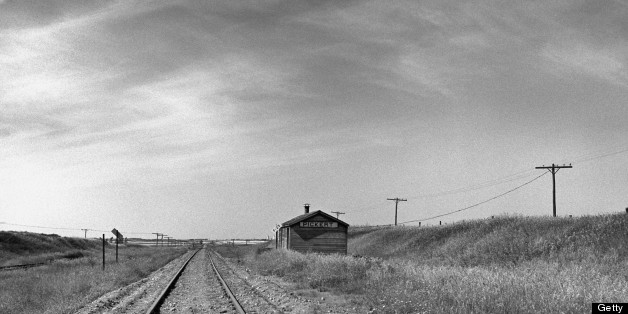 Hulda Kleinschmidt felt the cold November wind filter through the coarse weave of her black sweater as she guided her three children away from the Dakota prairie gravesite. Solemn and tearless, the small group led a procession of friends and neighbors who had come by horse and wagon, or buggy, to pay their last respects to Gustav Kleinschmidt, her mate for 12 years.
The wind poked its icy fingers into her collar, the burgeoning gray clouds descended lower, skimming the surrounding hills. A spiky snowflake stabbed her cheek, feeling like the finger of God.
"You thought you had it all, now you have nothing," a mocking voice spoke within the numb recesses of her mind. The growing child within her womb kicked as if accentuating the voice.
"No!" she almost spoke aloud. "We have to survive, therefore we will." She planted one dusty shoe in front of the other. Each step of the fifteen-minute walk back from the gravesite across the crunchy brown grass to the two-room sod house strengthened her resolve. She straightened her shoulders and imagined herself cloaked in a suit of armor. But it felt like a thin veneer.
Visiting mourners marveled and wondered at her composure as they shared the food and fellowship after the graveside service in this isolated German farming community in North Dakota. Each had brought a covered dish and did the work of preparing the meal while Hulda watched from inside her shell, and waited for them to go home. She would fall apart in privacy.
Yet she had three children to comfort. She was glad the fourth wasn't already born. It would never know it's father's love. But to love and lose, better or worse than to never love and know the loss? Wherever that question came from, it further taxed her overburdened mind, and left her feeling exhausted.
Tired, so tired were her thoughts, that she put the children to bed that night by rote. She didn't remember what questions she answered, whose face she washed. She barely had strength in her aching back to carry her from their dark bedroom where all three, still small enough at ages three, four and seven, slept together in one bed. She pulled the heavy wooden door to a creaking close and opened the folded roll-a-way bed she and Gustave slept on in the kitchen/living room, careful to not scrape the dirt wall and knock more dust loose. She sank onto the sagging mattress without changing into her nightgown, too weary to care.
~~~~~~~~~~~
"Mama, my stomach hurts!" moaned seven-year-old Elizabeth from the bed. "Oh, Lord, mine does too." Hulda hid her own moan, while attempting to comfort her oldest child. Fear struggled to override all of Hulda's control as the contractions intensified and seemed to divide her in two.
Why did babes always come in the middle of the night? Despite her almost prayer of a minute before, she silently ranted against a God who seemed to pile nothing but hardship and tragedy upon her.
It had been three weeks since Gustav's funeral, and snowstorm after snowstorm had isolated them from their neighbors and made it almost impossible for Hulda to go to the dug-out barn--half lumber and half sod--to feed and milk the cow and take care of the horses each day.
Hauling a bucket of hand-pumped water from the well, located between the house and barn, for animals and human consumption was done by walking and resting, walking and resting, and drying the frozen mittens later on the cook stove. Thank heavens Gustav had chopped wood and hauled lignite coal from the mine before he died, even though he must have been in pain a long while before he spoke to her about it. For by the time she knew something was wrong with her mate, he had begun vomiting and turning a coppery yellow color, first his eyes and then his skin. Death had come within weeks.
Several minutes after her cry, Elizabeth was back to sleep. Hulda, still fighting for control, walked stiffly with a rocking motion and pain-filled steps past the bed where her three children lay snuggled in the straw tick Gustav had freshly stuffed before winter set in. After glancing at the pot bellied stove in the bedroom to see it still contained coal, she again closed the heavy wooden door to the bedroom, and sank onto the folding bed by the kitchen table, wondering if and how she would survive, and if her babe who now seemed intent on joining them, would live and thrive.
Her anger at God and life waged battle with the pain to remain foremost in her thoughts. She couldn't move anymore, small whimpers and grunts were beginning to escape through her clenched teeth. She fingered the pile of soft, worn flannel blankets, rags, string and heavy sewing shears by her side to distract her thoughts. Was she capable of birthing her baby by herself? There was no one to send for help. Perhaps she and the child would die and be done with this endless struggle of living. But no, she had three children who needed her. She must show God he couldn't destroy her yet.
A sudden pain grabbed her attention and she screamed. In three minutes time, another scream pushed its way up from her depths and out her mouth. At the same moment the door to the sod hut opened and a man stood as if transfixed in the doorway. The icy wind reached in and snatched her from the contraction.
"Shut the door!" she sniped, forgetting her ways, bereft of all composure. The fact that she never questioned his name spoke of the depth of her pain and fear.
The man tensed, while noting the circumstances causing the screams. He was no stranger to childbirth. He had helped his own wife birth two sons, then lost them all to scarlet fever when the youngest was only two. But the shock of realizing what he saw as he threw open the door kept him there a moment longer.
The lantern flickered as the door shut, and he crossed the small room saying, "Let me help you--I know how."
~~~~~~~~~~~~~~~
When the new little Kleinschmidt girl was wrapped tightly and lying peacefully at her mother's side 30 minutes later, Hulda thought to ask, "Who are you?"
"Hugh Morgan, Ma'am," he answered softly, looking down at the thick, dark, spiky hair on the babe. "I was riding by when I heard your scream. I hope I haven't offended you by all this. I've helped my wife, and, well, seeing there didn't seem to be anyone else around, I plunged right in."
"I'm not offended, I'm grateful." Somehow she took it for granted she could trust this tall, black-haired stranger. His eyes were the kind that seemed to take you in and approve of you. "Why were you riding by in the middle of the night?"
"I'm a preacher, Ma'am, from over by Mayfield. I got word my mother is dying and I wanted to see her first. She lives a four day ride from me and I'm half way there."
A preacher. His mother dying and she had detained him. Despair and weariness weakened her. With eyes closed, she said, "My name is Hulda Kleinschmidt, my husband died three weeks ago leaving me with children ages seven, four and three. I want you to know -- I believe, but I have nothing to do with God anymore. Life is too hard and I asked for none of this. We will lose our homestead if I can't work it next spring, we may not have enough food to make it through the winter. God has not helped me in the least. I will not honor a God like that. Thank you for your help. Please go to your mother."
Having voiced the bitterness in her heart, she fell asleep while Hugh studied her face, trying to determine how well her words matched her inner convictions. He knew the depths of such despair; he knew the healing that could come.
She looked so angelic, sleeping with the babe in her arms. Her hair like dark, rich coffee, her lashes black fringes on her cheeks. She was a tall, large-boned woman he could see, put together in a comely manner, capable of work or loving. A strong spirit, he thought. A capable child of God.

Not knowing how to leave with her asleep, and concerned something might still go wrong with her or the babe, he went outside to stable his horse in the small barn with her two draft horses. He noticed the cow, found a wooden milk bucket hanging on the barn wall and milked her, it was too early, but Mrs. Kleinschmidt would not be up to it in the morning. He carried water for the animals and returned to the sod house. After straining the milk through the strainer that sat on the wooden shelf, he poured it into a small crock jar and set it in the icebox. Then he carefully sank his large frame into the wooden rocker, and watched, and prayed.
~~~~~~~~~~~~~~~~~
Filtered sunlight through one of the two panes of dusty glass in the hut awakened Hulda some scant three hours later. She realized the baby was nuzzling and immediately positioned herself so she could nurse her and yet be shielded from the man asleep in the old rocker. Still, she had shared the birth of her child with him last night, a much more intimate experience.
He looked kind and vulnerable in sleep. This eased her memories some.
The baby lost her grip and gave a short cry before Hulda filled her mouth with the nipple again. Hugh opened his eyes and they silently contemplated each other. Something like kinship seemed to pass between them.
"Is there a neighbor lady I can fetch for you, Ma'am?"
"Of course," she managed although her voice seemed to come from a distance. "The baby is two weeks early you see, or she would have been here...Mrs. Miller, she lives on the next homestead, a mile west of here."
"I'll see to it right away, Ma'am."
"Wouldn't you like some breakfast first? I could make you some," and she made as if to get up, still cuddling the babe against her breast.
"No!" he commanded. Then more gently, "No, I'll get us both some, and then I'll get your Mrs. Miller."
He made the oatmeal, restocked the cook stove, and brought in a fresh pail of water from the well before he left. She heard the departing staccato hoof beats of his horse on the frozen, dry ground, and felt bereft.
~~~~~~~~~~~~~~~~~~
The winter turned milder than most after little Augusta's birth -- the snow squalls never longer than a day, the cold snaps below zero no longer than two days. Mild by the usual Dakota standards.
Mrs. Miller stayed three days, then went home to her own family of five. With the help of neighbors stopping by every day or two for two weeks after Mrs. Miller left, Hulda and her young family survived. She even managed to bundle the baby in March and take her children sledding on the homemade sled Gustav had fashioned. The hills and ravines were clean and white. The deer they saw near some brush at the bottom of the hill looked serene; it renewed her spirit somewhat, but not her faith in a loving God.
By the end of April, Hulda had worked out an arrangement with Mr. Miller to work her 60 acre field in return for use of her pasture. Luckily Gustav had managed a fence around 80 acres of the 160-acre homestead.
Elizabeth, who had turned eight in March, became her mainstay, helping manage the younger children--Donald, age four, and Grace, age three--while Hulda spaded and planted a garden and milked the cow, mostly with little "Gussie" tied in a flour sack sling on her back. She sold the cream, and took in sewing from her neighbors, enabling her to buy other necessary food supplies. She spent her evenings sewing clothes for the four children from flour and oatmeal sacks. And ached through the long, lonely nights. Her mantra -- I will make it on my own -- didn't seem to have much power.
She often thought of the gentle hands of Hugh Morgan, and wondered how it happened that he heard her cry that night. She wondered if his mother had indeed died, and he was lonely, as he had told her his wife and children were also dead. She wished...no, it was better to think about facts and survival, it was enough that somehow, he had been there for her when she needed him. But she was beginning to ask herself the why and how of it.
~~~~~~~~~~~~~~~~~~~~~
In June, a warm and gentle rain fell for two days. On the third morning as Hulda opened the hut door to freshly washed spring air and sharp, bright sunshine, she suddenly felt a weight lift from her heart. For the first time in seven months, a small green sprig of hope lay in her chest. A feeling of expectancy took root.
She seated herself with a piece of cornbread at the kitchen table, enjoying a respite before the children should awaken, and almost against her will, reached for the family Bible on the kitchen shelf. She opened it at random, and as she glanced at the page, a verse seemed to command her attention. "For he doth not afflict willingly nor grieve the children of men." She was in the book of Lamentations, and wondered if she should be done with her lamenting, or her mourning. Society decreed a year of it.
She turned to a place she had marked the last time she had touched her Bible, before Gustav's death: Romans, Chapter 5, verse 3, and began reading -- And not only so, but we glory in tribulations also: knowing that tribulation worketh patience; 4: And patience, experience; and experience, hope: 5: And hope maketh not ashamed; because the love of God is shed abroad in our hearts by the Holy Ghost which is given unto us.
She had forgotten how much she'd clung to that passage before Gustav's death. She had spoken to Gustav about it, how hopeless it felt to be fraught with constant worry that they would not make it in this foreign land of black dirt and precarious weather. And he had replied, "Now Hulda, read that passage again. I think it means that hope will not disappoint us, so we needn't be ashamed of the hope we have, for it comes from God."
The increasingly loud sound of hoof beats presently drew her attention to the open doorway. Yet she sat, and seemed not startled when a man's shape blocked the sunlight.
"You came back." A butterfly seemed to flutter near her heart.
Hugh Morgan looked at the smiling face and slightly tinted cheeks of the peaceful-looking woman at the table. His heart did a jig, but he kept his voice level as he replied, "Yes, I could not get you from my mind."
"Because I spoke against God?"
"That and more." He watched her eyes closely.
"I suddenly realized, because I close the curtains, the sun does not stop shining."
Hugh closed his eyes and murmured, "Thank you, Lord."
They stared at each other, a silent communication seeming to pass between them. "I will leave," he said, not trusting himself if he stayed. "But, may I come back in the fall?"
Suddenly, feeling just a bit giddy, she replied, "I think I'd like that."
Her year of mourning would be almost over then. The Bible felt warm under her hands.