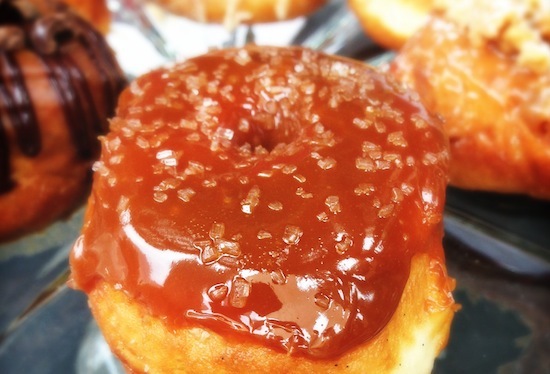 We live in a world filled with cronuts, doughnut ice cream sandwiches, and coffee and doughnut milkshakes. Now the doughnut craze is getting even more fancy schmancy.
Qualia Coffee is hosting District Doughnut for a one-day pop-up coffee and doughnuts pairing event. The shop will offer eight different single origin coffees roasted on site, including those from Sidamo, Sumatra, Haiti, Nicaragua, India, and Ethiopia. These will be specifically paired up with one or more of the half dozen doughnuts on hand: lemon meringue, brown butter, dulce de leche, chocolate orange, mocha crunch, and caramel apple streusel.
"When I'm matching them up, I look for an interplay of flavors," says Qualia's owner and roaster Joel Finkelstein. "How do they complement each other?"
At a preview tasting, the creamy, caramelly Indian roast paired well with the apple streusel. Alternately, the strong fruity notes and citrus tones in the Sumatran roast were enhanced by a bite of the lemon meringue.
Sitting around talking about the tasting notes in coffee and doughnuts might sound somewhat silly, but it works. "There's an element of ridiculousness in everything that's great," says Finkelstein.
The pairing is at Qualia Coffee, 3917 Georgia Ave., NW on Sunday, August 18 from 8 a.m. until the doughnuts are depleted.