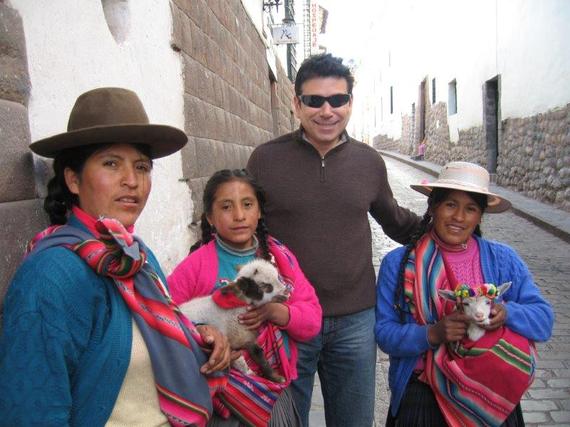 Having started my career in the travel industry, right after I returned from a yearlong backpacking excursion, I learned at a young age how to live with locals and experience familiarity wherever I traveled.
Over the past few years there has been a shift in travel values. Now, more than ever, travelers are seeking out original experiences to get immersed into a culture by living like and with the local people. Traveling to a new destination is exhilarating, staying with someone who knows the destination opens many doors. You even end up taking the road less traveled and find yourself off the beaten path, visiting more than just the typical travel sites of your new turf.
We should all want to live like a local, learning about other cultures from the people who live in the region. To be chameleon-like blending into the ingrained population. Travelers seek that unique and authentic experience wherever they may roam. Experiential travel is all the rage. Life should not be about wealth, but about the experiences one gathers in a lifetime.
With the advent of social media and websites catering to in-country experiences, never before has it been so easy to seek out what it feels like to live day to day in a new destination. Websites such as toursbylocals.com and homeexchange.com give one a local's experience. Who better to guide you than someone born and raised there? Sure, you want to see the Eiffel Tower, but it's that little hangout in St. Michel that you might have never found that molds your perspective on a new destination. Having an expert in the region to guide you opens your mind to a way of thinking that you can then experience by yourself. You live day to day as if this new harbor is your home.
Many times you will discover places that you would miss as a tourist or traveler on your own. Travelers want to eat and drink where the natives go, not follow the tourist trail. With Home Exchange, I can trade my beach home in Puerto Vallarta for, perhaps, someone's home in the south of France.
Airbnb.com also has many unique experiences for a once-in-a-lifetime stay, living local. Residing out of an apartment or a home, not only will be less expensive, but will be a more rewarding experience than your average hotel stay.
Every November I travel to London for the world's second largest travel tradeshow, World Travel Market at London's Excel. Two years ago, I had one of my most enjoyable accommodations ever. I stayed above a pub called the George & Dragon, in the working class neighborhood of Acton. Not only did I sleep in a room above the pub, but I was able to mingle with the local bar patrons. I'll never forget the experience of coming home from a long day of networking, only to actually pour my own pint of Guinness.
Last November, my wife and I were able to get acquainted with Airbnb.com. Our first experience would be in London's Mayfair district. The London borough of Westminster, near Hyde Park, is one of my favorite areas of London, and also one of London's priciest. Not only did we stay in an amazing, affordable apartment, but our host, who was not present at the time, just happened to be connected to discount theater tickets and even got us into a sold-out show. Later in our stay we were invited for tea at a neighbor's home. This truly enhanced our stay, and enriching experiences are what change lives.
There is something local out there for everyone. There are historical societies who plan unique stays. Womenwelcomewomen.org deals solely with female travelers. One can even get local by sleeping on someone's couch. The web site, couchsurfing.com can make that happen for you. You will not only save money, but you make new friends in your current destination that will last a lifetime. You can't get a more local feel than sharing one's living quarters in your new stomping ground.
Accommodations can vary from the aforementioned stay on a sofa or spare room to more exotic locales such as lighthouses, universities, wineries, monasteries, churches, even small islands. In Costa Rica one can stay in a converted 727 airplane surrounded by thick jungle, overlooking the Pacific.
Another way to experience local culture is through volunteer tourism. The desire to give back to a community is something that is engrained in all of us. Working in a village in Africa, growing organic food in Guatemala, picking tea leaves in Sri Lanka, helping build houses in a Peruvian village, building schools in Bangladesh, assisting in marine conservation while on holiday in Thailand. Take your pick, learning how to be sustainable in the world in which we live in are all possible experiences for you. Globalvolunteers.org and earthwatch.org can assist in reaching your goal in helping others on your travels.
Supporting a cause is an excellent way to go local. Recently, many have taken up the cause to save sea turtles from poaching and replenishing the amount these beautiful reptiles. The volunteer site parisminaturtles.org allows you to make a difference in Costa Rica, and to protect the Leatherbacks and other species of sea turtles. Through such activism, poaching on Costa Rica's, Parismina Beach has decreased from 98 percent to 38% percent. Perhaps there is no greater satisfaction than protecting the flora and fauna of our planet.
Helping others is not only a rewarding way to travel, but the memories you will bring home will last a lifetime. Life is about experiences, and what better travel experience is there than knowing you might have helped change a few lives yourself on your trip? What greater satisfaction is there than knowing that your tourism dollars went directly to benefit a local community? Giving something back to the world can be highly rewarding and a life changing experience.
So, on your next journey, ditch the idea of staying in an all-inclusive or high rise hotel. Make a positive mark on our planet. Become a better traveler. Go and find an authentic, original experience and "go local."