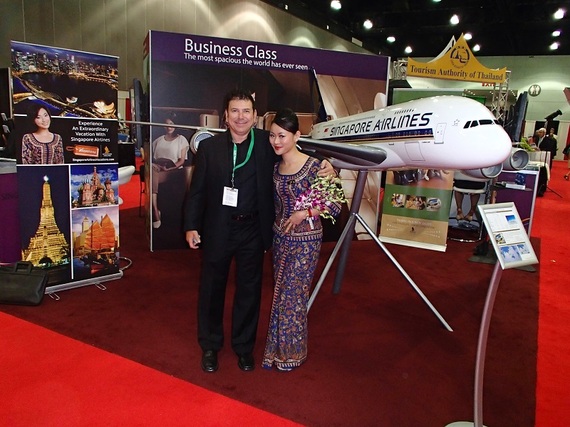 The mantra of anyone who has had a long career in the travel industry is "once you start working in the field of travel, you never leave." I can definitely attest to this. Some people were just born to be working in the business of travel, and after years of soul searching, I can't deny that I'm one of those people.
I spent my formative years traveling from my home in San Francisco to my mother country -- Greece. Because of this, I was infected with the travel bug at an early age. I was fortunate to have parents who viewed travel, or at least traveling to Greece, to be just as important as my schooling. Most Americans have a lineage that stems from somewhere outside of American borders. We should be proud of our heritage. And as any traveler knows, there is truly no greater education than travel.
I attended a California State University for college. Chico State University was famous for being America's number one party school. After graduating with a degree in history (and, to keep my parents happy, a minor in business administration), I had no idea what I would do. I miraculously completed college in four years. But honestly, I had no idea what I would do with my life. I lived at home doing odd jobs and contemplating what was next.
Living in my parents' basement allowed me the freedom to not have to pay rent. Being of Greek descent, I could have lived in my parents' home forever and, at least in their minds, it would have been perfectly acceptable. My main source of income came from selling beer and souvenirs at Candlestick Park in San Francisco -- home of the Giants and the 49ers. What better way to watch sporting events and concerts for free? With few expenses (the exceptions being my car, gas, eating out, and beer) I was able to save a small fortune while living at home.
During my 24th year I set off on one of my many trips back to the motherland. How better to escape from the reality of finding a job than by delving back into my hedonistic ways and hopping the Greek islands? I was an "adult" now that my education was complete, and I knew this lifestyle of decadence could not continue too much longer.
This memorable trip back to the motherland proved to be a life changing experience. I had planned on spending the summer and fall in Greece, and then to come back to San Francisco and wing it from there.
Life can truly change in a split second. For me, one of these seconds happened on the Greek island of Ios. There I met Sven and Maria from Sweden, and during this chance encounter over a few beers and shots of ouzo my life changed forever. While drinking me under the table, these wacky, zany Swedes repeatedly brought up an airline ticket from Biman Bangladesh Airlines that they had purchased in Athens for $280.00. At 24 years old, I hardly knew where Bangladesh was. I had certainly never considered traveling to what I would later learn is one of the poorest nations in the world.
After a few more rounds of ouzo and even more prodding from my Scandinavian kindred spirits, I decided to call my parents and give them some scintillating news from their prodigal son. "Mom, Dad, I won't be back for a while. I'm flying from Athens to Dhaka, then going overland to Kathmandu, then up to Kashmir to live in a house boat. Then I'm traveling all throughout India, making my way back to Kathmandu, flying to Burma, and then flying to Bangkok, all on $2,800.00 of airfare." I have to admit that I expected my parents to be less than overjoyed, but somehow after the initial shock they were ok with it. "Just be safe," my Greek father said to me. After all, my dad had left Greece seeking a better life in the new world, and thankfully he ended up in San Francisco. It didn't hurt my case that I had no job prospects back home.
After flying into Bangkok, the wonder of travel had me in its grips, and there was no turning back. I traveled overland to Singapore, flew to Jakarta, took a bus and a ferry to Bali, flew to Darwin, drove to Sydney, flew to Christchurch, hitchhiked to Auckland, flew to Tahiti, flew to Los Angeles, and finally returned home to my native San Francisco. I had absolutely no clue what to do with my life, but I had an amazing trip under my belt.
Upon my return to reality, my parents dropped me a series of hints that I had long known were coming:
"Your sister is a school teacher. She'll receive a pension when she retires."
"You should join the teamsters union or get a job with the city."
"We have connections that can help you." Yes, my Godfather was the ex-mayor of San Francisco.
I decided to prolong the inevitable. With baseball season approaching, I headed back to Candlestick Park for another part time job hocking beer and merchandise at sporting events and concerts. Stability was the last thing that I wanted.
One night I was playing the board game "Risk" with friends. As I slowly conquered the world it dawned on me. I had a degree in history, a minor in marketing, and I had just traveled the world for 13 months purchasing airfars and making friends with travel agents throughout the world. A light bulb went on. "What do I like? I like travel. What about marketing travel?"
Why not attempt to sell travel? After all, I had now traveled through some of the greatest cities and countries in the world: Athens, Bangkok and Sydney. How hard could it be to sell travel? I took an internship at a small Greek-centric travel agency and attempted to learn the business. I have to admit that I did not initially win my new part-time employers over. The Greek owners of this travel agency clearly did not need me, but were doing my father a favor by allowing me to spend a few hours with them each day. At first, the mere thought of a computer reservation system frightened me. But I forged through, and eventually I started to learn the ins and outs of running a travel agency.
Shortly after starting at the small travel agency, I left to work with a few buddies running another small travel agency in San Francisco's Haight-Ashbury. We worked out of an apartment, and I think that we smoked more pot than we sold airline tickets, but this was another learning experience that changed my life. I'll never forget my days on Haight Street.
On my 27th birthday, I borrowed $15,000 from my dear old dad and started my first travel company. Together, my Dutch partner and I started what would be the first travel agency in the United States specializing in discount, around-the-world airfares.
My venture into entrepreneurship started off as a disaster. I often felt that I was in way over my head. Paying rent, advertising and running my own business proved to be daunting tasks. Many times my partner and I wondered if we had chosen the right path. But though there were many tough times, I could always see that there was light at the end of the tunnel; the tough times only made me stronger, and I soon knew that I had made the right career choice.
Now, as I write about my travels while making new friends, staying in some of the finest hotels in the world, and working with a travel start up, I could not think of a better field to work in.
If anyone had told me that I would carve out such a successful life from working in the travel industry, much less starting and selling travel companies, I would have thought they were nuts. How was I to know that I would have a lifelong career in this crazy industry? The wealth of experiences, friends, and resources that I have today came from a desire to see the world, and then to help others save money on their travels. And like many in the travel industry, I now know that I'll never find this kind of satisfaction working anywhere else.
What a long and strange trip it's been.