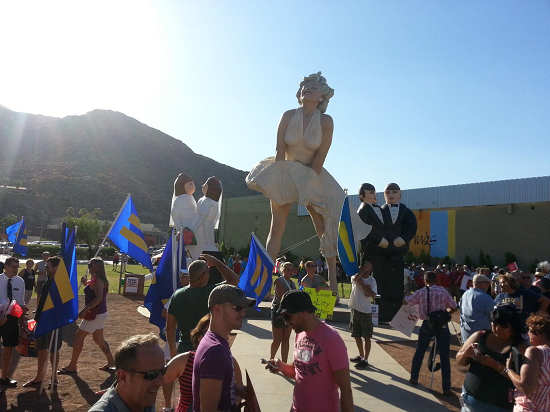 I snapped this photo at about 5:45 p.m. on June 26, 2013, in Palm Springs, Calif., before the Day of Decision Rally crowd swelled to close to 1,000 or more.
As Equality California reported on their website as part of helping to organize Day of Decision rallies throughout the state:
A number of LGBT and allied groups, grassroots leaders and families organized events all over the country including right outside the Supreme Court. Together we remembered how far we have come, and look forward to that moment when every American can marry the person that they love.
In the world premiere of PalmSpringsNow! on The SnowbizNow Entertainment Network, I bring you 100 percent of the speeches delivered in Palm Springs, Calif., on this historic day.
Listen to this eipsode on the BlogTalkRadio Network.
Download SnowbizNow podcasts for free from iTunes.
SnowbizNow can be found on Facebook at facebook.com/snowbiznow.