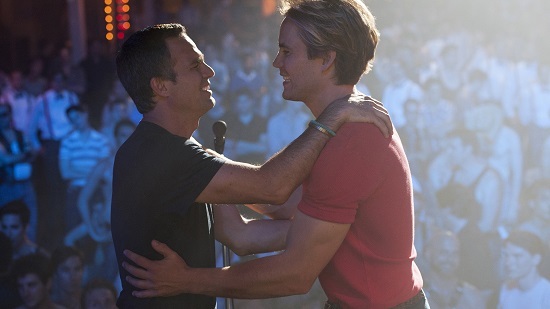 An official production still from HBO's The Normal Heart
As the world gears up for HBO's The Normal Heart, I present a recent episode of SnowbizNow in which standout films in 30 years of AIDS in cinema are honored.
Just as the entertainment industry often recognizes ensemble casts, plays, and movies that are, collectively, greater than the sum of any individual performance, Desert AIDS Project honored a few remarkable films - and some fabulous individuals - at the February 8th, 2014, 20th Annual Steve Chase Humanitarian Awards, including And the Band Played On, Boys on the Side, Philadelphia, and How to Survive a Plague.
LISTEN:
Online Movies Radio at Blog Talk Radio with
SnowbizNow
on BlogTalkRadio
Listen to this episode on the BlogTalkRadio Network.
Watch the HBO Trailer for The Normal Heart
Download SnowbizNow podcasts for free from iTunes.
Join the new Nicholas Snow Live Facebook Group here.