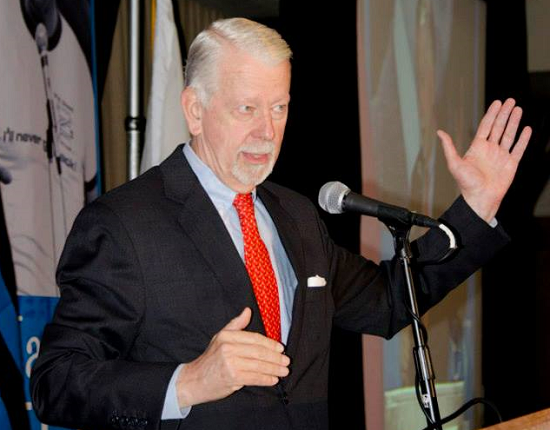 Retired Ninth Circuit Court Judge Vaughn R. Walker
I was honored to be in attendance at the Harvey Milk Diversity Breakfast on May 23, 2013, in Palm Springs, Calif., at which retired Ninth Circuit Court Judge Vaughn R. Walker gave the keynote address. I bring you the speech in its entirety, as featured on the SnowbizNow radio program.
LISTEN:
More on Judge Walker from Palm Springs Pride:
Judge Walker served as a district judge of the United States District Court for the Northern District of California from 1990 to 2011. He graduated from the University of Michigan (1966) and Stanford Law School (1970). After clerking for Judge Robert J Kelleher of the United States District Court for the Central District of California in Los Angeles (1971-72), he practiced in San Francisco at Pillsbury, Madison & Sutro, now Pillsbury Winthrop Shaw Pittman.

Judge Walker was originally nominated to the bench by President Reagan in 1987; re-nominated in 1989 by President George H W Bush and confirmed by the United States Senate on November 21, 1989, on unanimous consent; he received his commission on November 27, 1989.

In 2010, Judge Walker began trying Perry v Schwarzenegger, a federal-constitutional challenge to California Proposition 8, a voter initiative constitutional amendment that eliminated the right of same sex couples to marry. On August 4, 2010, Judge Walker ruled that Proposition 8 was unconstitutional "under both the Due Process and Equal Protection Clauses" of the United States Constitution and prohibited its enforcement. That decision was affirmed by the United States Court of Appeals for the Ninth Circuit on February 12, 2012, and was recently reviewed by the United States Supreme Court with a decision expected shortly.

Judge Walker retired from the bench at the end of February 2011 and established a mediation-arbitration practice in San Francisco to which he now devotes most of his time.
Among the sponsors of the event were Hilton Palm Springs, Bud Light, The Standard Magazine Palm Springs, Desert Daily Guide Media Group, CCBC Resort, Desert AIDS Project, Emerald Kingdom, Equality California, Greater Palm Springs Pride, Human Rights Campaign, Hunters Palm Springs, The LGBT Center of the Desert, and Bradley White.
Listen to this interview on the BlogTalkRadio Network.
To learn more about Palm Springs Pride, visit PSPride.org.
Download SnowbizNow podcasts for free from iTunes.
SnowbizNow can be found on Facebook at facebook.com/snowbiznow.