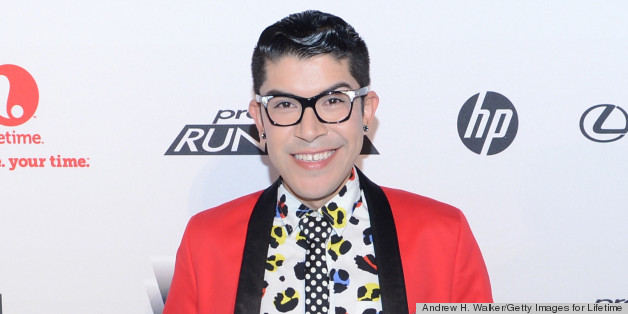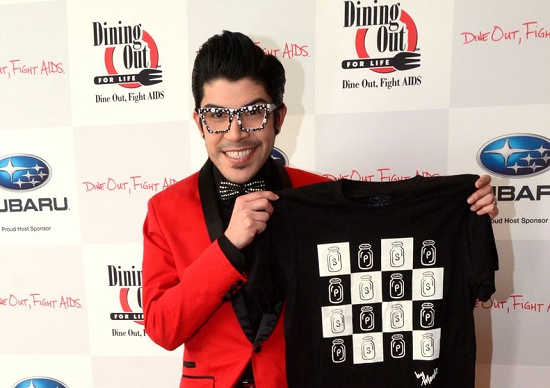 Outrageously successful, openly gay, openly HIV-positive Project Runway designer Mondo Guerra shows off his custom design for the official 2013 Dining Out for Life T-shirt.
In this episode of SnowbizNow, Mondo Guerra is close to tears as he and others share that on Thursday, April 25, 2013, an estimated 275,000 people will dine out in 60 cities throughout the U.S. and Canada to fight AIDS. Some 3,000 restaurants are participating by donating a generous percentage of proceeds from the day to AIDS service organizations. Dining Out for Life, hosted by Subaru, is expected to raise over $4 million internationally, and money raised in participating cities stays in each city.
LISTEN:
In addition to the generous support of host sponsor Subaru of America, Dining Out For Life® benefits from partnerships with Open Table and several celebrity spokespersons:

Fashion designer Mondo Guerra, who disclosed being HIV-positive on Project Runway is delighted to join Dining Out for Life this year. Guerra serves as an international advocate for HIV awareness and education through several global organizations. "I am a creature of expression through fashion and through my advocacy work. Dining Out for Life is our opportunity to celebrate friends, food, and being truly fabulous in helping others."
Ted Allen, host of Food Network's "Chopped" has been spokesperson since 2008. "Dining Out For Life® is a win-win-win situation. For the price of a meal, you can help in the fight against AIDS by supporting a local HIV /AIDS organization, try a new local restaurant and feel great while enjoying a meal with friends!"'
Pam Grier, TV and film actor joined as spokesperson in 2010: "There is a resurgence of HIV among youth, gay men, women and ethnic minorities due to lack of education and the misperception that the epidemic is over and curable. Awareness and funds are declining -- but you can help. Dine out for the most satisfying meal you'll have all year."
Daisy Martinez of Food Network's ¡Viva Daisy! appears in the Public Service Announcement for the event: "I support Dining Out for Life® and I really think everyone should support it. It's a delicious way to help others!"
Denver designer Mondo Guerra first endeared himself to an international audience in 2010 on Lifetime's Project Runway season 8. His innovative style and bold designs have captured the imagination of the fashion world, while his courageous story has inspired global support surrounding his HIV/AIDS activism.

Mondo returned to television in January 2012 on the debut season of Project Runway All Stars as one of 13 Runway veterans competing to prove they still have what it takes to rock the runway. In March 2012, Mondo emerged victorious from All Stars, claiming one of the largest prize packages in Runway history -- which includes an exclusive collection at Neiman Marcus available in 2013.

Mondo began his incredible journey in the fashion industry as a teenager, constructing a pair of green, faux-fur pants as his first garment. But the self-taught artist quickly moved beyond his humble beginnings. As his eclectic career developed, he secured positions such as a milliner's apprentice, then a designer for a NYC junior wear company, and eventually a costume designer.

In addition to his remarkable success on Project Runway, audiences rallied in support of Mondo following the emotional disclosure of his HIV-positive status on the show. Since his courageous confession, Mondo has become vigorous advocate for HIV/AIDS awareness. Currently, Mondo has partnered with Merck for an upcoming HIV and AIDS education campaign which underscores the importance for people living with HIV to talk with their doctor about important goals of treatment.

SEE EYEWEAR and Mondo have collaborated to offer an exclusive collection at their optical boutiques available nationwide in 2013. Mondo resides in Denver where he continues to develop his brand and business.
Mondo became a spokesperson for Dining Out for Life International (hosted by Subaru), an international fundraiser for HIV/AIDS service organizations, in 2013.
Mondo Guerra speaks about fighting HIV/AIDS:
Listen to Mondo Guerra on SnowbizNow!
Download SnowbizNow podcasts for free from iTunes.
SnowbizNow can be found on Facebook at facebook.com/snowbiznow.