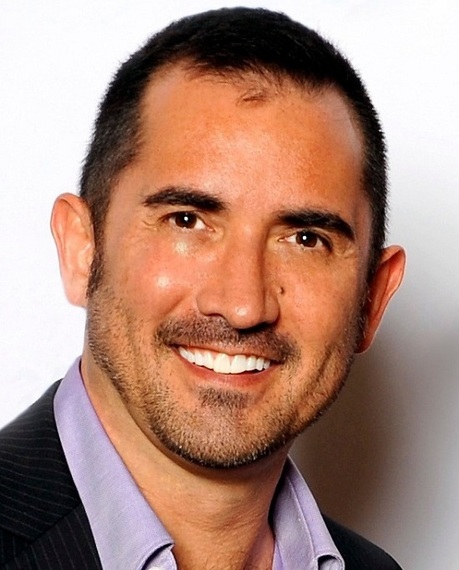 Mike Thompson, Executive Director of The LGBT Community Center of the Desert in Palm Springs, California
In recent months, for a variety of media outlets, including GayDesertGuide.com, I've been thrilled to interview people about why they love my hometown of Palm Springs, California, hence the headline, "P.S., I Love You Because..."
Mike Thompson joined the staff of The LGBT Community Center of the Desert as Executive Director in June 2014 with more than 18 years of nonprofit leadership experience. A graduate of the University of Oklahoma with a degree in business administration, he previously served as COO and Acting President of GLAAD and Executive Director of Equality Utah. In addition, Thompson worked with the Gill Foundation and Gill Action to form One Colorado and has worked extensively as a leadership and organizational development consultant. Mike continues to work with CenterLink, the network of LGBT community centers across the nation, to develop a mission-focused governance curriculum for boards of directors. Mike also wrote and published the inspirational Lessons From Gordo the Dog. Mike, Gordo and Boo Boo the Cat live in Palm Springs.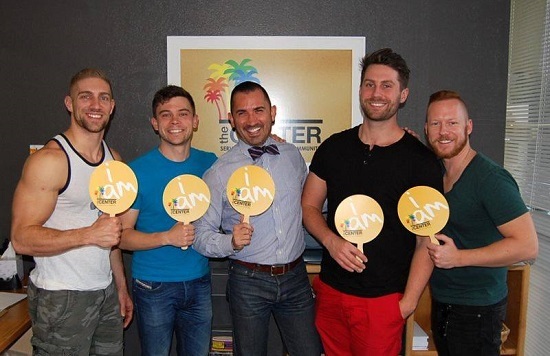 Mike strikes a pose with the men of Well-Strung at The Center on Nov. 6. They're performing at Center Stage along with Kate Clinton Nov. 7.
Mike says, "P.S., I Love You Because...":
...you take my breath away. Whether it's your early-morning sunrises or midnight skies, I often find myself stopped in my own tracks, standing in awe of the beauty around me.

...you gather people. Whether people come here for a weekend, for a season or for a new life, you create a wonderful space for people to gather and to do life together.

...you're just the right size. You make it easy for me to get from Point A to Point B, leaving me plenty of time to enjoy all you have to offer.

...you're a place for celebrations as well as a place that celebrates. During any given week, one can find something being celebrated here.

...of the vibrancy I experience here. There's something magical happening in Palm Springs. While I can't quite articulate it, I can certainly feel it -- and I love it!
Palm Springs loves you too, Mike, and we're honored and thrilled at the vision and leadership you bring to our community. And it doesn't hurt that you're one handsome man!
Download SnowbizNow podcasts for free from iTunes.