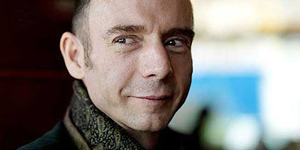 Timothy Ray Brown is the first person in the world to have been cured of HIV/AIDS (although there are preliminary reports of two others) as the result of a series of medical processes that began in 2007, which had about a 1 in 10 million chance of success. Because he chose to remain anonymous, Timothy first became known worldwide as "the Berlin Patient" when his case was published in the New England Journal of Medicine in 2009.
In November 2012 Timothy Ray Brown participated in a series of meetings and speeches in Southern California, to share his story, and to promote the Timothy Ray Brown Foundation, dedicated to making sure that he does not remain the only member of the exclusive club for those cured of HIV/AIDS.
This episode of SnowbizNow includes a formal speech made by Timothy at the monthly Positive Life Series in Palm Springs; a one-on-one interview between me and Timothy; highlights of a luncheon that took place at the Desert AIDS Project; my own testimonial as a person living with HIV; and a medical lecture by an HIV cure researcher from the City of Hope Hospital.
LISTEN:
Listen to the full show here.