It is always easy to find examples that reinforce stereotypes, examples that are the refuge of the lazy journalist and the grist of sensationalist junk media. Reality is often far richer and much more difficult to capture.
University of Southern California students and spring break have stereotypical incarnations as bacchanalia at places like Cabo San Lucas, but this spring break I had the pleasure of sharing a day with a group of USC students who were spending their week volunteering for the National Park Service in Death Valley. I met them on their "day off," after they'd done several days of wilderness restoration in one of the remote corners of the Park -- Eureka Dunes. For some of the students, this was the first time they had ever seen the Milky Way, let alone camped out many miles from even the smallest of human settlements.
Death Valley is stereotyped by motifs of death and the Devil. It is one of the driest places in North America and the landscape is apparently stark and uncompromising. Unlike most valleys, it is not actually a river valley but part of the basin and range formation created by the stretching of the Earth's crust.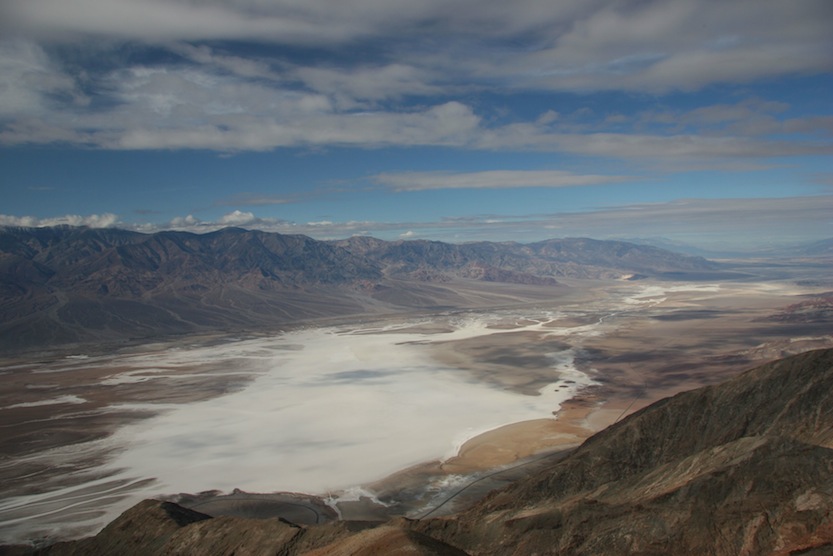 Devilish stereotypes aside, it is also a very beautiful, fragile and diverse ecosystem where signs of life stand out because of the extreme geological backdrop. In spite of its dryness, there are signs everywhere of water flow spanning epic time and distance: The vast salt pans are the residue of ancient evaporated lakes. Alluvial fans hundreds-to-thousands of feet deep line both sides of the valley, showing the incredible erosive power of water flow.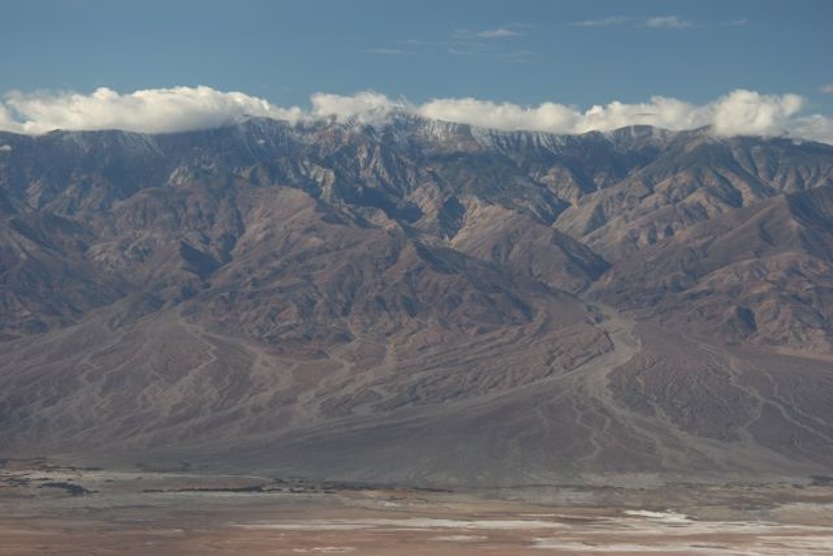 There are fossil lakes and prehistoric sea beds, rare fossil corals, sponges and even rarer 3 million-year-old tracks of horses, camels and wading birds. Small, fragile oases and seeps marked by bursts of vegetation dot the valley floor. At the top of every alluvial fan is a canyon carved by torrents of water and each canyon has a very different personality.
The USC students had spent several days at the Eureka Dunes and I wanted to help break the stereotypical perception of Death Valley as a waterless, diabolical wasteland.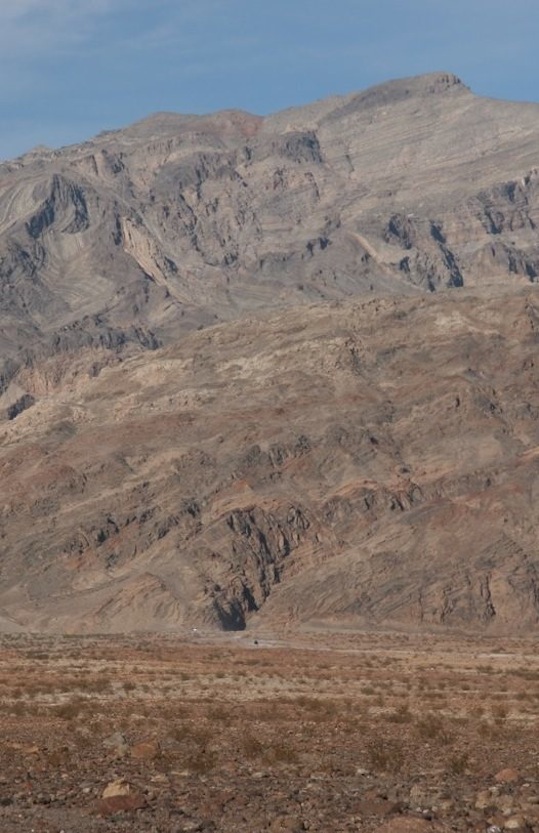 So we drove up an alluvial fan and hiked into the lower end of Titus Canyon, passing from the radiant heat of the valley floor into the deep shade and cool of the near-vertical walls of dolomite. The catchment basin for Titus is many square miles but most of the water drains out through a gap that is barely two car widths. The road twists and turns through cliffs whose walls are polished to a height of 30 feet or more and shaped by flash floods over millennia. The upper walls show curtains of discoloration from frequent but transient waterfalls. Everywhere one looks there is gravel and fanglomerate washed and cemented into place by water events of staggering proportions. There are occasional plants growing from the gravel floor, with more plants where the base rock of the canyon rises up, trapping the water, and the gravel is less deep. Some plants are hanging on for dear life in seep lines of the canyon walls. The sparseness of the life makes it stand out and seem all the more precious.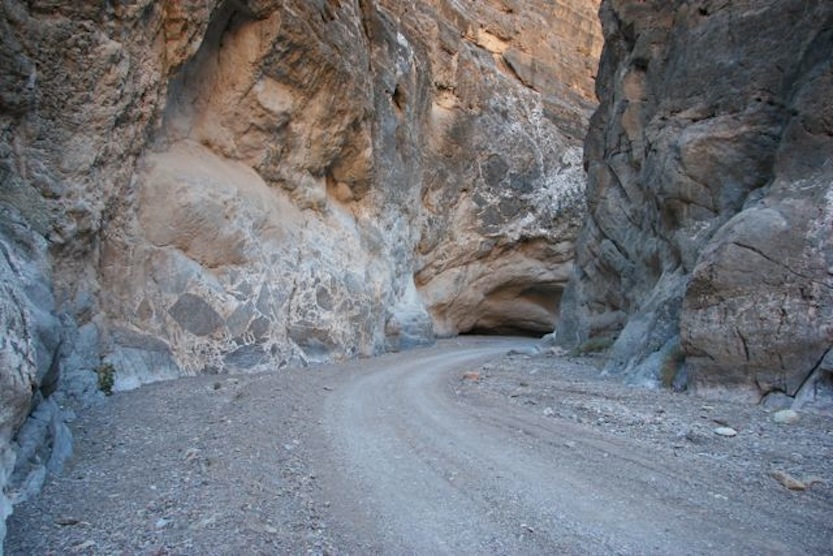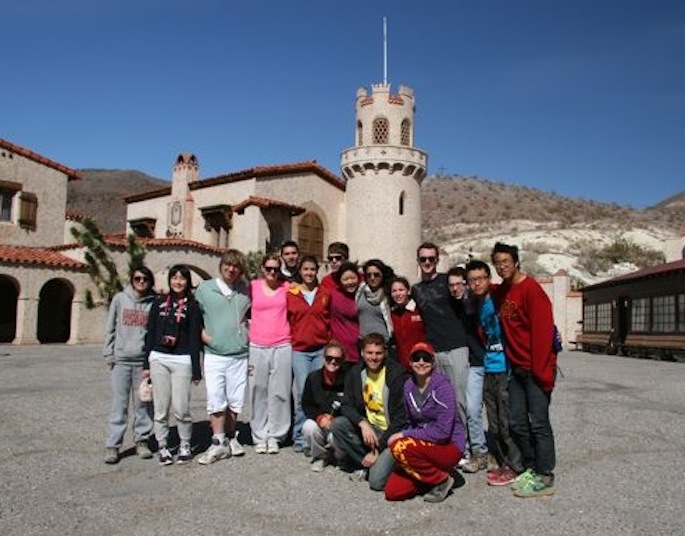 The USC group was superficially very disparate: Will Getz, an Eagle Scout from Illinois; Ziggy Achkinazi (California); Polly Cheung (Hong Kong); Lindsey Estes (Washington); Matt Feige (New Jersey); Jennifer Lee (Korea); Jackie Mansky (California); Ashley McNutt (California); Elias Newman (California); Katy Ricci (Colorado); Gaby Santillanes-Weber (New Mexico); Sean Sharkey (California); Ryan Su (Japan); Jaqueline Suen (Hong Kong); and Tony Wong, an exchange student from Hong Kong. They were organized into making this week-long adventure by Alice Bitzer, a junior in environmental studies from Pittsburgh, and they were all ebulliently supported by Scott Flanary, a staff adviser from USC.
Their remote sojourn at the dunes had already formed this diverse group into a cohesive whole with a remarkable collective energy and desire to explore this new world and see the desert with new eyes and open minds. Their enthusiasm was infectious as they rounded each bend, eager to see how the canyon would change. They asked streams of questions, many of which I could not adequately answer, comforting myself that it was the curiosity behind the questions that really mattered.
As we returned to our cars parked at the canyon mouth, several of the students were already planning return trips. One California native, Ashley, who normally camped in the Sierras with her dad, was figuring out how to take him on a trip to remote parts of Death Valley. The seeds of further exploration had been planted, not by the hike we did together but by the magic that the desert works on the souls of people as they rely upon one another in a challenging experience and come to understand and appreciate both their environment and their friends, collectively and individually.

The students and I parted company in Stovepipe Wells, with me returning to a remote campsite with my family in the quiet solitude of the desert, and they to spend a few grueling days that included making a start on the immense task of cleaning up the Billie Mine, an old borax works on the east side of the park. And while a week of play in Cabo San Lucas would be a lot of fun, it seems to me that the friendships and memories forged in Death Valley will be deeper and longer lasting.