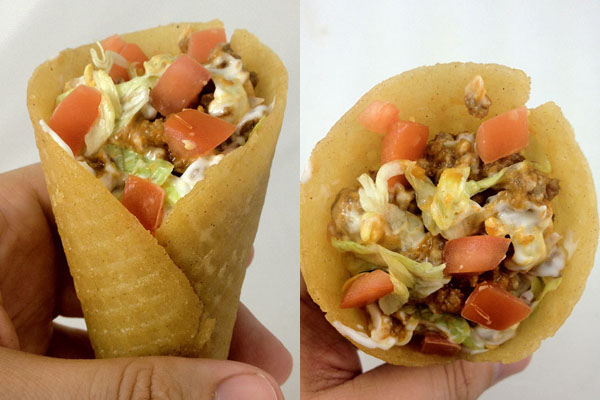 Have you ever bitten into a hard shell taco only to have it break apart leaving you with a pile of meat, cheese, lettuce and tomato on your plate, or even worse, your lap?
What if there was a better way to enjoy hard shell tacos? Well, now there is thanks to the Tacone!
As you can see in the pictures the Tacone consists of a corn hard shell taco in the shape of a cone that you eat from top to bottom instead of left to right. The benefit of this? It prevents the shell from cracking apart mid bite.
I dream of the day when I can simply walk into the grocery store and buy a package of cone shaped taco shells, but until then you're stuck making your own.
The process involves combining corn flour and water with a dash of salt, flattening out the dough and placing it in a waffle cone maker for a minute and a half. The partially cooked dough is then formed into a cone and dunked in a deep fryer for three minutes to complete the cooking process.
After that all you need to do is take your taco ingredients, toss them in a bowl to ensure that you get a little of everything in each bite and spoon them into your Tacone.
Not a fan of tacos? You can always swap out the taco shell for some pizza dough and make a pizza cone or use waffle batter instead to create a chicken and waffle cone.