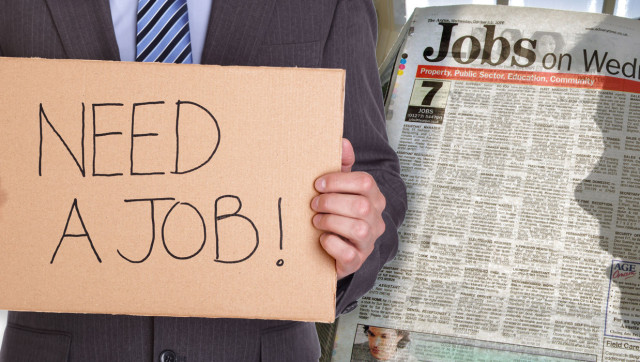 In September, the unemployment rate dipped below 8 percent for the first time in 30 months, reports the Bureau of Labor Statistics. That's the good news.
But there's still plenty of bad news. The number of involuntary part-time workers, those who can't find full-time work or whose hours were cut back, rose by 600,000 in September. That's more than 5 times the total rise in employment excluding farm jobs, which are usually in a special category in jobs reports.
The numbers are just as bad for those without a job. Over 2.5 million Americans are ready to work, and have looked for a job in the past 12 months, but with no luck. This is about the same number as a year ago. Of these 2.5 million, 800,000 have gotten too discouraged to continue with the job hunt.
And the remaining 1.7 million? They're still in the hunt, but have been too busy to actively look for work in the past 4 weeks. Ironically, according to the BLS report, one of the biggest things keeping these men and women from applying to jobs is the very thing that's supposed to help them land one in the first place -- school.
Don't get me wrong -- SkilledUp may be an online education company, but we believe in the power of all kinds of learning. We admire programs like Western Governors University, a part-time online degree program that costs around $3,000 per semester, and that has a higher Google + rating than Yale. We join with Secretary of Education Arne Duncan, who said that while programs like WGU "are still the exception today, I want them to be the norm."
But they still aren't. Too many Americans looking for work are enrolled in costly, ineffective and time-consuming degree programs. The worst of these, for-profit colleges, are responsible for nearly half of all loan defaults with only 12 percent of all post-secondary students, according to a June study by two professors at Boston University.
While traditional and for-profit colleges grade students based on how long they sit in a classroom, WGU grades are based solely on "competencies." In this system, as soon as a student has mastered the target skill of one class she can move on to the next one. It's no wonder, then, that WGU excels at helping students enter (or reenter) the workforce, where valuable skills are the name of the game.
In an important sense, WGU is an institutional version of humbler job training sites. These sites help job seekers learn the skills they'll need in the workplace, at a tiny fraction of the cost of traditional colleges. Lynda.com, which offers one of the most extensive databases of training videos anywhere on the web, charges just $25 a month for an unlimited subscription. Users get access to training for the software that employers value the most, including Excel, PowerPoint and thousands of others.
In fact, Lynda.com is so instrumental in teaching job skills that it was part of the focus of a September 21 New York Times article on the ways that people hone their skills to keep their current job. The article starts by profiling Ty Hallock, the kind of person who might first come to mind when you think about online training. Mr. Hallock is a 29-year-old web developer who runs his own business, and has to keep up with the latest digital trends to stay ahead of the competition.
But online training isn't just for young startup types. The article also profiles an Emory University librarian who uses Lynda.com to learn to archive digital materials, and a 55-year-old auto mechanic who shares trade secrets on online peer-to-peer forums. They may be in centuries-old professions, but these people recognize the value of continually honing their skills through online training.
Just as professionals of all stripes are turning to the Internet to learn job skills, online skills are becoming crucial to nearly every profession. Last month, salary researcher Payscale released a study of workers aged 18 to 30. It found that among the ten job skills that are the most common among this generation relative to older ones, eight were related directly to specific software or digital strategies. In other words, in a few decades, the world will be run by today's programmers, bloggers and social media marketers... and maybe the occasional polymerase chain reaction analyst.
Young workers, like the Emory University librarian, know that technology changes fast. WordPress and XHTML didn't exist in the '90s, and social media marketing has only really taken off in the last five years or so. These rapid changes make it hard for those not in the workforce to keep up. Perhaps that's why, according to September study by professors at the University of Chicago, McGill University and the University of Toronto, long-term unemployed workers have a harder time finding work than short-term unemployed in cities like Boston and Washington, D.C., which have remained relatively intact during the recession due largely to tech jobs. If you've been out of work for a few months, then you know that there's no silver bullet to overcome this stigma. But learning job skills from the very same people who teach current employees is a pretty good place to start.