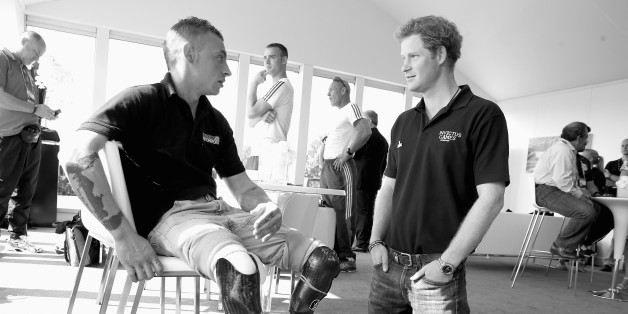 On September 28, the Warrior Games for our wounded veterans commenced in Colorado Springs to celebrate the triumph of the human spirit, shared values, friendship and the cornerstone that freedom is not free. Over 200 'wounded warrior' athletes from each branch of the Armed Forces are competing; united not only in the spirit of athletics to heal, but to transform.
Unequivocally, when thanking a veteran at this year's Warrior Games, a soldier humbled by loss of limb, sight or peace of mind, says, 'Thank you! It was an honor to serve.' Whether one supports our nation's military, is opposed, or doesn't care about global conflicts, our nation must remain united to honor our wounded veterans and their families. They are Heroes from whom we can learn much. If one listens intently to the silence of their humility, selflessness and sacrifice, their actions serve as timeless counsel to leaders seeking to make a difference, whether in a family, a community, for the USA or with our allies.
Today, America may subscribe to the notion that war is sought by a military that is thirsty for conflict. An alternative view is that our warriors, in a post 9/11 world, are called by a spirit to protect -- our families, our nation and our global community. Our heroes, young women and men, volunteer to serve our country with full knowledge of the price that they may pay, knowing that their sacrifices will vastly exceed their compensation.
Earlier this month, the inaugural Invictus Games for our wounded warriors concluded in London. Led by Prince Harry, the Invictus (meaning unconquered) Games hosted over 400 wounded warrior athletes and their families representing 13 countries. Inspired by visiting last year's Warrior Games in Colorado Springs, Prince Harry put his heart and soul into this event, greeting athletes, taking pictures with families, awarding medals, and most importantly being present. Seeing him walk around in blue jeans, and hopping onto a bike to get to the next athletic venue, one's soul is refreshed that a Prince cares so much about those that have done so much to protect and preserve our freedom.
Prince Harry, Dr. Biden (Vice President Biden's wife), Matthew Barzun (US Ambassador to the United Kingdom), the Fisher House Foundation, the Bob Woodruff Foundation and countless other individuals and organizations, have 'earned their wings' by setting an example for how to honor our Heroes. One may be certain, they would solely attribute all praise to our Heroes and their families with heartfelt appreciation of their sacrifices to preserve our freedom.
The best tributes to patriotism highlight leadership that is selfless in pursuit of the greatest good, with the most authentic recognition coming from strangers, in passing, when nobody is listening. One afternoon, walking to watch Team USA's wounded athletes compete in wheelchair basketball, a United Kingdom volunteer saw the gear I was wearing from the Fisher House Foundation and said, "That Fisher man is a great man!" (Fisher House Foundation is an A+ rated philanthropy which played a vital role in outfitting Team USA and bringing their families to London and Colorado Springs.) Wouldn't you want someone to say the same thing about you as your legacy?
In the words of President Lincoln's second inaugural address engraved on the Lincoln Memorial in Washington DC: "With malice toward none; with charity for all; with firmness in the right, as God gives us to see the right, let us strive on to finish the work we are in; to bind up the nation's wounds; to care for him who shall have borne the battle, and for his widow, and his orphan -- to do all which may achieve and cherish a just and lasting peace, among ourselves, and with all nations."
Please join in praising our Heroes and their families at the 2014 Warrior Games, with heartfelt appreciation of their sacrifices to preserve our freedom
Together, we remain Invictus.
For more information on the Warrior Games visit: familyprogramatwarriorgames.org and teamusa.org/warriorgames.
The Warrior Games and Family Program is a public/private endeavor between the US Department of Defense, US Olympic Committee, Bob Woodruff Foundation, Fisher House Foundation, Semper Fi Fund and numerous other supporters.
Nick T. Mavrick is a volunteer with the 2014 Family Program at the Warrior Games & Invictus Games, and Fisher House Foundation.
Carl R. Tuvin is a Senior Advisor to the Vietnam Veterans of America and President & CEO of Tuvin Associates, as Washington DC Government Affairs & Lobbying Firm.
Fisher Houses provide military families housing close to a loved one during hospitalization for an illness, disease or injury.