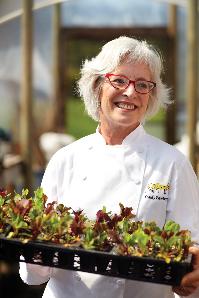 Although Cindy Pawlcyn may be the undisputed queen of Napa Valley cuisine, she's traveled the world in search of truly daring and delicious recipes. With her supper club at Cindy's Backstreet Kitchen, she nurtured a doting dining community in her own backyard. Over the years, she's created a trio of wildly popular restaurants (Mustards Grill, Cindy's Backstreet Kitchen, and Brassica), acted as a guest judge on Top Chef, and twice been nominated for Best Chef in California by the James Beard Foundation. Her love of cookbooks and research led her to write Fog City Diner Cookbook, Big Small Plates, and her most recent book Cindy's Supper Club: Meals from Around the World to Share With Family and Friends. Cindy kindly took a few minutes from her busy schedule to discuss her latest cookbook and the adventurous trips that inspired her to write it.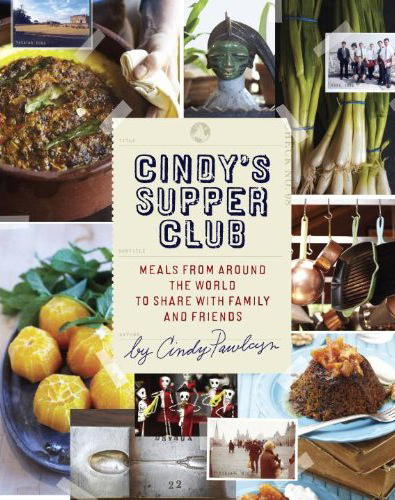 Nicki Richesin: Which has been your favorite of the many menus you have served at your supper club at Cindy's Backstreet Kitchen? What did you learn about entertaining from hosting the supper club?
Cindy Pawlcyn: It's so hard to pick one because of the seasonal changes. For summer grilling, I would go with the Thai menu, especially charcoal-grilled marinated squid. But then there is the garlic chicken from Lebanon with the walnut triangles for dessert, all crispy and drenched in honey. Hungary is at the top of my winter list with the goulash and the diotorta cake.
If you are doing a supper club, keep the party small and do one or two dishes first. You don't have to offer everything on the menu. Many of the recipes can be prepared ahead of time and finished at the last moment. It's okay to mix dishes from different countries but come from the same region of the world.
NR: You've collected cookbooks for years. In your introduction to Cindy's Supper Club, you write about how you started your collection with the Gourmet Magazine series and the Time-Life series Foods of the World. I love how these books, like yours, open a window to a different culture by introducing us to their distinctly unique cuisine. Did you have the same intention with Cindy's Supper Club?
CP: Gourmet and Time-Life were a tremendous source of inspiration-I used them for research. I think in my past life I must have been a research librarian. In Supper Club I want to inspire people to cook and to serve something they have never prepared before. The book offers a wealth of global recipes that can be used one at a time or in a unique cultural menu. Each recipe is true to its origin yet written and tested for a home cook. In one book people can sample recipes from 27 countries rather than going out and buying 27 different cookbooks.
NR: In the Sweden/ Norway chapter, you fondly recall your mother's "egg coffee," hot chocolate, and freshly baked Spritz cookies. Do you try to bring this same European sensibility and grace to your cooking and your restaurants?
CP: I live as I was raised and the true meaning of hospitality is that everyone who comes to my restaurants is like a guest in my own home. It is part of my hard wiring and I think one of the factors in my success. The front of the house and the kitchen staffs all work with the goal of making everyone feel like a treasured guest.
NR: In the past 20 years, you've worked to become greener in your personal and professional life. The San Francisco Bay Area is well-known for being eco-conscious, but what sort of improvements in the restaurant industry would you most like to see occur now?
CP: It would be fantastic to get rid of plastic straws and cocktail swizzle sticks. I'd like to see all post consumer and compostable materials in restaurants and hotels went into compost as they do here.
For two years, I have worked closely with our disposal company Upper Valley Disposal and Recycling in the Napa Valley to compost 70 percent of all food waste materials. The waste is turned into garden compost and has reduced landfill.
NR: You were kindly invited to visit Spain for the first time in 1993 because Spain was thought to be largely ignored by Americans in favor of France and Italy. Do you see this attitude changing now?
CP: Yes, I feel we have become addicted to Jamon Serrano, Padrone peppers, Piquillo peppers and the Spanish Tapas and Pixtos -- small plate style of eating. They are such wonderful flavors suited to our lifestyle. Many people in Northern California do Paella in outdoor gas burners or on a grill as they do in Spain. Spanish wines and sherries have improved significantly and complement the food so well.
NR: What was the most exhilarating cooking discovery you made on your many trips around the world?
CP: Oh that's a hard one. In 1985 I was in Northern China and due to my naïveté I was quite pleased to see lots of grilling over charcoal and hard woods. From my Minnesota sheltered view, I did not know the diversity of Chinese cooking techniques and their mastery of BBQ and roasting. It was an eye-opening delight. From my trips to China and other parts of Asia I have developed wonderful marinades inspired by their cooking.
NR: In the section devoted to Austria, you write that you've "found that people who love music tend to love food as well." What do you think is the connection between the two?
CP: Both are "in-the-moment arts." By that I mean when you listen to live music it is there in the moment and then in your memory once it is over. If you have a really beautiful, tasty dish, you eat it and it's gone. Both are things you experience then hold in your memory and perhaps even your heart.
NR: What is the most important lesson you learned from Ken Hom while taking cooking lessons from him in Hong Kong?
CP: Get the best quality ingredients and do not mess them up. Less is more and really learn how to pick and choose the best quality of anything. Ken is a great teacher.
NR: Could you tell us one of the funniest pranks Jacques Pepin played on you and his wife Gloria while you were visiting China?
CP: Well Jacques somehow talked me into wearing his "new" pajama top for a massage. It was after a 21-hour flight to China. We were all exhausted. I fell asleep and my roommate Susie Heller let Jacques and his wife Gloria into our room. Jacques was in the matching pajama bottoms, crawled into my bed and had Susie take a photo of me asleep with him. He was wide awake and grinning. The resulting photo was sent to me and my husband with a note, "What a night in Shanghai!"
NR: You wrote in Cindy's Supper Club, that when you explore the cuisine of any country you often find yourself going beyond what happens in the kitchen. For example, while studying Korean cooking, you became an admirer of Korean ceramics. Could you give us a few other examples of the ways you've explored a culture beyond its cooking?
CP: I fell in love with Japanese room décor and presentation and the minimalist approach to interior spaces and plating that is so critical to life and cuisine in Japan.
In Georgia I was fascinated with their agriculture and the variety of what this small region of the world can produce. I am interested in food sources and have been reading how historically other parts of the world grow their food and the consequences of their decisions. Cooking is so interrelated to how a society lives.
For the English chapter and from numerous trips to England I developed a curiosity about the Royal Family. Touring in Cuzco and Machu Picchu in Peru I discovered a love for their fabrics and weavings and just being in mountain regions and hiking in the Andes.
A Recipe from Cindy's Supper Club by Cindy Pawlcyn
White Gazpacho with Peeled White Grapes
Serves 6 to 8
1/2 loaf day-old artisanal white bread (about 7 ounces)
1 cup milk (or water for a vegan soup)
18 to 30 large white seedless grapes
11/3 cups (7 ounces) blanched whole almonds
2 to 4 cloves garlic, coarsely chopped
3/4 cup extra virgin olive oil
1 cup ice mixed with 21/2 cups water (the measuring cup should read 31/2 cups)
2 tablespoons aged Spanish sherry vinegar
Sea salt
Trim off the crust from the bread and tear the bread into even-sized chunks. Put the chunks in a bowl, pour the milk over them, and let soak for 1 hour. While the bread is soaking, peel the grapes, place in a bowl, cover, and refrigerate.
After 1 hour, squeeze the milk from the bread and discard the liquid. In a food processor, combine the nuts, garlic, and bread. With the motor running, slowly add the olive oil in a thin, steady stream. Then, with the motor still running, slowly add the ice water and then the vinegar. Season with salt.
In Spain, this soup is typically perfectly smooth. To achieve that texture, process the pureed soup in small batches, running each batch for at least 1 minute. Strain the blended soup through a chinois (ultrafine-mesh conical sieve) or a double-mesh sieve. When you taste the soup, it should be velvety, without any graininess at all.
Refrigerate the soup until very cold, at least 30 minutes or up to overnight, and chill the bowls for at least 30 minutes. Just before serving, cut the grapes in half lengthwise. Ladle the soup into the cold bowls, and float some grape halves on top of each serving. Refrigerate any leftover soup in an airtight container for up to 2 days.
Reprinted with permission from "Cindy's Supper Club: Meals from Around the World to Share with Family and Friends" by Cindy Pawlcyn, copyright © 2012. Published by Ten Speed Press, an imprint of the Crown Publishing Group.

Nicki Richesin is the editor of four anthologies Because I Love Her, Crush, The May Queen, and What I Would Tell Her. She is a regular contributor to Daily Candy, 7x7, The Huffington Post, Red Tricycle, San Francisco Book Review, and The Children's Book Review. Find her online at www.nickirichesin.com.