Every once in a while, amidst the surplus of perfectly posed photos of attractive women known as "selfies" that appear in my instagram feed, I find something funny or cool. A few days ago, while perusing through my feed, I was fortunate enough to find something that happened to be both.
It was a hand-drawn picture of the four main characters from the legendary John Singleton film, "Boyz n the Hood." However instead of holding a football or a handgun as two of the characters often held in the film, all four were holding a surfboard and wearing pineapple printed shirts.
Above the picture were the words "Beach Boyz n the Hood". I was immediately impressed by the quality and wit within the piece. Luckily, the user gave credit to the artist by posting his username within the comment. Ironically I would later find out that a Grammy winning recording artist posted this same picture on his Tumblr page, but was unfortunately not as gracious with the credit-giving.
After liking the picture I went to the artist's profile (@justinhager) and found more pictures that were just as good or better.
His e-mail address was listed within the bio section of his profile and I immediately contacted him to see if he'd agree to an interview. He agreed, and as expected he ended up being as cool as his artwork.
Name: Justin Hager
Hometown: Bakersfield, CA
Current city: San Francisco, CA
Occupation (when not working on artwork): Retail
Favorite color: Mustard

1. When did you figure out you had a gift and decided you wanted to be an artist?
Hager: Well I have been drawing all my life, and it has always been my dream to make artwork and be able to survive off of it. When I started with the mash up ideas around four years ago they got such a positive response. And since it was the most natural and fun series I had ever done, it just made sense to keep going that direction. I still laugh harder than most people as I'm making them and the source material is endless...so fun.
2. I noticed a lot of progression from your early works to your more recent ones. Do you feel yourself getting better and wittier?
Hager: The progression has just happened naturally over time with practice I think. When I originally started doing them I made it a point to not take more than 10 minutes on a drawing and drew with a ball point pen and copy paper. The newest [pieces] I've been working on are made with archival ink, acrylic, and oil paint. It's fun to think of how to take them to the next step. I also have been working on 3d sculptures made from paper mache, which has been super exciting to see them come to life.
3. Who is your favorite artist besides yourself and why?
Hager: I have lots of favorite artist; Daniel Johnston, Jean Michel Basquiat, Mark Gonzales, Wesley Willis, and Raymond Pettibon to name a few. I like when you can really see the artists personality in their pieces, like it just flew out of their brain onto whatever they work with, without putting too much thought into their technique or how it might be perceived by others.
4. What's your process like? How do you usually go from idea to the finished product?
Hager: I have a continuous list of ideas that is updated on a daily basis usually, so I reference my sketchbook and pick what I want to make from the list. Then I need a photo reference of some kind. Most of my pieces involve two photo references so I have both of the photos up while I mix them together in the drawing. I need lots of candy, and stuff going on in the background like my TV on silent, and the boom box turned up.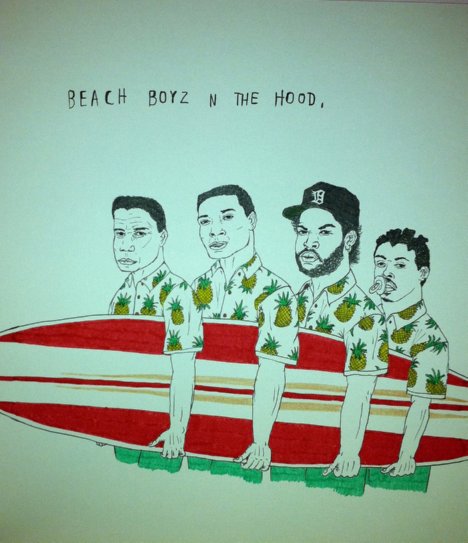 5. I noticed a lot of your work features hip-hop artists. Are you a big fan?
Hager: Yes, I love hip hop. I also love early 80s punk and 90s grungy rock and roll. Underground hip-hop is really similar to punk rock music, [as both] go against the 'pop star' and make music that is real. I also use a lot of hip-hop characters because they're funny and the names are simple for the most part.

6. Biggie or Tupac?
Hager: I am a huge fan of both, but I have to go with Biggie. His freestyles are mind blowing.
7. Who is your all-time favorite artist and album?
Hager: Whoa this one is tough. My favorite hip-hop artist is Ol' Dirty Bastard (ODB), and my favorite album is washing machine by Sonic Youth.

8. What do you think is the connection between music and art?
Hager: Well they're both art because they are both pure expression. One couldn't exist without the other. I would lose my mind if I didn't have my music. I've never seen his handwriting before, but I bet ODB's notes when writing songs are brilliant drawings.

9. Do you have a favorite piece?

Hager: I don't have a specific favorite piece really. I own a Daniel Johnston drawing called "Lost and Gone" that I got as a gift and look at every day without getting tired of, and it's pretty much my prized possession...so yeah that's probably my favorite piece.
10. When did you start seriously promoting your work?
Hager: I started posting a new drawing a day on Facebook in 2009 and they got such a good response and my friends started promoting them for me. I feel super fortunate to have people helping me out because I am terrible at self-promotion.
11. Have you done any shows?
Hager: Yes, I have had four solo shows, and a few group shows the last three years. The first solo show I had in San Francisco was at a barber shop where I had over 150 pieces in. I had another solo show at a store called Welcome Stranger about six months after that. Last year was a big year for me. I had a solo show at a place called Fourbarrel which nearly sold out and got me great exposure in the San Francisco art scene. From there I was in a group show in San Francisco at the Guerrero Galley and in New York for Hello Kitty. The most recent show was at Benny Gold, in San Francisco which is currently up until the end of April.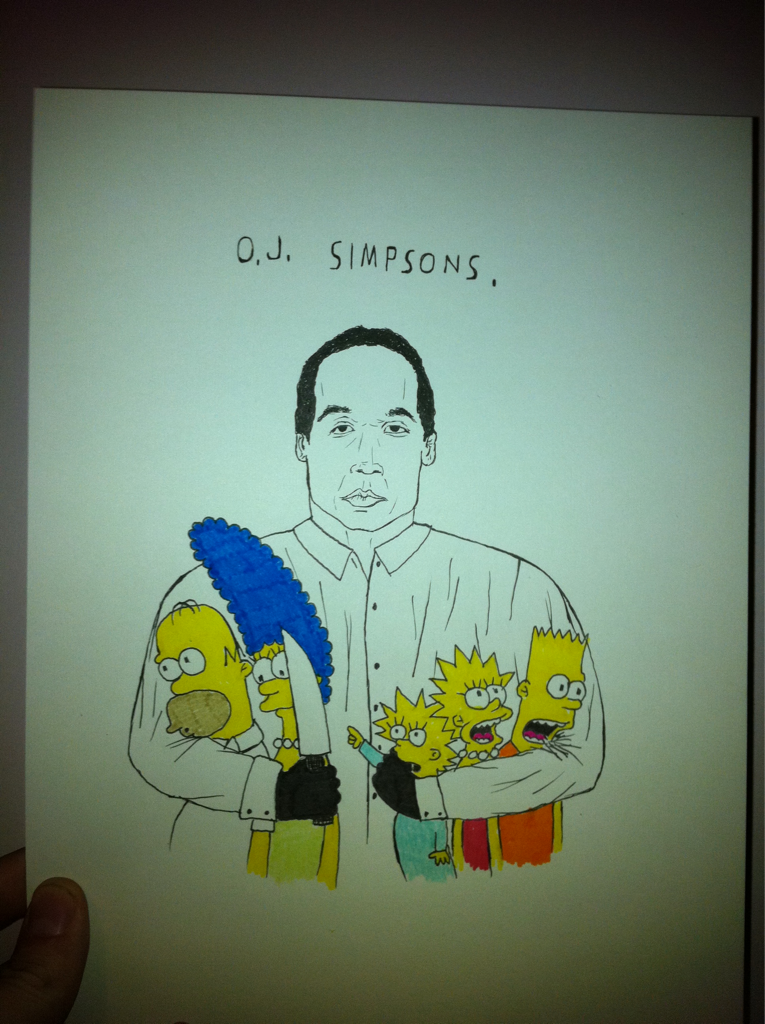 12. What's been your most memorable moment in life thus far?

Hager: Hmm.. Man, I'm having a hard time remembering a most memorable moment in my life. My brain remembers things like what crystal Pepsi tasted like and has a hard time remembering moments.

13. Your "Beach Boyz n the Hood" piece was recently posted by Grammy winning recording artist Frank Ocean on his Tumblr page. It was then picked up by popular blog Pitchfork.com and reblogged over 10,000 times with no credit given to you as the artist. How do you feel about that? Any beef?
Hager: (Laughs) Well I don't want any beef with anyone really. It's always nice to get props, but it would have been cool if they gave me credit. I mean, imagine if you had a band you were playing with for years have their song leaked out, and it blew up and no one knew the name of the band or how to find it? The internet is a crazy place, and hopefully people will find out that I drew that soon. If Pitchfork wants to buy me a Mongolian beef dinner, then I'll have beef with them.
14. How would you describe your art? What do you aspire to portray with it?
Hager: To me it's total nostalgia. I love it because it's so fun to dig back in time to things that I liked when I was young and mix them with things that I like now. So much art out there is sad, and I wanted to make something that was fun and made people laugh while not being pretentious at all. And the best part is when someone sees a drawing of mine, and comes up to me with their own idea for me. It's the best compliment when people start thinking the same way as me. It makes me feel less crazy.
15. Where and how can people see more of your work?
Hager: I have a show up at the Benny Gold store in San Francisco until the end of April. I also have a site (justinhager.tumblr.com). I am currently working on my own website that will be launched soon.

16. Where do you hope to be in 5 years?
Hager: Pissing on a dumpster.