No one can accuse designer Prabal Gurung of resting on his laurels. The fashion industry's darling, man-about-town and the only one worthy of playing Benjamin Braddock to Diane Von Furstenberg's Mrs. Robinson, Gurung once again proved his indisputable hold on New York Fashion Week.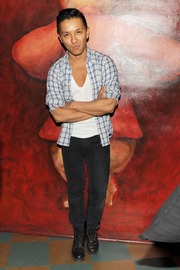 These days, it's near impossible to escape the Nepalese designer, what with his recurring and endearing spots of Taxi TV, multitude of cocktail frocks worn by First Lady Michelle Obama (most recently on Oprah), and his continued philanthropic work with his native country Nepal. Recently, he ruled the awards show circuit dressing breakout stars like True Grit's Hailee Steinfeld and Winter Bone's Jennifer Lawrence. And there's no sign of him slowing down.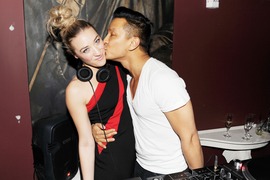 Yesterday afternoon, to the haunting track of Florence and the Machine's cover of "Addicted to Love," Gurung opened with a parade of fresh-faced models in a tangle of blue and pink hair calling to mind the troubled Kate Winslet in Eternal Sunshine of the Spotless Mind meets Miss Havishem -- the disheveled Great Expectations anti-heroine who served as one of collection's muses. A departure from Gurung's signature muted elegance, out came pink Mongolian furs, candy-apple red trousers and black leather frock resulting in a pastiche of tough rock and roll and ravaged beauty. In the end it seems the risk paid off after thunderous applause from the audience as the show wrapped with an anthem from the most tortured of glam queens, Alanis Morisette.
Still, even with the turn to tortured muses, don't expect Gurung to relinquish his "Just Happy!" mantra just yet. Later that night, clad in his signature white v-neck, danced the night away at new hotspot Mister H with DJ Mia Moretti spinning a mix of optimistic oldies and a healthy dose of Katy Perry. It was surely a cause for celebration with revelers like Barbara Bush, Brad Goreski and Cobra Starship's Gabe Saporta kicking back in the living room-like nooks. Most memorable moment? When the crowd went wild as princess of pop Britney Spears' new single blasted through the stereo causing the cool couturier to hit the dance floor -- which begs the question, if I said (halfway through fashion week) that Prabal Gurung maintains title as reigning fashion prince of New York, would you hold it against me?