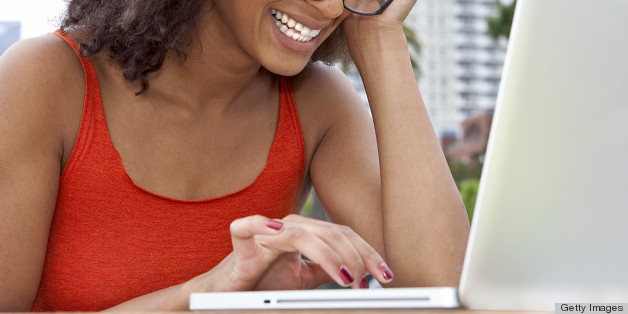 Many of us lead very hectic lives. We are either working, in school, parenting or doing all three. Who has time to go to a bar or club to meet a woman? Alas, online dating saves the day. But how do you navigate all those profiles? How do you decipher the language? How do you discern between the serial killers and the garden-variety psychos? Online lesbian dating can be a lot like looking for an apartment: The ad sounds great, but what does it really look like? Will you end up in a long, loving relationship or chained in a woman's basement?
When I describe myself in those "About Me" sections, I am sometimes amazed by how well I come across. Shoot, I would date me. (Unfortunately, I know me. I am those things plus more, but that is an entirely different blog post.) But upon rereading my profile bio, I realized that I was falling into the same online description traps that many of us so commonly fall into. The experience I have acquired dating online has been invaluable. I finally now know what all those phrases mean. So, to help you navigate the profiles, I have compiled a list of phrases that lesbians often use and what they really mean.
"Weight proportional to height": We have all read this before. What women are trying to say is that they are not over or under the weight required for their height. But, more times than not, it means "I haven't seen my feet in years, but I still feel sexy."
"I'm laid-back": Generally speaking, a laid-back person is someone who is very cool under pressure and not argumentative. She's a woman you can rely on to cool a situation down. This woman isn't emotional at all. Don't look for a woman like this to date. She will finally show her true emotions when you leave her. Then she will pour her soul out to you... and possibly stalk you!
"I'm open-minded": This phrase usually means she is hiding something she doesn't want to divulge until you actually meet her. Is she really a man pretending to be a woman online? Does she have a husband? Is she looking for a new couch to surf? Is she on FBI's "Most Wanted" list? My advice: Ask questions... lots of them!
"I'm just looking for friends": Ha! Right! And I'm looking for Hoffa. No one joins a dating site looking for friends. If you want friends, join a knitting circle. She is looking for sex or a relationship. Granted, most relationships start out as friendships, but if she is truly looking for something platonic, there are other places she can look, like, oh, I don't know, anywhere else.
"Must love kids": This one can go a lot of ways. This is doublespeak for "I have five kids all under the age of 10," or "I want kids, and my biological clock is ticking, and conceiving is the only topic we will discuss on our first date," or "I don't have any kids, but I want you to carry three for me." However this plays, start looking into registering at the local toy stores for holiday discounts.
"I'm spontaneous": This woman is fun... all the time! She will call you during a work week at 3 in the morning to walk along the beach. She will get you into the hottest clubs in town because her friend who works there will sneak you into a side door. She will invite you to all the best restaurants and run out on the tab. She is the perfect woman if you do not have a job or a moral compass.
"I'm drama-free": This phrase is probably the most overused on the Internet. Most folks who are drama-free don't feel the need to announce it. It's like writing that you are a lesbian on your profile when you join a lesbian dating site; it's kind of a given. Who wants to be dramatic? And if they do, who would honestly admit it? And what does drama consist of? Basically, if she has to announce that she is drama-free, it means that she is the first person to start it.
"Looking for a discreet encounter": This one is my favorites. Most encounters start off as discreet and then become messy. This chick is either married to a dude or already has a girlfriend who's not satisfying her or has some other wicked secret she wants to hide. Think television shows like Snapped or Scorned: Love Kills.
Meeting a woman who is relationship material is very difficult these days -- too many secrets, lies or just plain omissions of truth. And online dating profiles can be tricky to decode, but now you have the tools to read between the lines. Stay safe out there, ladies.