Grief is like a heavy invisible fog that settles around you and lifts you from the earth. You float while everyone else keeps on walking as if nothing has changed. But for you and your family, everything is different. Nothing else matters. The bank, your job, your bills, the dishes, the laundry... it all feels wrong. The sadness behind your children's eyes feels wrong. No one should feel that pain, but especially not them. Not now. Not ever. Yet, comforting them feels impossible, because how can you make them feel better when you are still floating?
I thought I was prepared. I knew logically it was going to happen. He knew it was going to happen. And as a man of science and logic, he could predict every step. He knew when it was time. He knew when his body couldn't handle one more minute of pain and torture inflicted on him by the invader called cancer. He knew. We knew. But we were NOT ready. We were NOT OK letting go and losing Daddy. It is hard. So hard that there are no words.
I will never forget the man I met when I was a child. The man who opened his heart to a single mother with three little girls and embraced all of us as his own. He only referred to us as his daughters because we were -- regardless of what DNA says. The person who is one of the most influential men in my life. I can hear his voice in so many things -- from the way I load the dishwasher to the way I look at the world. I watched him when my youngest sister was born. The way he parented shaped me. He is the reason I selected a partner who always puts family first, keeps me laughing and makes me roll my eyes. He is my children's beloved Pop-Pop who made jokes and loved to see the glee in their eyes when he demonstrated his magic tricks. He is missed and loved and missed and remembered.
Our hearts have the amazing capacity to grow and capture an endless amount of love. What no one tells you is that once you make that space in your heart you can never close it because love lasts forever. Beyond death.
The space in my heart reserved for Daddy is huge. He will always be here with me, just as he will always be with all his daughters, his grandchildren, his son-in-laws, his friends, his extended family and his wife -- my mother.
His soul lives on within each of our hearts because that is what he deserves. He didn't deserve to be taken so early. He didn't deserve to be attacked by cancer. He was only 58 years old. He should have been with us much longer. He should have been here to meet more grandchildren and see my youngest sister, his baby, graduate from college. This makes me so angry and sad. This is what I need to make peace with. This is what makes the fog feel so heavy.
I cling to the memories and love now. I hold my family tighter. I say I love you louder. I will not take one second for granted.
I love you Daddy... now and forever.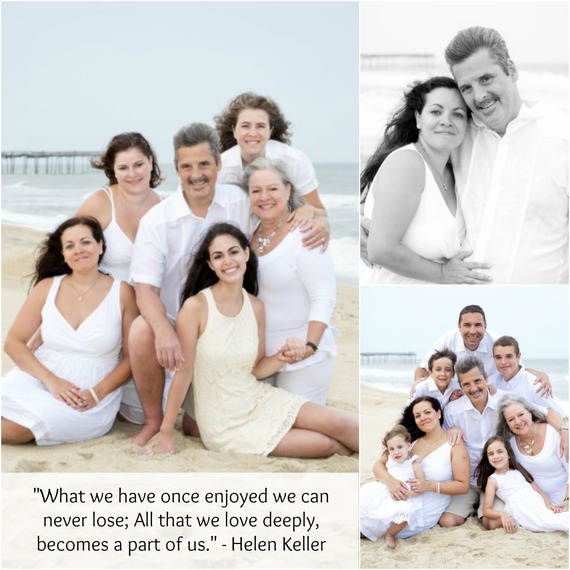 This originally appeared on Tiny Steps Mommy.