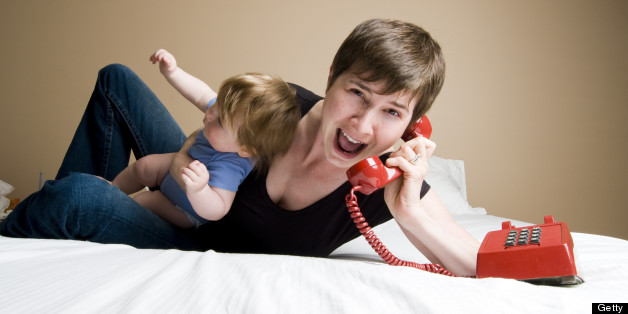 The petite blond woman with perfectly-in-place hair sat across from me in my still unfinished daycare space with her two tow-headed daughters in her arms. Her older daughter was 18-months-old and her second daughter was only 12-weeks-old. I was nervous because I needed to secure a couple of more contracts before opening my expanded daycare business. It was mid-December and I was starting to wonder if a mid-year post-holiday opening was really the smartest business decision. I had left my corporate job and was renovating my basement to convert it from my husband's man cave to an early learning haven for infants, toddler and preschoolers. This wasn't my first time caring for children in my home, but this time the stakes seemed much higher. I wasn't just going to care for a couple of children along with my own. I was going to open a real daycare business.
I started talking to this stranger about my policies and contract. I pointed to the room and tried to explain my vision. I was hoping she would be able to see through the unpainted walls and boxes of furniture still waiting to be put together. I was so focused on my own worries and feelings and insecurities that I didn't notice the look in her eyes. I didn't notice her fragility until the tears started to flow. The older daughter squirmed out of her arms and the baby started to fuss. The mother apologized to me through her tears. I took her infant from her arms, rocked her quietly and started to really listen and understand.
This blond-haired woman, who at first glance seemed perfectly put together, was secretly falling apart because of the overwhelming impact having two children only 15 months apart was having on her ability to cope. She was a perfectionist and wanted to be good at everything, but was frustrated because she needed help. She told me she felt like a failure and was not good at asking for help. Her mother had agreed to help care for her children, but she knew this would not work because it meant having her mother move into her home. She needed someone she could trust to care for her babies, but with no strings attached. She was desperate and had opened up to me in a way that took me off guard.
Moments earlier I had only been thinking about how signing this contract would impact me and there she was hoping that I would be the answer to her feelings of despair. That was when I realized that being a daycare provider is much more than a business and is about much more than the children. It is about helping parents feel secure. And it is about listening -- really listening to the needs of the families who enter my home.
This mother taught me a lesson about motherhood and outward appearances. No one is perfectly put together. We all struggle from time to time and we all need help -- even if asking seems impossible. This mother was brave and strong because she allowed herself to show some vulnerability. She did the hard thing and admitted she needed help. And as soon as she did, I knew I HAD to help. I WANTED to help. I wanted to lift the burden from her and be there for this complete stranger. It was no longer just a business arrangement.
At the end of the interview this mother hugged me and thanked me for opening my home and my heart. She said she was embarrassed for crying, but I smiled and thanked her because she had taught me so much in just an hour.
After the holidays these girls started with me and were some of my most treasured babies. They stayed with me until they moved away three years later. On their last day, this mother cried again. She hugged me and thanked me and said she wished there were words to express what I meant to her family. I just hugged her and looked into her eyes and said that I was the one who was grateful. I told her that I would never forget her and her babies.
And I never will.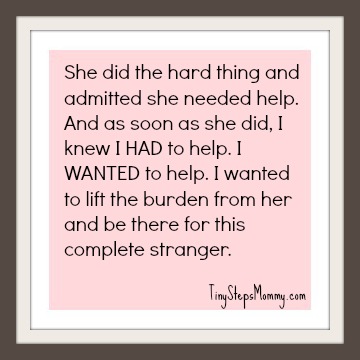 This post originally appeared on Tiny Steps Mommy