On November 25, 1960, three sisters were assassinated by the tyrannical regime of Dominican Republic dictator Rafael Trujillo. Patria, María, and Antonia Mirabal (along with their surviving sister Bélgica) fought with persistent effort to end Trujillo's leadership and rebuild the nation's democracy, enduring several instances of imprisonment, abuse, and torture.
Julia Alvarez' novel In the Time of the Butterflies honors the Mirabal sisters and their sacrifice, and it is from this work that a local Palo Alto high school has drawn inspiration for a new ensemble of original monologues entitled Faceoff: Tyranny vs. Resistance.
Written, performed, and scored by the students of Henry M. Gunn High School, Faceoff seeks to explore the intersection of tyranny and resistance through the lenses of both past and present.
I caught up with Faceoff director Betsy Franco (author-actor, and mother of talented brothers Tom, James, and Dave), who coached Gunn's standout teen writers and actors through the creation process.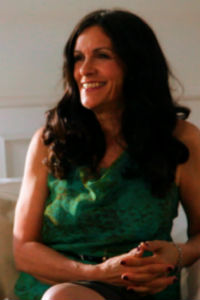 How did the Faceoff project come about?
"I wrote a novel, Metamorphosis, Junior Year, and the Palo Alto Children's Theatre [in association with the Teen Arts Council] asked me to write a play of my novel. That's when my adventure at the theater started. It really changed my life. I had never worked consistently with a group of teenagers before, and we work-shopped the play a lot, so I got very close to the actors that were in it. I didn't want to let go of them, and we wanted to keep meeting, so... we work-shopped and published 21 Monologues for Teen Actors. Before long, we realized we needed to perform these monologues, so I wrote a play that included them, called Irrepressible. From there, the Palo Alto Children's Theatre [named me] 'Artist in Residence,' which was lovely. And they told me about this project."
How is the project funded? Which organizations are involved?
"In 2011 the Palo Alto Children's Theatre was awarded a grant from the NEA: BIG READ to promote engagement with the Julia Alvarez novel. One of only 75 organizations in the country to be awarded this grant, the Theatre launched a new initiative called 'Voices United: Bay Area' to create a platform on which students from diverse backgrounds get the chance to share the art of ideas with a wider community."
How did the students get involved with the project?
"I went and spoke to a creative writing class, and two drama classes, and I just passed out the books and said, 'Spread the word around the school -- the first meeting is on Monday.' I had no idea who would come. And then, a perfect amount of students came, and remained steadfast and were very devoted to it."
How was the experience of working with these students?
"Their writing was excellent. I was shocked at the skills at this school. They have a very, very wonderful drama department, headed by Jim Shelby. They take drama very seriously and professionally, and that's what I saw and was amazed by. It was so wonderful to work with them, and they knew what I was talking about. Anytime I would direct them, they were one step ahead. Everybody was always ready for everything! It was a dream come true."
What was the writing process like?
"When I work with teens, I don't like to prescribe too much. Because I think they have such good ideas and so much creativity, and they're thinking in their own way, and I want to see what that is. I made suggestions, told them they could write about characters from the book or about something contemporary that's inspired by the book, but I didn't tell them what to write their monologues on."
And what was the outcome? How were the lives of the Mirabal sisters and Rafael Trujillo weaved into the work?
Ethan Lloyd Fry wrote a monologue based on Trujillo. Clodagh Hynes, who just moved here from Ireland, showed the parallels between her strict school in Ireland and a dictatorship. Two writers (Fiona Flynn and Dennis Mashevsky) picked Lina Lovatón, Trujillo's mistress (and a fairly minor character in the book), to explore. One piece reflects the character of Lio, an activist at the time that influenced Minerva Mirabal greatly, and opened her eyes to how she could make a difference in the resistance movement. Another is from the perspective of Patria, who witnessed a boy being shot, so it changed her views so she joined the revolution (written by Laura Hendricks). And one writer (Elizabeth Reynolds) wrote a contemporary piece based on what's going on in Syria right now.
How is music being integrated?
"Yen Yen wanted to compose for the piece, so she composed the music for piano, and Vin and I were both very moved."
Has the experience of translating this history been especially invoking or emotional for any of these kids?
"I could tell from the acting that they really felt deeply about the people they were portraying. Elizabeth Reynolds, who wrote and performed a piece about Syria, was and is very devoted to the cause. She was explaining to me that she thinks that Americans are so busy with their own lives that they don't look outside and see that something very important is happening. And she was very passionate about it. And the way she performed the monologue was very understated, but very intense. Fiona Flynn wrote about Lina, and I felt like she was really channeling Lina. It was amazing."
How has this experience been for you?
"I try to give them the freedom of choosing topics and then when I'm directing their acting, just seeing what they've committed to, and if it's not exactly what I was thinking, so what? They just bring something to it that I don't even know about. They teach me things. It causes a bit of stress, because I'm not controlling the project creatively, they are, but it also leads to incredible excitement at what happens. And it makes the kids, I believe, so invested in what's going on."
Why teenagers?
"I trust teenagers so much, and I think they're so creative. I think that teenagers are fantastic to work with. If you let them have input, you will get back so much, you won't believe it. I've done two plays and four anthologies of teen writing; I just trust teenagers! They have so much to give. They're insightful and wise, and can be so professional, if you just trust them to be."
Any plans to work with these students again?
"I have a very hard time letting kids go once I've worked with them. I'm going to have to learn how to do that! I'm actually planning some more projects with the Palo Alto Children's Theater. I'm work-shopping Irrepressible, and I'm working with some young girls who are in Juvenile Hall in Menlo Park, doing a writing project with them that we'll probably perform or film."
What do you hope the audience takes away from Faceoff?
"I think this project would evoke a lot of emotion in the audience. I would hope that it will raise awareness about what's going on in the world right now. Because we can't get the Mirabal sisters -- we can't undo that tragedy -- but there is so much going on right now that we could get involved with in some way, or that we could understand better, or open our minds to. I would also like people to see how capable teenagers are."
The live performance of Faceoff: Tyranny vs. Resistance will be Monday April 9, at 7 p.m., at Gunn High School's Little Theater. The performance runs for an hour, and will be followed by a talk-back/Q&A.
If you can't make this live performance, you can also attend the "Festival De Las Mariposas: A Discussion With Julia Alvarez" on Wednesday, April 25, which will bring together creative responses to In the Time of the Butterflies by high school students from around the Peninsula (including Gunn). A film version of Faceoff will play at the Lucie Stern Community Center on May 4 at 7 pm. Vin Misra is the cinematographer and editor of both the trailer and film.
All BIG READ: VOICES UNITED events are free and open to the public.
For more information on Betsy's work & upcoming projects, visit http://www.betsyfranco.com/.