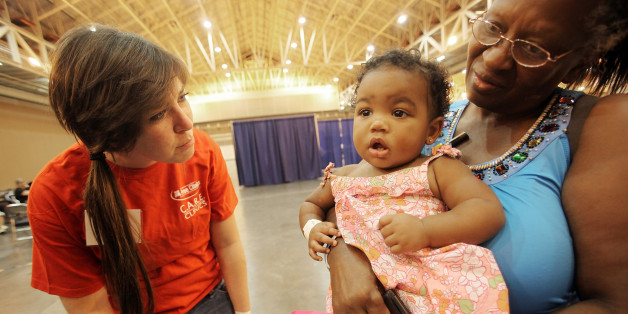 April is National Minority Health Month, and a time to remind ourselves that we still have a long way to go in addressing the health disparities that impact our nation.
As a practicing physician, I have devoted my professional career to promoting health equity. But I also know how hard it is to provide quality care for my patients if I don't know much about them as people -- their medical histories, their family situations, and their overall life circumstances, including, by the way, whether or not they have health insurance.
The same holds true for my job as assistant secretary for preparedness and response at the U.S. Department of Health and Human Services, where I lead in preparing for, responding to, and recovering from a disaster or emergency with public health consequences.
We've known for decades that poor and traditionally underserved populations are often the hardest hit in disasters, in part because they live in more disaster-prone areas and, in part, because their needs are often overlooked during emergencies. While we've spent many years documenting those facts, I believe that the next step is to move beyond knowledge gathering to create change.

Minority Health Month is a great time to share that, when it comes to disaster preparedness, response and recovery, we've been doing this.
During the 2009 H1N1 pandemic, we started working with the Medicare program to try to reverse a historic trend of racial and ethnic differences in getting flu shots. We quickly learned that we didn't just need to do more of the same, but that we needed to do things differently.
Like understanding the backgrounds and perspectives of my patients, we needed to better understand the experiences and perspectives of communities, and to provide people access to information about how to protect themselves and their children in new ways. One result was a range of communication tools that were tailored to different audiences from health care providers to parents, could be adapted for geographical regions hardest hit, and were available for foreign language speakers. These tools come in handy during annual flu season as well.
Since the pandemic, we have continued to strengthen work with diverse communities, but we also have found that we weren't taking full advantage of public data to do the best job we could. So we created a system and launched a program that enables us to map a community in a disaster and know more about the people living there. What's the average educational level? What languages are spoken? This mapping program allows us to look at facts about the community, like race, ethnicity and other demographic information to help us figure out who might need help first, and what kind of help they might need.
This innovation has fundamentally changed how we work. A year ago this month, a fertilizer plant in West, Texas, exploded. In developing our response, our mapping system armed us with the knowledge that, unlike much of the rest of Texas, a big part of the community spoke Czech -- not Spanish. Similarly, when the path of Hurricane Sandy was predicted to affect a large Tagalog-speaking Filipino population, we were able to have a group of foreign language speakers at the ready to meet the language access needs of the potentially affected community.
The focus on minority health has also taught us valuable lessons about how to promote community resilience. We continue to face the problem of how to incorporate the populations that are often left out, even those that are not historically vocal, into our preparedness plans. Part of the solution is to learn from the experiences of different communities. In the wake of Hurricane Katrina, uniquely tight social connections provided a base for resilience in a community of Vietnamese immigrants, and the community fared far better than many of its neighbors.
Taking this work to the next level will require the government, private and nonprofit sectors to work together to promote the intelligent use of social media and existing technologies, to support informal social networks, and to incorporate civic- and faith-based organizations into disaster plans.
Minority Health Month reminds us how important health equity is -- not just for minority communities but for our health and strength as a nation. This is especially true in emergencies and disasters, when the best way to improve health outcomes and resilience during and after the event is to improve health before the event.
It takes a community working together to prepare for, respond to and recover effectively from the destructive forces of nature and other emergencies. Ultimately, this work can only be accomplished if we understand, learn from, adapt to and celebrate our diversity.