This week we celebrate the one-year commemoration of the Child Survival Call to Action held in Washington, DC. Working at USAID at the time, I have a unique insight into the organization of this milestone event, and will always remember the experience fondly. Not only did the Call to Action unite and reenergize the global health and extended community towards a common goal -- to end preventable child deaths -- it cataylzed momentum at country-level that has been nothing short of extraordinary.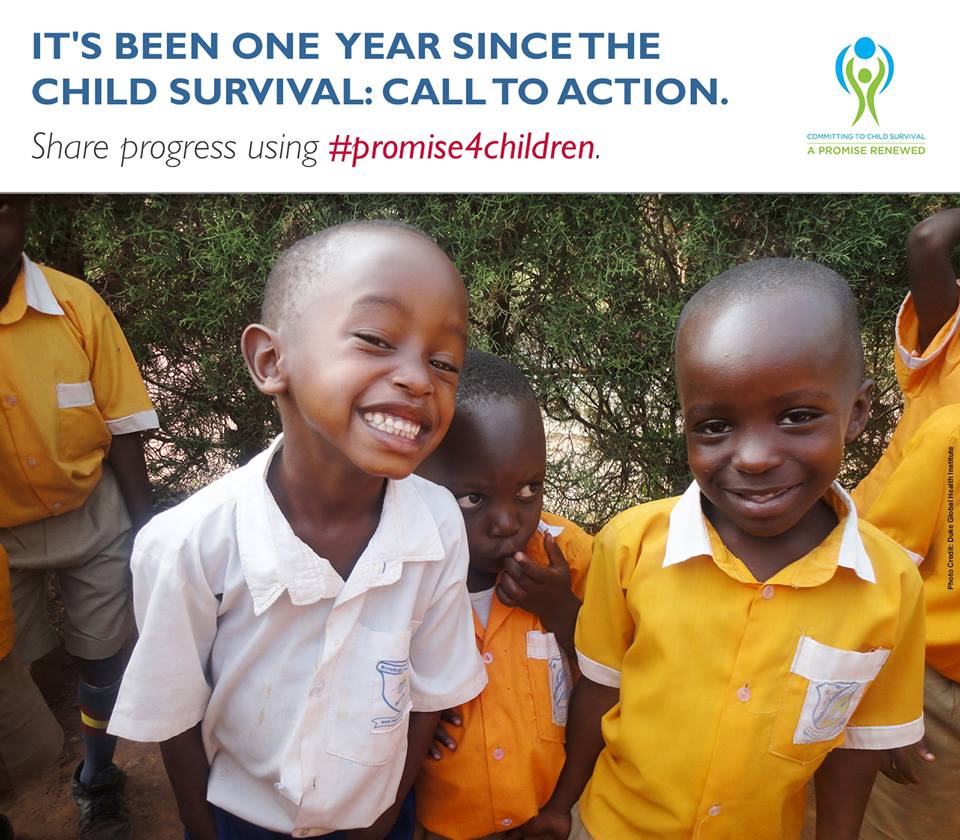 A few months before the Call to Action, USAID turned a conference room into a team room that became the center of the Agency's activity - one wall was covered with hundreds of 5th birthday photos and the other was entirely dry eraser depicting ideas, logistics, and anything else that was the task of the day. About 6 of us virtually lived in this room, but it packed in 30 staff when we had our all-hands meetings. What inspired me about the team is that it consisted of people who had worked in development for their careers and folks who were brand new to the field. Everyone had a laser-like focus towards June 14-15 and what it represented. No one was committed more to this goal than USAID Administrator Raj Shah who frequented the team room for meetings and updates.
The Call to Action was a special and surreal experience when it finally arrived. A few days after it ended, I had to re-watch the webcast to grasp the enormity of what had transpired. Over 70 countries signed a pledge to accelerate action towards ending preventable child deaths. Private sector leaders committed to new partnerships - as did faith and civil society organizations.
From a communications perspective, the partner engagement around the 5th birthday campaign and Call to Action was exceptional. The echo chamber led to #promise4children trending not only in DC but nationally. Many different voices championed this issue though blogs, social media, and video. The "celebrity" buzz captured new attention from media outlets and non-traditional audiences.
But would a successful event build upon the decades of tireless work on child survival and lead to the movement that we all hoped for and envisioned? Would the promises turn into real action? A year later, and 174 country signatories later, we are well on our way.
I had the opportunity to participate in a regional child survival event in Ethiopia and a national one in India. Under the heading "African Leadership on Child Survival", Ethiopia's Ministry of Health convened 20 countries to drill down on sharpened national plans and scorecards for easy monitoring of progress. I was quickly impressed with Minister Kesete, the new face of Ethiopia's health system taking over from the highly regarded Minister Tedros - now heading up foreign affairs. Together, the two Ministers showcased Ethiopia's model health extension worker program while challenging themselves and participating countries to do more for the survival and well-being of Africa's women and children. In May at the World Health Assembly, I watched as Minister Kesete again eloquently spoke of country ownership and challenged his colleagues to strengthen accountability and monitoring of their progress. Ethiopia's commitment and drive is unwavering.
In India, a cross-section of political, private sector and civil society leaders met in Chennai under the leadership of Minister Azad. I remembered the promises made in Washington a few months before as the Minister unveiled a roadmap, entitled a Strategic Approach to Reproductive Maternal Newborn Child and Adolescent Health' (RMNCH+A), along with other guidelines and documents, aimed at accelerating reductions in preventable child deaths. The energy was electrifying with the added backdrop of Bollywood champions captured through video. You could feel that something very special was happening.
President Obama delivered his State of the Union Address shortly after the India Call to Action. Hearing the President commit to work with other countries around the world to end preventable child deaths was monumental. To me it was a sea change moment - uniting the leadership and political will that I had just seen in the hardest hit countries with a global attention that was irrefutable. As an American, it made me incredibly proud.
Other countries are sharpening their national plans and recommitting to monitoring progress --Zambia, Senegal, Liberia, Malawi, Bangladesh, to name a few. I know that the A Promise Renewed movement will continue to gain momentum, especially as we hit the gas in the last 1,000 days of the Millennium Development Goals.
So did we capitalize on a successful event to start a movement? And was the cold pizza a few months in a row in the USAID team room worth it? Yes. I believe anyone working on this incredible activity would say we did and yes it was.
A Promise Renewed is the global movement that was launched at the Child Survival Call to Action. Use #promise4children to join the conversation by sharing progress on maternal, newborn, and child survival.