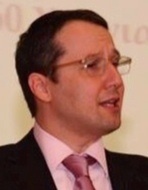 Entrepreneurship is a rite of passage into a league where its players re-imagine the world and innovate. Entrepreneurship is a life style and a life choice. I've had my share of success and my share of moments on the edge. When making decisions, the best advice I get is from the lived experience of other entrepreneurs. In making my next big leap, I've been fellowshipping with entrepreneurs who are kicking butt in the tech world.
I recently spoke with the CEO and Founder of TabTale, Sagi Schliesser. Sagi knew that he could do a better job creating digital content for his kids, particularly on emerging mobile platforms, than were available. The author of a children's book about a technologist father, Sagi wanted to offer all parents the ability to share high quality, interactive, and enriching apps with their kids. By producing a complete library of interactive books, games, and educational offerings, most of them for free, TabTale has done just that.
Sagi is an All-Star Player on the crowded field of interactive apps, games and books. TabTale generated over 280 million downloads, raised $13.5 million dollars, is the #8 publisher in the iOS app store according to App Annie and available on iOS, Android, and Windows 8 platforms.
For one precious hour, we spoke via Skype, Sagi from his headquarters in Israel and me from the New Jersey Innovation Lab, JuiceTank. Sagi shared the Growth Plays that catapulted TabTale to $15 million dollars in annual revenues and a Rock Star Team of 130 in just 3 years.
Sagi, What's in Your...?
Founder Playbook: Sagi founded TabTale in 2010 with Oran Kushnir, Vice President of Product and Nir Bejerano, Chief Technology Officer. This Dream Team has backgrounds spanning technology, psychology, computer science, education, gaming and physics. Each team member was over 35 at the time of the company's founding and had rich experience building technology companies.
Sacrifice Playbook: Sagi, Oran and Nir started their company meeting in coffee shops for one full year until they moved into their first office in March 2011. This team took financial risks. Sagi sold his house to fund the vision. A move many entrepreneurs can relate to.
Customer Playbook: TabTale has 280 Million downloads and climbing. What's the secret to this success? Sagi's Focus: Audience experience. The TabTale audience is mostly children. Privacy policies in most jurisdictions limit the information you can collect, share and use to attract children on the Internet. TabTale started with a Freemium model where they offered free games to kids and provided a superior experience. The average TabTale customer has downloaded approx 3.5 apps.
New Market Playbook: Santa's Rescue Saga, TabTale's latest Christmas offering is a hit, having risen as high as number one in the free app downloads for iOS. It is also rated top 10 in 106 countries. The visual and educational experience has led to mass global appeal. So where else on the map is TabTale aiming? An expansion into Korea, Japan and China is on the horizon for 2014. The goal is to do better in localizing content for diverse cultures.
Investor Playbook: TabTale recently announced a $12 million dollar round co-led by Magma Venture Partners and Qualcomm Ventures. TabTale plans to use these funds to make acquisitions in Eastern Europe, Asia, North America (Canada and the U.S.) and South America (Brazil). This is TabTale's second investment. In 2011, Magma made a seed investment in TabTale. Sagi shared the value of having an investor with deep understanding in the market. When Sagi presented a monthly plan rather than projections for three years, Magma understood the need for agility in the market and the focus on audience build.
Team Playbook: For Sagi, everything is around team. Sagi thinks like a winning coach. He assesses and picks the best team for the game that needs to be played at the time. Your start up team may not be your growth team. Some team members have to pass the baton to another team member to reach the next milestone. That's a harsh reality but one that has kept the company on a steady increase.
Winner's Circle: How did TabTale break through to the Top Seed? Sagi leaves us with two factors: Keep innovating and stay consistent on quality.
Stay tuned for my next interview with another All-Star Entrepreneur.