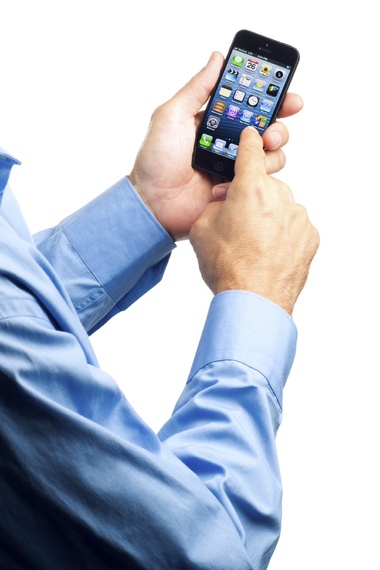 I'm building an app that is going to change the world for small businesses. And I'm planning to launch it in the New Year. There's so much to get right - the product, the design, the user experience, the marketing message, the roll out and the business model. Every entrepreneur can relate to the test of building, growing and expanding in the pursuit of our business and personal happiness. My formula for navigating entrepreneurship has traditionally been to Cocoon and Conquer. I've been challenged by a dear friend to Connect. She's a marketing and branding advisor and Pisces sister that has pushed me, No, forced me, to write this first Huff Post piece.
Months ago, I reached out to Arianna and expressed my desire to share my journey. Arianna said "Yes, We would love to have your story on our platform." With that blessing, I decided that I would publish my first piece after I launched my mobile app growth tool for small businesses. Well, this dear friend, knocked me over with the truth. Telling your story after you've climbed the mountain is less interesting than sharing it while you are scared, uncertain, excited, overwhelmed, energized, and so on.
What is it about me that wants everything tied up in a bow before I show up? I know. It's a combination of family pride and being the A student. See, my family presents very well and has great taste. It doesn't matter how much money we have. We can pass for luxury with our art loving, culture having, business building, community contributing, fashion creating, constantly learning selves. And being the A student comes with this sense that everything needs to be perfect. Negative or opposing critique is beyond frightening and we do everything in our power to walk in the door, lay our best on the table, get our pat on the head and exit with a smile. I met a woman who told me "Feedback is a Gift." I believe that but didn't always.
I told my friend, I simply have too much to do to write right now. Her pearl: Talk about what you are doing. It has to be a priority.
So I'm not going to wait until I cross the finish line to share and reveal. My journey is fluid and constant. There's no losing in journey-sharing, right? With that, I'm going to share my current To Do list. I find that you learn a lot about a person by peeking at their To Do list. It's often a hodgepodge of business, personal, big picture, details, disconnected but connected stuff. I'll remember that the next time I go out on a date. Why ask the person to list their values? Just read their To Do list and you'll see what they really care about.
So Here's Mine:
Product Development Stuff
1. Finalize Color Palette for App: The colors were everywhere in the first design. A design expert shared that you should design your products like you design an interior space. Think about your favorite room and bring those elements to your app.
2. Back-End Check In: Meet with CTO to select Server Space (Amazon EC2 or Windows Azure), Review UML Diagrams - Structural Architecture Artifacts, Review Development Schedule (UAT, Apple Store Terms). Yes, I know what these things mean now.
3. User Testing List: Create list of tech advisors and entrepreneurs for testing phase. Feedback is coming. And in this lane, software applications are meant to evolve and iterate. Give the people what they want!
Marketing Stuff
1. Animated Video: Concept Done. Finish script. Record Voiceover. Love the animator. He just gets it. Lots of opportunities for creativity in visualizing the story of the entrepreneur while using of my mobile solution.
2. Landing Page: Create Guestbook. Complete Copy. Test Headline: "There's nothing small about you business." I like that one. Another friend suggested, "Grow smart from the start." My mom likes, "Let's get down to business."
3. Strategic Alliances with Communities of Small Businesses: Follow up with American Express Open Forum team to set up demo. Met some cool team members at their CEO Women's Bootcamp. I keep thinking, When entrepreneurs get together, how can we better capture our business brainstorming? Hmmmm. I have an app for that.
Networking Follow-Ups
1. Angel Investor Convo: Met an Angel who peppered me with a million questions at a NYCWomen Connect Pitch Event and told me to follow-up. Started following him on Twitter. Will call and send email early in the week.
2. Potential Client: Hedge fund firm looking for Private Equity business expansion. My business, Synergy Business Development, works to grow businesses who are expanding, merging, acquiring and partnering. This would be cool client as I spent many years lawyering in the private equity space and have a great network.
Personal Stuff
1. BFF Wedding: A dear friend is getting married in a few weeks. Beyond excited. Need to find a cream colored lace dress - knee length. Buy prizes for bridal shower.
2. Love Taps: Send sweet messages to a guy I'm crushing on. I'm a romantic. In love with the possibilities. Make 1 key introduction a day. A network in a closed hand isn't going to work for anyone, especially the one holding it.
3. Beauty: Get hair done for upcoming photo shoot. Call Next Vanity, my team of innovative stylists and make up artists. The owner is an entrepreneur on an expansion mission. Remember to get her to test my app.
So, I did it. I put it out there in the spirit of sharing this gloriously exciting life that is full of optimism, good energy and calculated risks. I'm including a video of my backstory.
Yes, I'm a Wall Street lawyer, turned broker dealer Assistant GC and VP, turned CEO of strategic management consultancy, turned tech founder. I'm not every woman, but I can relate to every entrepreneur that has a huge To Do list and keeps going despite it because there are more things to accomplish in this world. Is there an app for building your enterprise? It's coming!