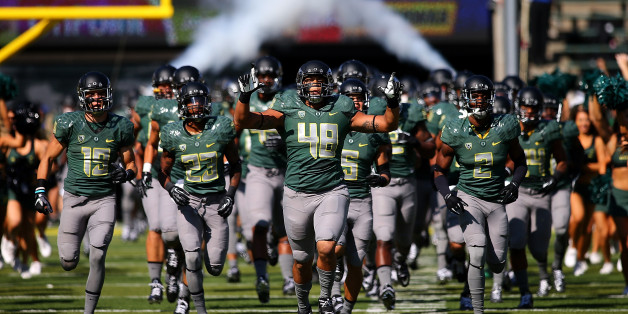 One of the great things about the sports world is the finality of it. It's a very binary, zero-sum interaction; someone wins, someone loses. (Soccer, of course, notwithstanding.)
And while that finality is ostensibly true in the world of college football -- at least as it comes to a single game, where it features arguably the most exciting overtime there is -- for years the divine pleasure of crowning a singular champion has eluded us.
Take 1983, for example. Three different teams have reasonable claims to a title that year: Auburn, Miami, and Nebraska. The formers went 11-1; the latter went 12-1. Miami "officially" has it on the basis of winning the Associated Press vote on the back of their victory over then-#1 Nebraska in the Orange Bowl, but there are more than a few questions that have lingered over the years. Since the Orange Bowl is at home, is Miami's win enough to vault them from #5 to the unquestioned champion? What about #7 Georgia, who beat then-#2 Texas in the Cotton Bowl, deep in the heart of the Lonestar State, essentially a road game? Isn't that more impressive? What about 11-1 BYU, whose biggest crime was simply losing early in the season?
I can't answer that question now any more than they could answer that question back then, which is why five National Champion selectors chose Auburn, nine chose Miami, and seven chose Nebraska, all while Culture Club topped the charts and I turned 1. What a great system, right? Why in the world did we have a system where a single game can directly define a winner and a loser, but be forced to suffer a nebulous and ambiguous declaration of an ultimate champion?
Much like the indefinite suspension of Ray Rice and the return of Chicken Fries to the Burger King menu, a great injustice has finally been resolved -- finally we have a playoff in college football. No more ambiguity. No more arguments. No more Big Ten.
(Of course, I kid about the Big Ten. Sort of. They're technically in the population of teams that can conceivably win it, but come on. Did you see last weekend?)
The system is surprisingly simple: a committee chooses the four best teams, and those teams play each other in a single-elimination tournament. The remaining teams not chosen filter back into a variation of the old conference-affiliated bowl system.
We can't tell much only two weeks in, but what we can say with some confidence is there are certain teams that so far statistically meet the profile of a champion, at least in analytic comparison to past champions. As it turns out, past champions generally follow a similar pattern: a turnover ratio in the top 20 percent nationwide, a yards-per-rushing-attempt value in the top 10 percent, and so on.
Without further adieu, here are four such teams, profiled by analytics derived from numberFire's NEP (Net Expected Points), an advanced statistic that models team performance based on opponent-adjusted efficiency.
(Quick aside: why opponent-adjusted? Because throwing for 400 yards against Florida means more than doing it against Florida A&M. Why efficiency? Because most statistics like yards and touchdowns are just counting statistics; it's important to understand the context in which the event happened. 13 yards on 3rd-and-20 is less meaningful than 3 yards on 3rd-and-1.)
Oregon
No sensible listing can start with anyone other than Oregon, hands down the favorite to bring home the first title. Oregon is an offensive juggernaut, landing in the top 25 in adjusted yards-per-attempt on both the passing side (#2) and the rushing side (#23) of the ball. Even better: unlike the following, they did it against very strong competition in Michigan State.
Baylor
The Baylor Bears are commonly held as exhibit A in the prosecution that the Big 12 is an all offense, no defense, track meet league. But what if I told you that they were ranked in the top 10 in defensive efficiency, including #1 in rushing defense? With Texas and WVU being shells of their former selves and a favorable schedule ending the season with three straight home games, Baylor is a great pick to take the conference and perhaps more.
Oklahoma
Right alongside Baylor - and perhaps surpassing them because they've actually played a moderately legit opponent (Tulsa) - are the Oklahoma Sooners. They ranked #3 in rushing defense and #11 in passing defense, making the the November 8th battle with Baylor one to circle on your calendar.
BYU
Outside looking in at the power conferences, the only shot BYU has of getting into the playoff is by scheduling tough opponents and beating them, which is exactly what they did when they thumped Texas 41-7. They don't stand out with any one stupendous metric, but they're in the top 50 in passing and rushing on both sides of the ball; the only other team that can say that is Oregon. Assuming they get past Boise State, this is perhaps your most likely undefeated team come December.
That's not to say, of course, there aren't massive flaws to this current system. Since the final four teams are chosen by committee, there's enough recency bias and confirmation biases to make a CogPsych professor cry. But that, my friend, is another column for another day.