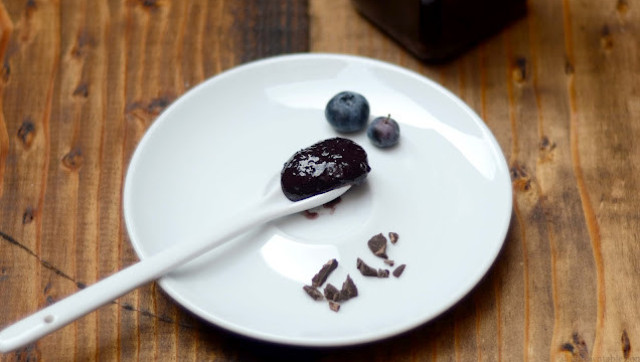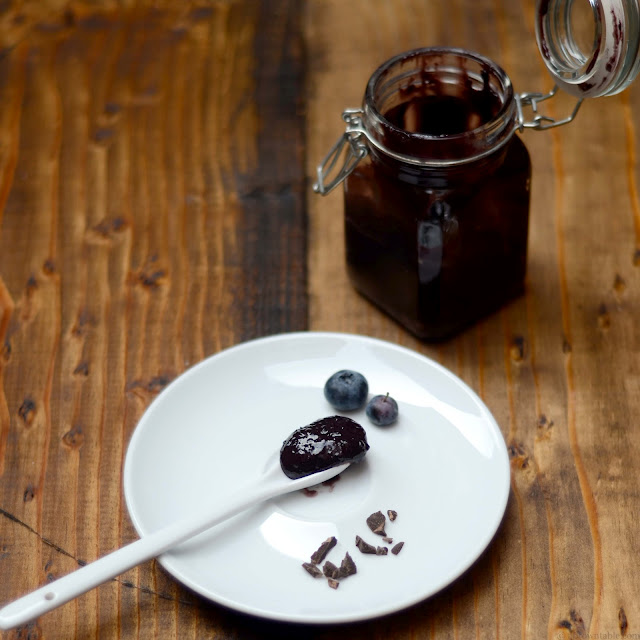 Summer has ended and here I am in the kitchen trying to seal every bit of my memories in glass jars that will remind me of the good and happy times. This past summer was etched with fun trips, great family visits, and new experiences. New recipes and tastes to be tried and savored and my blog completed its first year. This is also my first summer of canning and preserving and I will admit that it is very addictive. The summer harvest was as generous with its bounty as it was with its experiences and I took full advantage, especially the fruit. Yup, you might have noticed that I'm always leaning towards the sweeter end of things.
This recipe first appeared on A Brown Table on September 17, 2012.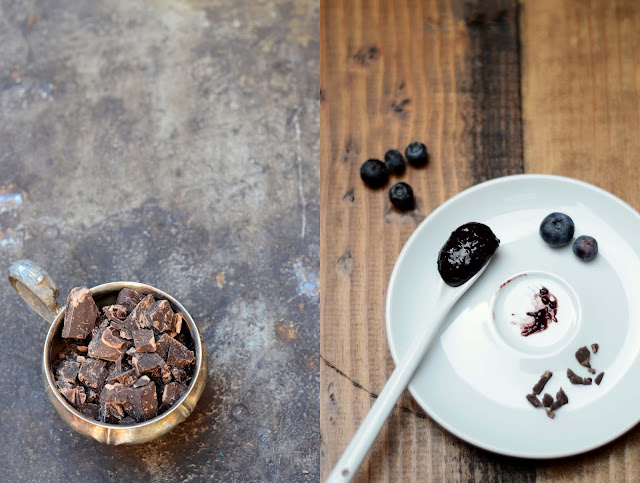 Blueberry Chocolate Jam
Ingredients
10 ounces bittersweet dark chocolate chips
3 pints wild blueberries (I used frozen, fresh is perfectly fine too)
3 cups sugar
juice of one lemon
juice of one lime
10ml orange juice
5 teaspoons fruit pectin
Mix the sugar and blueberries in a large pot and cook on a medium flame. (If you use frozen blueberries then use the juices too.) Macerate the blueberries during this period with a masher and stir occasionally. Cook for about 10-12 minutes till the sugar is completely dissolved. Pour the entire mixture through a ricer or sieve and process to remove all the skins. You might have some tiny seeds that seep through the ricer/sieve, that is perfectly fine. Squeeze as much pulp and juice as you can.
Add the pureed blueberry syrup into a pot and bring it a gentle simmer on a small flame. Stir in the chocolate chips. At this stage you need to stir the mixture continuously to ensure that the chocolate does not burn. Add the lemon and orange juices to the mixture. Stir continuously for 15 minutes. Add the pectin to the mixture, a teaspoon at a time. Mix till it is completely combined. Perform the wrinkle test to make sure that the jam is ready to set. (Wrinkle test: Take a tablespoon of the hot mixture and smear it on a clean plate. Put the plate in the freezer for 5 minutes. When you remove it, run your finger through the center, the gel should wrinkle on the surface. This indicates that your jam is ready to gel). For some reason if your jam is not ready to gel, cook for another 5 minutes, take it off from the stove and repeat the wrinkle test. It took me two wrinkle tests to get the right consistency. Pour the jam into 12 clean 4 ounce canning jars and process for 10 minutes.