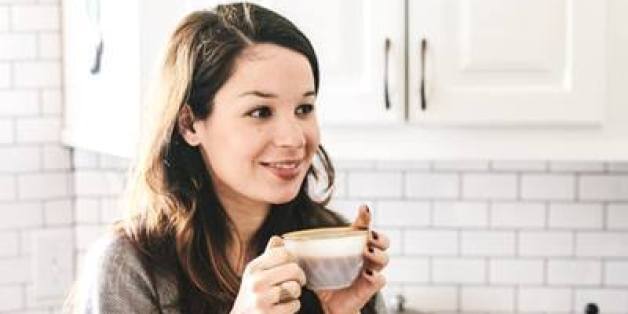 If you love Southern food and beautiful photography, then you need to check out the gorgeous blog, Nothing but Delicious run by Hannah Messinger. Hannah is a talented photographer and also does a fantastic job of creating innovative recipes inspired by her Southern roots. Delicious is indeed the perfect way to describe her work! Learn more about Hannah and what she has to say about her food, her style, her inspiration, and her photography.
1. Why the blog name?
Back in 2011 I had a full time job working for a hotel chain and good Lord have mercy, did I hate it. As it often goes in office settings, the management would frequently buy food for the staff to keep up morale. When a manager came in with supermarket cake, I had a pretty standard reaction of feeling like I was getting paid extra, but after I had eaten the cake, or whatever it was that day, I couldn't help but feel ten times more defeated for having a lousy job and having eaten lousy food.
During my sentence to work at 6:45 in the morning one Sunday, I stumbled upon the blog La Tartine Gourmande I started reflecting on how little happiness or gratification I was able to glean from my life or my diet. So I decided I was never going to eat anything that wasn't absolutely delicious ever again. The word "delicious" really got the wheels in my brain turning. There is food you want, like supermarket cake, and there's food that is good, like casserole made with condensed mushroom soup; you eat it, you regret it and you never want to talk about it again. Food that is actually delicious is a totally different ballgame, one that deserves to be remembered and cherished through words and photographs. There you have it: Nothing but Delicious, a collection of food worth remembering.
2. What got you started?
Well I have a degree in Photojournalism with a concentration in Art History. I used to go to events to shoot and keep my portfolio updated, but I felt incredibly awkward and like such a failure when people would ask where the photos would be published. Around the time that I was having all of these workplace food epiphanies, I decided it would be more gentle on my soul to stay in my tiny apartment and practice by learning to shoot still lifes, which I had never really done before. I had previously been harboring the rather negative suspicion that my time in the Art History department would never apply to anything in my career, but as soon as I started shooting food, I found myself quite grateful that I had studied the experimental compositions of painters such as Cezanne and Gauguin.
3. What defines your photography and blogging philosophy?
I'm still working on the answer to that, actually. Creativity constantly requires room for improvement and I can hardly meditate on one thought long enough to honestly proclaim that it is my philosophy (isn't it wonderful how full of ideas the world is?). I consistently aim for simplicity in all things, from recipes and styling to the way I buy food. Like pretty much all of us food bloggers, I could yell at you all day about buying local and organic, about the merits of cooking and virtues of whole food, but I'm sure you've heard it all before. Instead, I'll tell you that I am a disciple of Wendell Berry, Tamar Adler and Robert Farrar Capon, whose works I read over and over again. Look them up. I'll end this answer with words from Berry, since I cannot express the idea better myself:
Swear allegiance
to what is nighest your thoughts.
As soon as the generals and the politicos
can predict the motions of your mind,
lose it. Leave it as a sign
to mark the false trail, the way
you didn't go. Be like the fox
who makes more tracks than necessary,
some in the wrong direction.
Practice resurrection.
- excerpt from "Manifesto: The Mad Farmer Liberation Front"
4. What's your favorite recipe ?
My favorite recipe is easily buttermilk cake with whiskey frosting. Sometimes I have delusions of writing a cookbook and will "save" really extraordinary recipes like this cake for my imaginary work of future genius. However, I was having one of those weeks where every recipe I saw on Pinterest- for cake or muffins or biscuits or whatever- had about 800 different things in it. I mean so many flavorings that if you had the most sensitive palate in the whole world, in the whole universe, in the whole of creation, you wouldn't be able to taste one flavor over the other. And I really felt that the good people of the Internet deserved access to a simple recipe for cake, one with science behind it and just a touch of flare to top it off.
5. What are your top three favorite food photography blogs?
Of course I adore Beth Kirby of Local Milk. Who doesn't? We became friends during a hard time in my life when I felt I needed to be around a lot of calm, level-headed people, but instead I started hanging out with Beth... and in case you didn't know already, she's a complete nut. Her general insanity (in the kitchen and elsewhere) made me feel like my own eccentricities had a place in this world, and a welcomed place, to boot.
I'm also a big fan of A Better Happier St. Sebastian, a blog that shares my love for breakfast, whiskey and straightforward styling. And I can't get enough of Babes in Boyland. Can't. Get. Enough. Every time I lay eyes on that clean Nordic light I want to curl up in a wool sweater and drink tea. And then maybe die of happiness.
Semi-related bonus answer: Ruth Reichl's Twitter account. Because she makes word pictures.
6. In addition to food photography and blogging, what else do you do for a living?
I do a lot of things! I had the outrageously good fortune to take on Olive & Sinclair chocolate as my first product photography client and have been shooting for them every since. I do product photography for a couple other local businesses, style shoots for and contribute to magazines, and cook for events (mostly Kinfolk gatherings with Beth). And while all of that makes me seem very busy and important, I'm sorry to tell you that my nine pound mutt is pretty much the boss of me. If I'm working and she wants to go for a walk, it's not exactly up for discussion.
7. What's one thing you would recommend to aspiring food photographers and bloggers?
I'm going to tell you two things because I often find my that approach to shooting and writing is polar opposite.
The first is don't fake your writing. When I started my blog I acted like I knew all about cooking and I tried to convey that my life was some kind of whimsical daydream set in an Anthropologie catalog. I don't even have the time or space here to explain to you how untrue that was. I actually used the word "lovely" like, three times per post (barf) and it quickly became clear to me that people don't buy that crap. Most of all, remember that you are in control; no editor is whispering in your ear telling you what you can or can't do, so let your freak flag fly. That's what self-publishing on the Internet is all about!
The second is have a plan and know how to fake your photos if need be. I started my Pinterest board "Inspiration" in order to curate a collection of food photos that I find intriguing. Sometimes I even make notes of what specifically draws me to a photo- the contrast, the editing, the negative space, etc. More often than not I sit down with a blank piece of paper the night before a shoot and draw out compositions as I scroll down my Pinterest board. You'll notice that talented stylists and photographers add dimension and movement to their work; little hacks like putting a ball of plastic wrap under a heap of pasta to make it seem taller or having a hand pouring cream into coffee can make a drastic change in the quality of a photo.