Meet Carey Nershi, of Reclaiming Provincial. Carey is extremely talented, her recipes are fresh, flavorful and tastefully created while her photography style is awe-inspiring. She continues to be one of my favorite food bloggers and I am thrilled to interview her this month.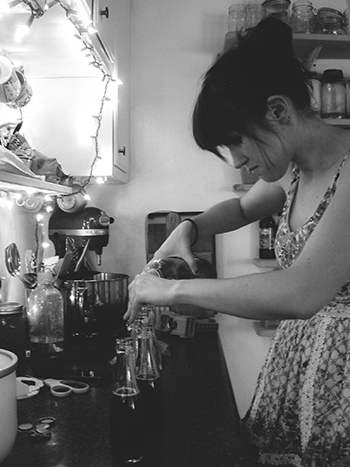 '
1. Why the blog name?
Living in Vermont has played a huge role in my approach to food. Support of local farms and businesses is everywhere you turn here, from markets to restaurants to the media -- it's beyond inspiring. Becoming immersed in all that also made me realize how lucky I was to grow up in a rural area of upstate New York with a similar focus on local farm culture. I took it for granted when I was young, so when I finally relocated to Vermont after spending over a decade in the Albany area, I felt so much appreciation for both my home home and my new home. This became a driving force behind my blog, and I wanted a name that properly reflected this. I kept fixating on the word "provincial" and lamenting its negative connotations, but some research into its etymology made me realize that this wasn't always the case. In its earlier definitions, it was simply synonymous with "local," while "rude" and "unsophisticated" came later with the rise of city living. It's a word worthy of reclaiming, especially now, with the growing appreciation for farming and locally sourced food.
2. What got you started?
I still remember the revelation of discovering a food blog for the first time. Up until that moment, I hadn't given much thought to blogs -- not to reading them, and certainly not to having one of my own. But then I happened upon a post on homemade butter and thought, "Whoa, wait, people blog about making food?! AWESOME." I obsessively sought out and read food blogs from there on. After a year or so, I was enjoying my own experiences with cooking and baking so much that I thought it might be fun to give blogging about it a try, and that's how I got started.
3. What defines your photography and blogging philosophy?
If I had to sum it all up, I'd say that my blog is about working with what's available to me. In terms of food, I absolutely love working with whatever's in season. It can be mildly limiting (I can't adequately express my frustration with the fact that I can't put pomegranate seeds on everything ALL THE TIME), but it has helped me expand my horizons so much too. I love discovering things I've never worked with before at the market, and then bringing them home and figuring out what to do with them. Working within limitations also applies very much to my photography. I live in an awkward apartment with a kitchen that gets barely any natural light. This means constantly shifting possessions and props around when I need to take photos, and running back and forth like a madwoman from the kitchen to the other room. It can be frustrating at times, but it has taught me to so much about working within the space I have, and allows me to look forward to the way my photography will evolve in a larger, more ideal space when I finally have one.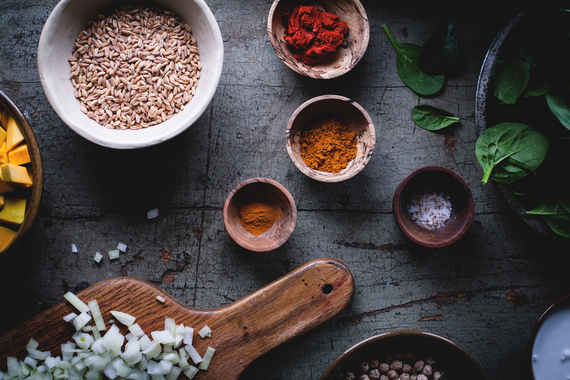 4. What's your favorite recipe ?
The curry-spiced kabocha gnocchi is one of my absolute favorites, ever. It was a dish that I really, really wasn't sure about when I had the idea for it. But it came together deliciously.
5. What are your top three favorite food photography blogs?
Oh my goodness, I don't know if I can narrow this list down to anywhere near three! I love the work of so many blogs for so many reasons. Eva, Phi, and Cynthia create beautifully moody scenes. Shelly and Molly always make me happy with their bright photography. Alanna does wonderful work, and her drink shots are especially stunning. Izy takes killer photos and creates awesome GIFs. I adore the simplicity of Jenn's photography. The softness of Sarah's work and the way she incorporates her family into her photography is beautiful and heartwarming. And I'm pretty sure Linda can make anything and everything look gorgeous.
6. In addition to food photography and blogging, what else do you do for a living?
I'm actually in a bit of a transitionary phase at the moment! I just quit my job of over nine years to devote time to my freelance career. I'm still doing book layout (my old job) as a freelancer, as well as food styling and photography. Aaaand I've got kind of a big project lined up for the year that's still a little hush hush, but I'll announce it soon enough!
7. What's one thing you would recommend to aspiring food photographers and bloggers?
Find your style and your voice, and rock them proudly. It took me a very, very, very long time to be comfortable with presenting myself to the world through online writing. I constantly second-guessed my writing, and spent a lot of time fretting over what might or might not offend someone, somewhere in the universe, or what might seem dumb or ill-informed to others. When you write defensively, it shows, and it feels unapproachable to others. When you cast aside doubt and write with a true, honest voice, it's wonderfully freeing.
Facebook | Instagram | Twitter | Pinterest