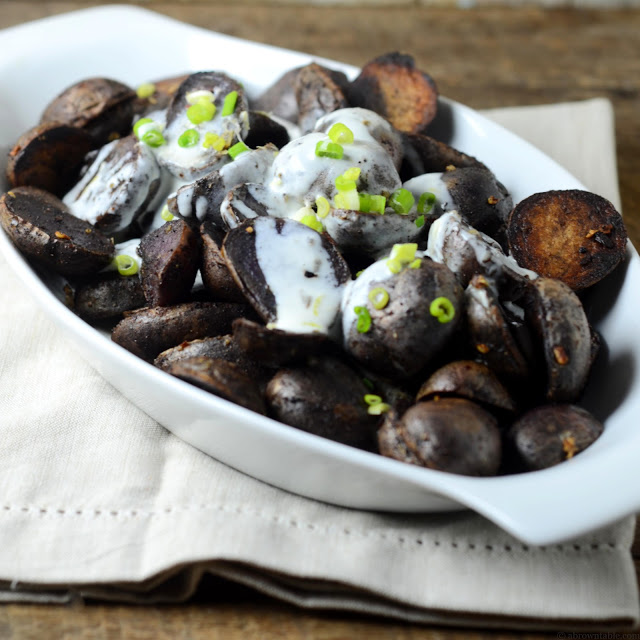 The potatoes in this recipe are first seared till they are almost cooked tender. Then towards the end of the cooking, the potatoes are seasoned with garlic and mango to prevent them from burning while still flavoring the potatoes. Mangoes can pack heat! I remember my mother telling me to avoid eating one too many mangoes during summer because they can overheat the body. So we'd soak the ripe mangoes in cold water to cool them a little before eating (I am still not sure if this helps or its just a myth). Dried mango powder is obtained from raw green mangoes and it still carries a spicy hot edge with an acidic note. This makes mango powder an excellent source of heat for many dishes and you will find it used in several Indian recipes.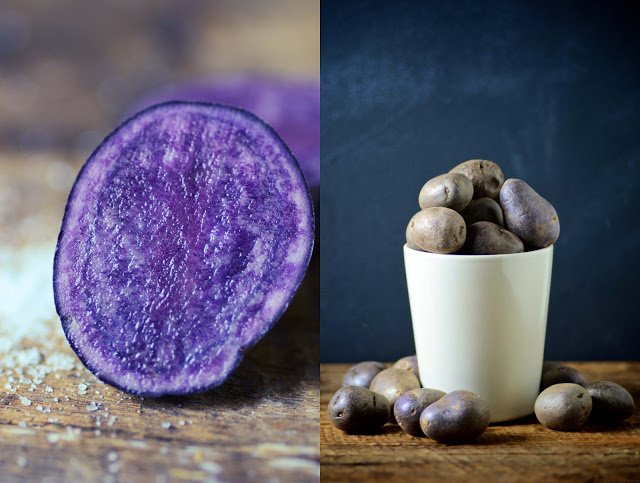 This light buttermilk sauce that accompanies the potatoes is refreshing. Who says hot and cold can't go together? Buttermilk and yogurt with a little bit of fresh lemon zest add a bit of a coolness to these hot and spicy purple potatoes. This entire dish is packed with delicious rich and bold flavors and not to mention some fun colors.
This recipe originally appeared on A Brown Table on October 23, 2012.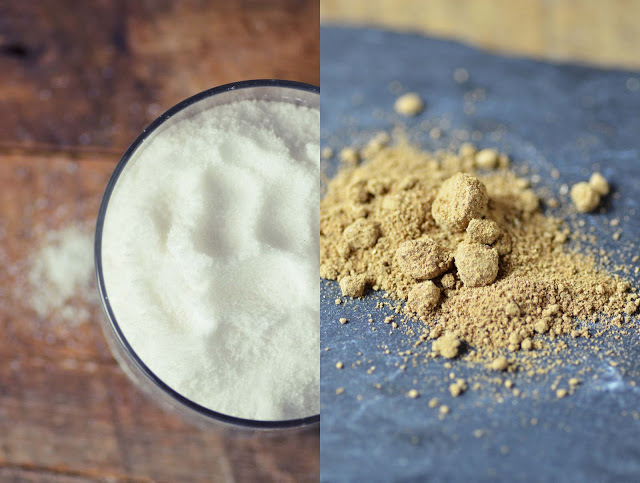 Mango-spiced baby potatoes with buttermilk sauce
Servings: 4-6
Ingredients
3 cups baby purple potatoes or fingerling potatoes
1 garlic clove, finely minced
1/2 cup low-fat buttermilk
1 teaspoon plain non-fat yogurt
1 teaspoon salt
1/2 teaspoon freshly ground black pepper
1/4 teaspoon fresh lemon zest
1 teaspoon dried mango powder (Amchur)
1/2 teaspoon ancho chili powder or dried chili flakes
1 tablespoon olive oil
2 tablespoons chopped scallions (for garnish)
salt and pepper to season the buttermilk sauce
1. Wash the potatoes under cold water and wipe them dry with a clean towel. Slice each potato in half across its length.
2. In a large skillet, heat the olive oil on a medium flame. Add the potatoes and salt. Cover with a lid and cook for about 20 minutes till the potatoes are golden brown on the outside but soft and tender inside. Stir the potatoes occasionally during the cooking.
3. Reduce the flame and add the chili, garlic, pepper, and mango powder. Stir and cook for another 5 minutes.
4. Lightly whisk the lemon zest, buttermilk, and yogurt in a separate bowl. Season with salt and pepper according to taste. Remember that the potatoes are already salted, so season accordingly.
5. Pour the buttermilk sauce over the warm potatoes just before serving. Garnish with the scallions.