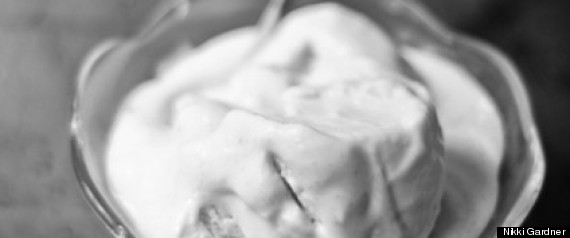 It's difficult to bring up dessert mousse without talking about the '80s. It was the darling on every dessert menu and for good cause. Dark chocolate mousse covered in chocolate wisps was the symbol of decadence. Airy yet indelible, it was the only thing I ordered off any fancy dinner menu during those boom years. I don't remember my mom ever making mousse at home, so ordering it inside a dark paneled restaurant lit by votive candles was all the more alluring.
Lined with white tablecloths and napkins, a vase of fresh lilacs were centered on the table. I pressed the folds in my pinstriped sailor dress as I crossed and uncrossed my legs waiting for my shirley temple. Delivered with a wink, the server plopped an extra cherry into my pink tinged glass.
Since then, I've made chocolate, avocado, and most recently honey dessert mousse at home. When I taught a cooking class a few weeks ago featuring local foods, guess what made its debut on the menu? That's right, frozen honey hazelnut mousse. Sweet floral honey bites rounded out with a cream-driven tang, earthy hazelnuts, and specks of bright citrus. I wanted to showcase a rich, yet off the cuff sort of dessert. I also wanted to host a grand feast in our modest front yard: a sprawling wood table that ends with coffee and individual dessert cups. My vision is grand, but not impossible.
One that is equally welcome at a birthday dinner, picnic, or large gathering with friends. Since the honey-hazelnut mousse comes together with a handheld mixer and a few hours in the freezer, it's also a good last minute dessert fix. As long as you have these staple plus a few extras around: cream, crème fraîche eggs, honey, sugar, citrus, and nuts--you're set.
Frozen Honey-Hazelnut Mousse
by Nikki Gardner of
Art & Lemons
makes about 8 servings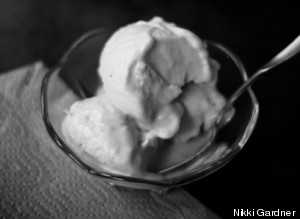 3/4 cup whipping cream
1/4 cup crème fraîche
3 egg yolks
1/2 cup honey
finely grated zest of 1/2 lemon
1/2 cup lightly toasted ground hazelnuts
Serve with
peeled and sliced fresh peaches
toasted hazelnuts, coarsely chopped
Toast hazelnuts, stirring occasionally, in a skillet set on medium heat until fragrant, about 4 minutes. Use a food processor or coffee grinder to grind hazelnuts.
Whip the cream and crème fraîche together with a hand held mixer or stand mixer until soft but firm peaks form. Scrape the cream into another bowl and refrigerate. Without rinsing the mixing bowl, beat the yolks and honey until they thicken and turn pale, 8 to 10 minutes at high speed. Add the zest and ground hazelnuts, then fold in the cream and whisk at low speed until everything is well combined.
Freeze in small glass dishes or in a large single container. It will take about 3 hours for the mousse to set, although you can serve it before then (the consistency will be more relaxed though). Before serving, allow it to stand at room temperature for 5 to slightly soften. Serve with fresh peach slices and chopped toasted hazelnuts.