OK, so, yeah, our album cover is pretty gay. It features the two female members of the band (Monika and me) in a topless embrace.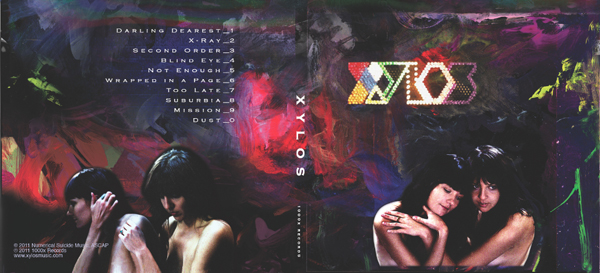 Although we didn't intend to come out through our album photo, I can't help but wonder whether we've attracted attention as a "gay band" in part because of these depictions. And I wonder, retrospectively, whether we did it on purpose. Were we looking to come out? Were we, are we, hoping to become a gay band?
Certainly, being a gay band is awesome. Bands with large gay followings are, more often than not, great -- witness Gaga, Erasure, Robyn, Scissor Sisters. The shows we've played for mostly gay audiences (like the GayBiGayGay festival at SXSW) have tended to be way, way more fun than other, straighter shows. Even the interviews we've had with gay media have been more interesting. Larry Flick of Sirius OutQ asked us primarily about hypothetical sexual scenarios involving members of the band (mainly featuring a leather-clad Monika), which was probably the best, and certainly most raucous, interview I've done.
But really, what makes a gay band? Is it just how well they can make people move on the dance floor? While most bands with a large gay following have out LGBTQ members (and awesome music), gay bands do not spring, fully-formed, out of relative obscurity or the test tube of a record company. Especially in the music environment of today, where many bands are self-made (and self-mediated), a band's persona is mostly decided by how the band chooses to present itself to the public through music and lyrics, videos, art, and its political voice. Though I've never made artistic choices in a way that tried to consciously represent my sexual identity, my life has inevitably percolated through my art and music.
First, the album cover in question. Monika and I played around with several poses during a two-day shoot that started in a freezing-cold back alleyway somewhere in Williamsburg, Brooklyn, and ended in a freezing-cold rug factory in Red Hook. We originally envisioned posing together in a way that evoked silky-skinned Roman statues, embracing each other like two angels or mermaids would. As we gradually became more comfortable in front of the camera, we found ourselves in positions that reflected the lyrical content of the album: love and separation, distance and reflection. As both sides of the album cover evolved into a mini-story of an ambiguous relationship between two women, I was happy that it reflected some of the album's lyrical content. (The two songs on the album that I wrote, "Too Late" and "Dust," were about the breakup of a lesbian relationship. Check them out below.)
Another of our songs, "Not Enough," is about the hookup culture that all of us have found ourselves a part of at one time or another. For the video we decided to create vignettes about lovers meeting and parting over the course of a day and a night, with me and Monika switching between both male and female partners through the course of the song. When we brought a little lesbian drama into the video, we weren't really sitting around a table asking ourselves deep questions about how we were choosing to represent ourselves; we just decided to go with the emotional tone of the song, which is really meant to reflect the straight and gay culture of our social milieu. And yet, when finished, it's something that would have come across as provocative only a decade before: two girls making out at a house party, and ending up in bed the next morning.
The fact is, I think we all felt pretty free to depict in the video whatever story lines were natural to the song. And, in retrospect, I'm extremely lucky to be living and working in a time and place that enables me to incorporate my sexuality into my music as naturally as an embrace on an album cover.
Listen to "Too Late" (from Xylos):
Listen to "Dust" (from Xylos):