The fight to help Raju, the elephant that cried tears of joy, has been an emotionally exhausting one. When I first saw the photos of a lonely and old elephant named Raju, and read the information about him, I was numb with grief. I also found myself asking sadly familiar questions: "How could somebody do this? How could half a century pass for this elephant without anybody demanding justice or showing mercy for him?"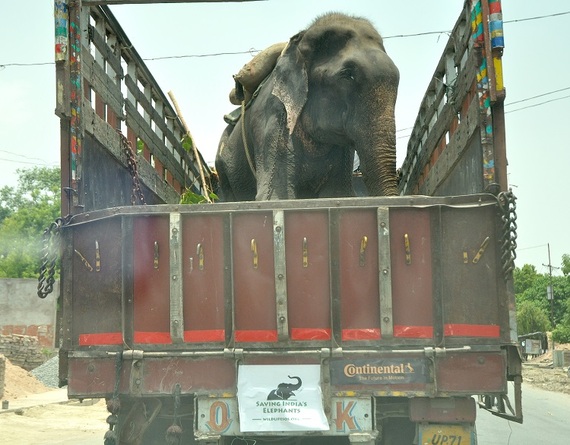 According to what I read, Raju had lived for almost 50 years in spiked chains. His life consisted of being dressed in costumes and painted in chalk in a klutzy attempt to make him look cherished and worshipped. With no attempts to conceal the chains that dug into his flesh, Raju, dressed with silks on his back and shackles on his legs, was forced to beg for money and for his food.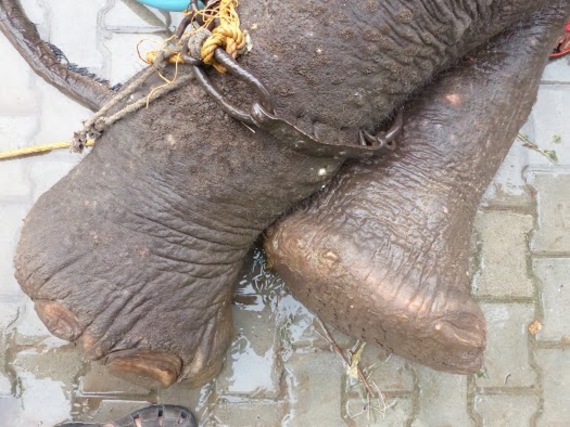 When reading the details of Raju's physical status and reports of his public beatings, it was impossible not to become obsessed with wanting to free Raju and give him kindness. It was also hard not to worry that Raju would succumb to dehydration, exhaustion and starvation before an opportunity came to rescue him.
On July 3, 2014, Raju took his first steps towards freedom and climbed aboard the truck that would take him to his new home outside of Agra, India. All of us rejoiced to know that his new home, a sanctuary for abused elephants, was less than 24 hours away. Here, we anticipated the moment that we would remove the chains and declare him a free elephant forever. That moment arrived shortly after midnight on July 4.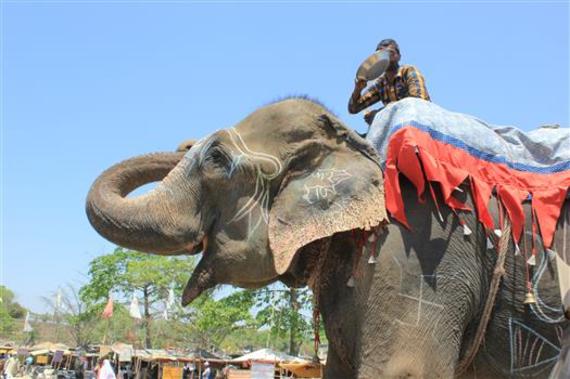 Raju has been free now for two months and it has been thrilling to see him go from looking forlorn and hopeless to becoming an elephant that has companions, food and fun. Although he is not living 'free' in the wild, he is at least free from exploitation and pain.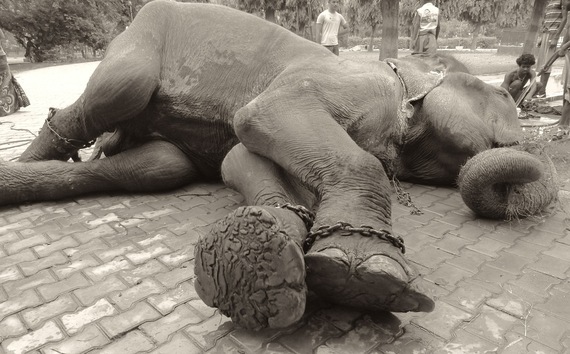 Unfortunately, there is one more sadly familiar question to ponder: "Will it last?"
On August 27, I learned that the person from whom Raju was confiscated had filed court papers to get him back. I shared the news with our supporters, and people around the world immediately responded with tears, anger, fear and confusion. We collectively had our own personal, horrible images of Raju being hauled away in shackles to be mistreated until his death.
Therefore, we are preparing to fight for Raju's freedom once again. I cannot help wondering if the scars from 50 years of cruelty that cover his body are not enough to warrant freedom. Does he need to bleed for another 10 years before his freedom is justified? Will Raju only be a free elephant when nobody else can use him for profit? Georja Umano recently wrote a blog entitled "Elephants Today have no Place to Hide.' It is unfortunate that an elephant sanctuary is also not a place where an elephant can be safe.
Due to the new challenges it is easy to feel despondent and fearful for Raju's future. However, Raju has something now he didn't have two months ago: thousands or possibly millions of passionate supporters who care about his well-being. It is these voices that will demand justice and keep him free.