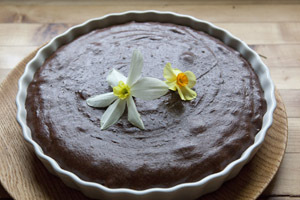 This chocolate treat became a family tradition on the very first taste. It is intense, molten in the middle, and a touch sweeter than my usual fare, but I wouldn't change anything, partly because the sugar does things to the texture that one doesn't want to spoil. I like it best in individual ramekins. Taking the cake from the pan without minor scrapes and bumps takes some practice. Serve it with cream whipped with a tablespoon or two of crᅢᄄme fraᅢᆴche. In raspberry season, garnish with a few ripe ones. Leave any uneaten cake on the counter rather than in the fridge. At cool temperatures, the butter will harden, and it's tastier when it's a bit soft.
6 eggs
1 1/3 c organic whole cane sugar
1/2 c water
2 bars (200 g or 7 oz) 100 percent chocolate
1 bar (100 g or 3.5 oz) 70 percent chocolate
1 c (2 sticks or 8 oz or 16 T) unsalted butter, softened
4 c heavy cream for whipping
4 T crᅢᄄme fraᅢᆴche for whipping
Set the oven to 350 degrees F.
Butter ten 4-ounce ramekins or a 9-inch springform cake pan. Choose a larger pan for a warm water bath.
In a bowl, whisk the eggs. Add 1/3 cup of the sugar and whisk until the mixture is fluffy, shiny, and almost meringue-thick.
In a saucepan, make a simple syrup with the remaining 1 cup of sugar and the water. Bring to boil and boil for exactly 2 minutes. Take off the heat.
Break the chocolate into small pieces and add them to the warm syrup. Stir gently until the chocolate has melted.
Add the butter to the chocolate. Blend gently. Let it cool slightly.
Fold the chocolate mixture into the eggs. Pour the batter into the ramekins or pan. Set in a bath of warm water and bake for about 30 minutes, or until a knife comes out clean.
Let the cake rest for 20 minutes. If it's in a pan, set it carefully onto a plate.
Meanwhile, whip the cream and crᅢᄄme fraᅢᆴche. Garnish and serve.