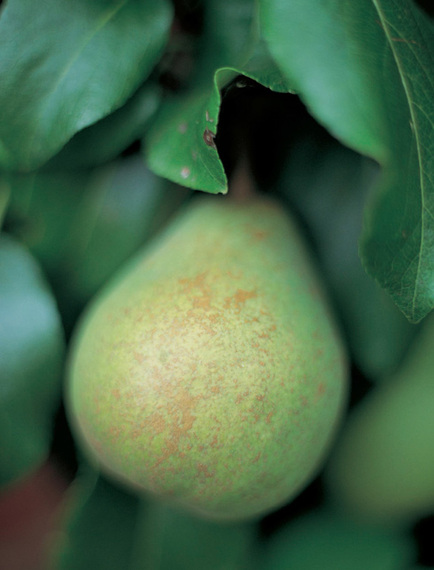 Farmers' markets spur growers to outdo their fellow stall-holders, dazzling customers with more varieties, every one with more spectacular flavor, texture or color than the next. This competition delights cooks; it also has a healthy effect on biodiversity. Here is the wonderful Raymond Bush, in Tree Fruit Growing, Vol. II: "John Scott, a famous Somersetshire nurseryman around 1870, had a collection of eighteen hundred different varieties of pear. Today his firm lists no more than 36."
Bush was lamenting lost varieties in the Britain of 1943. Now just three varieties account for 94 per cent of Britain's pear orchards. Between 1970 and 1996, almost half the nation's pear orchards disappeared, some of them torn out with European Union grants. In Britain today, the smaller fruit grower is growing many other varieties, new and old. At American farmers' markets, like the modern farmers' markets I operate in London, you'll also find lots of different delicious fruits.
The common mistake of the amateur grower is letting pears ripen on the tree, which makes them mealy and grainy. The pear's smooth, creamy texture depends on being picked under-ripe.
Early and mid-season varieties such as Williams Bon Chrétien (often plain Williams) may show a bit of brownish red, but the base color must be green, without a yellow tint, for proper ripening off the tree. Mid-season pears such as Bartlett (know to Brits as Conference) are also picked with a green base beneath their russeting. In storage, the green changes to yellow, pink, and red, although some pears, such as the French Anjou, are still green when ready to "eat. Storage is quite cool, 40-50°F. At home, the pear's full flavor will develop at room temperature, about 55°F.
In Britain, the most common pear is the creamy Conference, and there are several versions. Its name comes from winning first prize at the International Pear Conference in London in 1885. It is long and smooth, with smooth sweet flesh, and often no pips at all. The stubby Williams is aromatic and excellent for poaching as well as eating. There's also Red Williams. Comice is French, and often eaten with cheese. Squat, with a short neck, it is golden when ripe and exceptionally sweet. Concord is yellow, with crispy, almost apple-like flesh and keeps well.
The main clue to pear ripeness is color. Most pears show a faint yellow background when ready. Anjou and other green ones should give slightly under pressure. Once ripe, the pear's flavor deteriorates quickly.
SEASON
Early pears: from August. Main crop: September and October. Excellent fruit from storage until March, quality waning in April and May.
WHAT TO LOOK FOR
Smooth skin, no cuts. Russeting is fine. Firm, heavy for their size.
STORAGE
To keep, store loose at 40-50°F. Ripen at room temperature. To speed ripening, put pears in a paper bag with other ripe fruit such as a banana to trap the ethylene gas.
MAKING THE MOST OF A SURPLUS
Smoothies are good for soft fruit, as long as it does not taste overripe. Delicious with milk or yoghurt, nutmeg, and almonds.
Recipes
PEAR SMOOTHIES
Creamy pears make great smoothies. You only need a blender. You get all the nutrients and fiber and they only take a minute. These recipes make one large or two small glasses.
APPLE, PEAR & GINGER
1 cup apple cider
1 ripe pear, unpeeled
½-inch piece of ginger, unpeeled
- Quarter the pear and remove the pips. Blend everything until smooth.

GRAPE, PEAR & GINGER
2 cups grapes
1 ripe pear, unpeeled
½-inch chunk ginger, unpeeled
- Follow the instructions for Apple, Pear & Ginger
PEAR, NUTMEG & HONEY
1 large ripe pear, unpeeled
1 tsp honey
1½ cups milk or yogurt
freshly grated nutmeg
- Follow the instructions for Apple, Pear & Ginger
PEAR TREAT
I did not know what to call this, but it is a delicious dessert or snack for one.
1 pear, diced
1 tbsp pine nuts, toasted
1 tsp best olive oil
1 tsp honey
- Mix together all the ingredients thoroughly and eat immediately.
WATERCRESS, PEAR & GOAT'S CHEESE SALAD
Sweet pear, sharp cress, mild creamy cheese.
SERVES TWO TO FOUR
1 cup watercress, chopped, bigger stems removed
2 firm pears such as Conference, cored and diced
4 tbsp young goat's cheese
1 tbsp chives, chopped
3 tbsp apple cider
3 tbsp best olive oil
- Put the juice and the oil into a jar and shake well.
- Mix together the pears and cress. Crumble the cheese over them.
- Dress the salad and season.
PEARS POACHED IN RED WINE WITH CANDIED PEEL
In most fruit and vegetables, nutrients and flavor lurk just "beneath the skin, so it is a shame to peel them. I always poach pears with the peel. Poaching is a good way to use slightly underripe fruit. Almonds with pears is a Spanish combination.
SERVES SIX
6 firm, ripe pears, Conference or Concord
1 bottle red wine
6 whole cloves
6 black peppercorns
½ cup sugar
1 vanilla pod
freshly grated nutmeg
1 knob butter
3 tbsp Marcona almonds
- Slice the bottoms of the pears flat and peel them, leaving a little flesh on the peel, and the stem on the pear.
- Put all the ingredients (including the peel) except the butter and the almonds into a saucepan and simmer until the pears are cooked, about 25 minutes depending on ripeness. They should still be firm.
- Remove the pears with a slotted spoon and set them aside. Simmer the liquid until it is reduced by half. You can make this dish a day in advance: if so, pour the syrup over the pears so that they stay moist, reserving about two tablespoons.
- Remove most of the peel from the syrup, taking care not to pick up any peppercorns or cloves.
- Heat the reserved syrup, the butter, and the almonds in a clean pan. Simmer until the sugar has caramelized, not more than eight minutes. Do not let it burn.
- Place each pear in a bowl, pour some syrup over it, and top it with a spoonful of almonds and peel. It will be a sticky mess, and will stiffen slightly as it cools.
- Serve with Creme Anglaise.
Variation: Poach pears with herbs and white wine for a different spicy flavor. Add four to five tablespoons chopped rosemary or basil, including the stems.
From The Farmers' Market Cookbook by Nina Planck, [Kindle Edition], Diversion Books, September, 2013. Photo: Sarah Cuttler