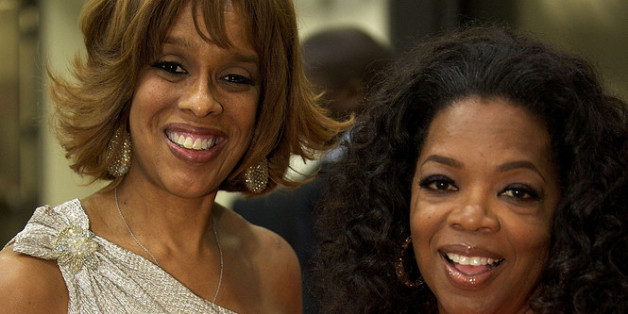 Our girlfriends are the family we choose -- they are our support system, sharing everything from breakups to breakthroughs. Whether they are inspiring us, coaching us or cheering us on, our girlfriends use their words and actions to bring out the very best in us. Live the essence of International Women's Day every day by celebrating the power of female friendships. We share our personal stories of girlfriends whose words were essential in shaping our lives. Share your #itswhatshesays story with us!
1. The Coach (Meredith Grey and Christina Yang from Grey's Anatomy)
Lyric Chen: Leana Wen is an emergency room physician who advocates for patients and helps them become more effective healthcare consumers. The skills that make her a stellar doctor also make her a committed friend. As I have pursued a career in law, Leana has been my coach in handling all types of professional challenges, whether it's preparing for a tough conversation with a colleague, asking my supervisors for the opportunity to take the lead on a big project or stepping into leadership roles in nonprofit organizations. Although Leana is opinionated and feisty like me, she is ever the great emergency medicine physician -- calm, analytical and able to examine situations from multiple angles. She talks through situations and brainstorms solutions with me. With Leana, I can discuss my latest culinary adventures or my most recent nonprofit idea. In either scenario, I can always count on Leana to give me honest feedback.

Why the coach? To succeed, we need people who push us -- like a personal trainer or spin instructor -- and hold us accountable by giving us objective evaluations. Honest feedback is hard to receive, but turning to our girlfriends, who know all our little victories and major mortifications, allows us to be more open and comfortable in these conversations.
2. The Teammate (Tina Fey and Amy Poehler)
Alia Whitney-Johnson: One late night in college, Ellen Sojka and I spent hours talking about Emerge, a project I had started with teen survivors of sexual abuse in Sri Lanka. Ellen was moved by the girls' stories of strength and before I knew it, Ellen packed her bags and moved to Sri Lanka to set up our Sri Lankan branch. There, she persevered amidst language and cultural barriers, legal hurdles, dengue fever and even a monkey bite. Ellen's strengths and talents are different from my own (as evidenced by our strategy sessions and the dance parties that inevitably followed), but we shared a vision for our work. While I scribbled random ideas on papers strewn across the table, Ellen would break these ideas down into reasonable steps, think through costs and weigh their pros and cons. Her pragmatic optimism tempers my idealism and her methodical thinking perfectly complements my creativity. Our friendship has become a deeply rewarding partnership that allows us to use our differences to bring out the best in each other and reach our common goal.
Why the teammate? Finding a partner-in-crime can be a critical part of success in doing good well. With a shared goal, our friends make some of our best teammates in school, in the office, on the dance floor, and even on the frontlines of social justice.
3. The Role Model (Gloria Steinem and Marlo Thomas)
Mackenzie Lowry: My college roommate Elizabeth Tang is my role model for her courage and commitment to finding ways to chart a career that reflects her passions. Elizabeth quit her cushy investment banking job in New York and moved to India to work for an anti-trafficking NGO that supports women and girls living in Asia's largest red light district. As I struggled to figure out my own path, Elizabeth inspired me to see that our value is not in a job title but in finding fulfillment in our actions. After graduating from college, I chose to commit myself fully to furthering anti-tobacco policies in the Boston area, inspired by Elizabeth's commitment to her cause. Today, though we are oceans apart, we Skype about the issues we care most about, sharing best practices on what works, why, and how we can translate each other's experiences into our own efforts.
Why the role model? "You are only as good as the company you keep." Friends are our closest advisors and confidantes, and can also be our biggest source of inspiration. Take time to share best practices, there's a lot of transferrable wisdom!

4. The Cheerleader (Oprah Winfrey and Gayle King)
Annie Ryu: Poonam Ahluwalia is my company's biggest fan, and although she takes no credit for it, she has been a catalyst for our successes from the start. Her brainchild, YouthTrade, connects young social entrepreneurs with markets for their products. I attended her YouthTrade conference, and as a direct result of the introductions there, my company Global Village Fruit got our first product on board to sell in Whole Foods. Unfortunately, multiple supply chain crises forced us to delay product launches for almost two years. Throughout all the setbacks and small steps forward, Poonam would call, constantly encourage me, and remind me of why I believe in this company and why I should believe in myself. As the company grows, she is our captain cheerleader, and she has cheered on many others with her contagious passion for empowering young social entrepreneurs.

Why the cheerleader? Too many of us struggle with being confident about our potential and our achievements. Be a cheerleader for your girlfriends - tell them how awesome you think they are, and share their wonderful work with others!
5. The Student (Leslie Knope and April Ludgate from Parks & Recreation)
Nina Vasan: "Hello and a favor from a student" the subject line read. I was a first year medical student intrigued (and flattered) to receive an email seeking mentorship from Divya Srinivasan, then a junior in high school. Her bright enthusiasm for my opinion was like an antidote to my own struggle with the "imposter syndrome." Having Divya as a mentee helps me be introspective and appreciative of my growth; she has the curiosity of an investigative reporter and pushes me to fully explain my past and present decisions. Today, she provides the idealistic energy that fuels our team as Do Good Well grows from a book into a company. The team's youngest member, Divya challenges us with her ambitious curiosity, impresses us with her eloquence and finesse for building partnerships and keeps our meetings over Google Hangout lively with effects like reindeer antlers and birthday cakes.
Why the student? Our younger girlfriends give us the chance to reflect, share the lessons we've learned over time and invest in the next generation. Their energy is infectious and they can always explain to us the latest acronym or hashtag overtaking the twittersphere.
6. The Teacher (Huma Abedin and Hilary Clinton)
Divya Srinivasan: I edited my first email to Nina Vasan at least a dozen emails before clicking "send." Although I didn't expect a response, I received one that same evening. Nina is earnest in her support of me and honest in her advice. In my first month of college, she sent me an email four pages long and an Excel workbook detailing how I could optimize my time, connect with her alumni friends and find mentors in revered research professors. Recently, I found myself lost after a series of personal and professional trials. Even as a busy physician, Nina spent hours helping me re-chart my goals, editing my grad school applications and having down-to-earth discussions about her own difficulties when she was my age. Having just finished the stage of life that I'm starting, she offers me insightful perspective. Now that we're working together, she invests in me by giving me opportunities to develop my own leadership skills.
Why the teacher? Female mentors tell us where the roadblocks are and how to navigate them, connect us to advisors, and champion our goals for us when we don't know how. Seek out a girlfriend who you admire and is unconditional in her support of your vision.
Lyric, Alia, Mackenzie, Annie, Nina and Divya worked together on Do Good Well: Your Guide to Leadership, Action, and Social Innovation, a #1 Amazon Best Seller that New York Times columnist Nicholas Kristof called "a practical field guide for young people wanting to change the world."