So, Greece is in big trouble and in need of leaders with good crisis management instincts and experience. (If you know any, send them to Athens ASAP -- economy class only please.) The country is suffering under the recently implemented measures of financial austerity that do nothing to put the country back on the road towards growth and competitiveness.
In a contrarian spirit that a true Greek like myself is never short of, I would like to use this forum to report on positive trends, news, initiatives coming from Greece despite all the grim forecasts and predictions of gloom.
For example, this is the first time that a crowd-funding campaign from Greece managed to raise funds necessary ($20,352) to display an advertisement for Greek tourism on a billboard in Times Square, NYC. Its aim was to encourage Greeks around the world to cooperate and take the initiative to promote Greece as a touristic destination. The value of the campaign is mostly symbolic as the goal is to show that it is possible for citizens to take their own destiny in their own hands one billboard at the time.
Greece is Changing is a PR/nation re-branding campaign urging people to realize that Greece is implementing necessary measures to manage the current financial crisis, asking people to "give Greece a chance." The campaign was funded by a group of leading Greek business people who wanted to reverse Greece's potentially negative image. The mind behind the campaign is Peter Economides, the brand strategist who structured and rolled out the global "Think Different" campaign following the return of Steve Jobs to Apple.
The value of nation (re-)branding may be debatable, especially in such an unprecedented financial crisis of epic proportions. Nation branding has two components: external, aimed at foreign nations and people, and internal, aiming at rebuilding the nation's faith in its potential and identity. Needless to say that the real bet is the internal aspect that would allow the nation to pull together, bootstrapping itself out of inertia and start over. The current lack of leadership in Greece makes internal branding more of a challenge...
Endeavor is a non-profit organization, based in NYC, focusing, with great success, on promoting and supporting high-impact entrepreneurship in emerging economies, mostly in Latin American countries, as well as Egypt, Jordan, Lebanon and Turkey. I just found out that Endeavor is now coming to Greece, a great initiative to boost entrepreneurship in a country with plenty of entrepreneurial potential in tech, tourism, shipping, and agricultural products, among other industries.
NYC's Entrepreneur Week, a very successful conference on entrepreneurship, took place for the first time in Athens during the week of Feb. 21, 2012. Also, the American-Hellenic Chamber of Commerce, together with Cisco, organized a "Make Innovation Work" competition in Athens that attracted the submission of over 300 business plans. I have always believed that Greece, with its highly educated, multilingual workforce, low wages and expansive diaspora could evolve into a real software development mecca.
Earlier in March 2012, the Stavros Niarchos Foundation (SNF) announced grants totaling $12.1 million to sixteen organizations in Greece -- the first installment of a three-year, $130 million (€100 million) commitment announced by the foundation in January to address the effects of the deepening socioeconomic crisis in Greece. Established by Greek shipping tycoon Stavros Niarchos before his death in 1996, the foundation typically allocates in the neighborhood of 50 percent of its grant dollars to organizations and projects in Greece. In 2009, the foundation committed $790 million (€566 million) for the development and construction of the Renzo Piano-designed Stavros Niarchos Foundation Cultural Center in Athens. I hope that SNF will inspire additional organizations around the world to follow its example and give back to the country that gave to all of us so much with its history, paideia and beauty...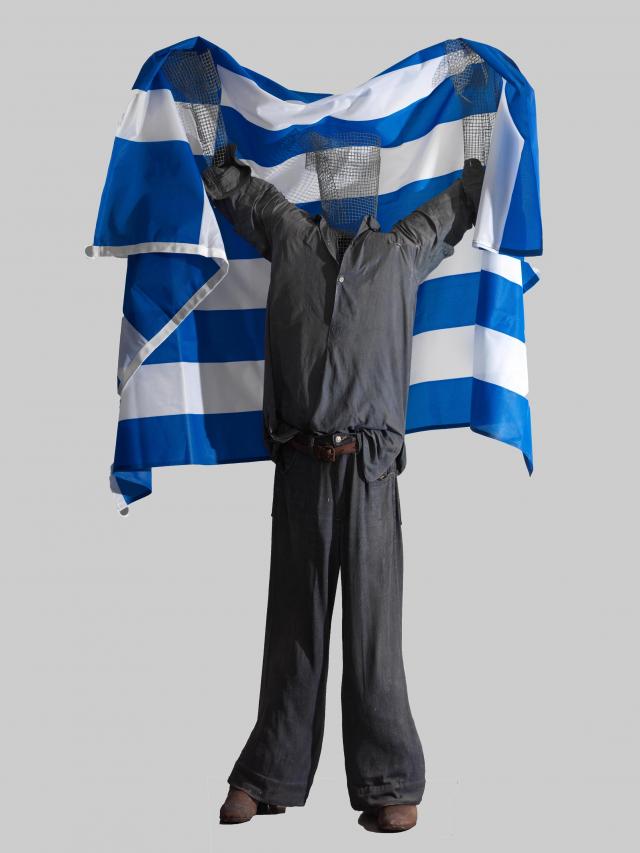 Artwork by Vlassis Caniaris
Image courtesy of Kalfayan Galleries, Armory Show 2012)