Even though he's based in Los Angeles, artist Josh Peters is living somewhere else. His large, other-worldly paintings speak of a different place and time. Dream-like and enchanting, his work, often done on large canvasses, are simply mesmerizing.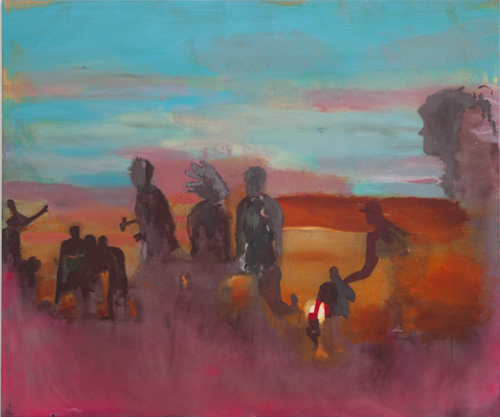 1. Can you discuss important themes that you have explored in your work? What are some themes you hope to tackle?
In some ways, I feel that it's almost up to the viewers and critics to decide on or find the themes in the work. I make my work from such an intuitive way. I'm reacting to images -- and sometimes even having what can only be described as visions -- while deciding what to paint. Then, of course, once the painting has started, I'm reacting to what is going on in the painting. I'm completely enveloped in the sensual world of paint. I'm not thinking consciously about this or that theme, though obviously, afterward, I can see the relationship between paintings, common subject matter, etc.
2. With the economy, some artists are really hurting. Can you describe a low point in your career, and how you were able to overcome it?
Well, my only low points have been when I didn't have the time to make my work, like when I was living in New York City, working as an art director for an ad agency. I was only painting sporadically on weekends. Once I had money saved up, it took a move to a rural area for a couple of years. I was able to devote all my time to my painting again. Ever since that time, there has been no points that low. As long as I'm able to paint every day (or nearly every day), I'm happy.
3. What's new and exciting for you in 2011?
The most exciting thing is my current show at Kaycee Olsen Gallery. It's called Furious Seasons. It's the most important show that I've had, and it's the strongest group of work I've ever shown. It represents the past two years, from when I moved to Los Angeles until now.
I'm also looking forward to the group show that I will be in this spring at the Armory Center for the Arts in Pasadena, where I am currently one of the Teaching Artist Fellows. The show will feature all of the fellows, and it's an amazing group of artists. It was quite an honor to be accepted into the program. Then in the fall, I will be in an exhibition called The Unseen at the Torrance Art Museum which was curated by a painter from New York City, Adela Liebowitz. Most of the artists in the show are from New York. It's a great group of people, and one that I'm flattered to be included in.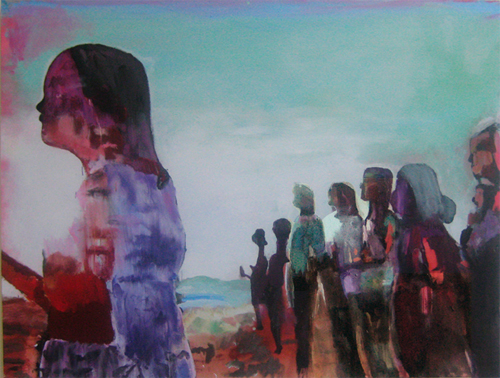 Josh Peters will be showing at the Kaycee Olsen Gallery in Culver City through February 12. He will be featured at Schuebbe Projects at the Art Los Angeles Contemporary this weekend, January 27-30.