On June 6, 2012, New Yorkers of all faiths will come together to support the Kenyan Sikh community's efforts to fight the famine that has devastated their region since last summer. Hunger, an issue that cuts across all faiths, is a natural point of connection for the 10 NYC congregations that have been collaborating to fight global injustice since March as part of the Spring of Solidarity campaign. And it's not too late to take part.
A Season of Multi-Faith Action
Communities and individuals across NYC have been working together not only to have impact on issues of global health and hunger, but to show the positive power that people of faith can have when they unite around action rather than debating divisive issues.
Through the process of raising funds, getting educated on issues and doing local service, participants have had the opportunity to build relationships with people of other faiths as they work to fight against two injustices of our time, food insecurity and malaria. From congregation-based activism and social justice-themed book discussions to an interfaith youth debate program in Queens, the Spring of Solidarity has been a busy season of collective action from diverse groups all over New York City.
As Faiths Act Fellows of the Tony Blair Faith Foundation, Hannah Shirey and I have had the blessing of working at UNITED SIKHS this year, a non-profit that focuses on community education and empowerment, Sikh civil rights, and global humanitarian relief. In that role we have been able to facilitate the Spring of Solidarity campaign, and watch as individuals and communities across the city rose to the challenge of working together to support people of faith around the world who are trying to make a difference in their communities with few resources.
The Sri Guru Nanak Food Bank in Kenya is one such project.
The Kenyan Sikh Community Fights Famine
To understand the urgency of the Sri Guru Nanak Food Bank's work in Kenya, it is important to know that East Africa right now is the world's "worst humanitarian disaster," according to the chief of the United Nations Refugee Agency. Tens of thousands of people have died in the past few months. It is the worst drought that eastern African has suffered through in 60 years.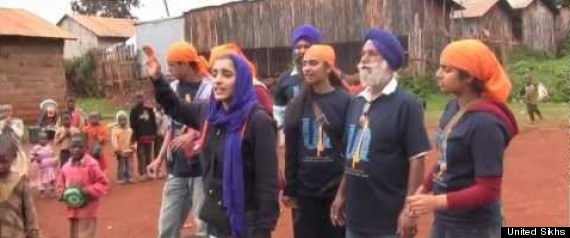 Food has a sacred place in the Sikh religion. Langar, a communal hot meal for all people to eat together regardless of class, race, gender or any other division, is one of the most central and holy Sikh practices. It is fitting, then, that the Sikh community of Kenya would step up as leaders when famine struck.
Around 39,000 Sikhs live in Kenya. When the crisis began, the Kenyan community promptly founded The Sri Guru Nanak Food Bank. The founders hope that the food bank, a legacy of the Sikh Gurus, will satiate immediate hunger and also aid systemic issues related to food insecurity.
The Kenyan community is leading the way since local involvement is crucial to achieving sustainable results in eradicating persistent lack of the primary human needs of food, water, and shelter. That being said, they are looking for partners in their work, and they need our help.
An Opportunity
This project, and this moment, serve as an opportunity for New Yorkers of all stripes to show the impact that we can have when we unite for a cause. Whether you have been involved throughout the Spring of Solidarity or are just learning of it now, you can take part! Join us for the Empty Bowl Dinner at the NY Society for Ethical Culture (64th & Central Park West) on June 6th at 6:30 PM, or simply donate.
All it takes is $50 to feed a family for an entire month! That amounts to less than $2 a day. Buy tickets or donate here: http://multifaithemptybowl.eventbrite.com/.
Gurvinder Singh, UNITED SIKHS Director, USA, states:
"When you feed an individual, you assist a family.
When you assist a family you assist a community.
When you assist a community you assist a nation.
When you assist a nation you change the world."
NYC, let's show the world how it's done.