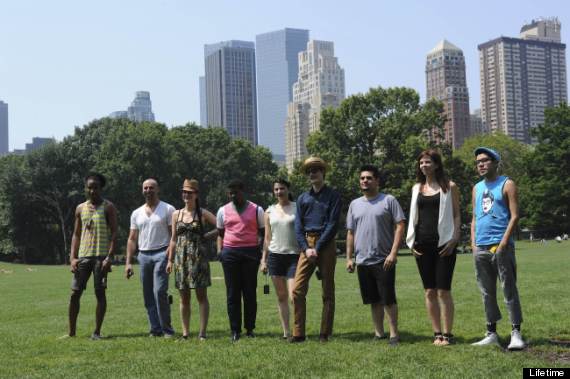 Note: Do not read on if you have not seen Episode 5 of Lifetime's "Project Runway All Stars."
This week's "Project Runway All Stars" opens with one of my favorite reality show conceits: The host pretends that she planned the challenge!
"Welcome to Central Park," says Angela Lindvall. "I thought it would be nice for you to get out of the house, get some fresh air and sunshine." And by that she means, "The producers made us come out to this stupid, hot park in the middle of summer. Is anyone else sweating profusely?"
The designers must each approach total strangers, isolate a muse and also, (in what they keep calling an "'All Stars' Twist!") collect clothing off the backs of anyone who will give it up. They have a $150 budget, which they can use to buy said clothing and/or fabric at Mood, but -- either way -- their final look must be made of at least 50 percent of these found garments.
Anthony is all over this challenge, which is always a concern. Did you ever notice that people tend to choke when faced with their specialty? Luckily, he's confident: "This challenge is so amazing because I've taken so many daggers in this competition for having a personality, but it will be the fact that you have a personality that will allow you to succeed."
They have two full days and yet, as soon as Angela finishes her explanation, they go running through the park to find muses. "You run like a girl!" one guys quips. "I do!" squeaks another in response.
Anthony says, "Beg, borrow, steal -- I will do whatever I have to do to get what I need to move forward." He's off to a good start, chatting up a perplexed and nervous girl named Maeve and convincing her to give up her bright floral patterned tunic in exchange for a white t-shirt.
Meanwhile, Mila worries, "We're at the mercy of what we can find." She turns on the charm. "All of a sudden I notice Mila has gained a personality," says Anthony. Snap.
Michael "hate[s] today's challenge." But eventually, he locates his muse and changes his tune dramatically, saying, "When I saw her, I knew that she was the one. The sun was shining behind her; chickens were hatching; Jesus came back. It was wonderful."
Kenley says, "There are a lot of people who are like get the eff away from me, so I was mortified." But I sort of feel like she experiences that a lot. She finally finds a woman in a silk black and white shirt to give it up.
Austin takes the youthful edgy route: "I approached a very cool young artist girl who had this very funky punk glam look," he says. "I could already envision a high fashion version of this girl's look." She tells him he better make something fabulous. He responds, "You're the inspiration, so it will be fabulous. You're fabulous!" It's a fashion love fest.
Mondo picks a girl in a psychedelic print and seems excited, which is cool since this has been quiet season for the lovable weirdo.
Kara approaches some guy in a hot pink polo and suddenly I'm wondering if this is the beginning of a super disturbing porno. They seem to be flirting, but in this awkwardly suggestive way, saying somewhat normal things, but in a "talking dirty" tone.
About the color of his shirt, she says, "I think it's pomegranate or raspberry or fuchsia or delicious." He likes how she says the word "delicious," so she repeats it three times: "Delicious, delicious, delicious." Then, she adds about his shirt, "And it's going to be with me, if that makes any difference." He nods and says, "That makes a difference," as if they're talking about getting naked.
Maybe something is in the air in Central Park because next we hear some guy yell at Jerell, "I'll strip for you, big man!" He responds, "That won't be necessary today, homeboy!"
Then, Anthony asks a different guy for his jean shorts and he promptly strips down to his teeny tiny briefs. Austin says he got the guy's phone number.
Mood Time!
Jerell doesn't buy any fabric at the store. He says that would be like "sitting your baby in a bear trap" presumably because the judges will be looking out for cut corners. The challenge is about using the muse's clothing.
Kara -- who always seems to be freaking out -- runs out of money, but three other designers help her out. They're really pretty helpful to each other this season.
Back at the Work Room ...
By now, I have eaten an entire bag pf pretzels with peanut butter, so I run to the kitchen to put them away before I have to be carted to bed, but I hear Mila say, "I don't want to know where some of these stains came from."
Mondo says that he has an advantage. This challenge plays to his strengths because he started out as a designer by grabbing clothing from thrift shops. "I'd take it home, see how it was constructed and make it into something new for myself," he explains.
Michael is struggling. He's trying to use this crocheted material and he just can't make it work. Mondo notes, "Michael is definitely feeling the pressure coming off of two wins."
The next day, Michael says, "Today is like a 180 for me. I just feel so much better." But Joanna Coles comes to mentor and says his design reminds her of doilies. Rut roh.
To Mondo, she says, "You haven't actually got a challenge under your belt yet." She thinks he's strong with street wear.
Joanna is "feeling anxious about this mix" concerning Jerell's outfit. They take a moment to plug the Neiman Marcus accessory wall and then continue to discuss. I'm worried too. I think his outfit is looking crazy with this sort of African patterned shoulder situation and a striped bikini top. I am not alone.
Says Anthony, "Somebody looks like they're coming to America."
Says Kara, "Jerell's -- it's having a lot of conversations. There's a lot of women in this one outfit."
Says Austin, "Jerell's design is one of the most tasteless things I've ever seen."
But Jerell disagrees. He says, "I'm ready to win." And we even hear him mutter, "So Lanvin."
Mila thinks Austin's look is "a bit overworked." But she says, "Mondo has a gift of combining different fabrics, prints, textiles."
Michael scraps his old piece and makes a peach corset top and short-short shorts. "Now, it's architecturally really cool," he says.
Anthony, who has been struggling with making his look modern the whole time, creates a jumpsuit with palazzo pants and is now pleased with his design.
He is not pleased with Kenley though. She struts around in sunglasses and says, "This is my edgy bitch look." He comments, "Kenley is loud. If a black person says that you are loud, you are too loud."
Michael and Mila are aghast because Kenley has finished Kara's pants for her. Then, there's a bossy Kenley montage, at which time I finally realize who she reminds me of: She is like the character Emma Stone plays when she's pretending to be awkward or annoying. Think about it.
Anyway. They head to the L'Oreal Makeup Room and we hear Michael describe what he wants to the poor makeup people: "Very Sarah Jessica Parker; 1999 meets 2002, but futuristic." I'm pretty sure that's totally meaningless.
On The Runway
The judges include Marchesa's Georgina Chapman, Isaac Mizrahi and "rising star on the New York fashion scene, Sean Avery," who is apparently a New York Rangers hockey star, who interned at Vogue. Okay. (That's me shrugging via blog.)
Judging by the looks on the runway compared with the images of their respective muses, Austin, Kara and Mondo seem to have done good jobs. Then Jerell's model comes down the runway and it's truly bizarre. With the swim top and shoulder piece, she's wearing a long tie-dye maxi skirt slung as low as a belly dancer's.
Mondo's outfit is by far the coolest in my humble opinion.
The Highest & Lowest Scores
Kenley, Mila and Kara are safe, so the highest and lowest scorers are all guys.
First comes Rami, who says he was inspired by menswear for women. Georgina says, "I like the trim on the shorts. I can see who your woman is." Isaac agrees: "Congratulations. It's not easy to make shorts." They love his tailoring, but hate the blue fedora he has styled her in. So much for the accessory wall.
Michael gets less positive feedback. You know when Georgina starts off by saying, "If my daughter ever walked out in New York in shorts that short," it's not a good start. They feel the shirt is sagging; the shorts are too short; it just didn't come together.
Jerell's shoulder piece gets a good review from Georgina. I'm just impressed that she can see past the rest. Isaac says, "She looks like someone that should be in 'The Lion King.'" The hockey dude says, "Lady Gaga and Gwen Stefani at Burning Man on acid."
Mondo gets a rave. Angela says, "I would die for this outfit! I love her hair. I love the whole look." Adds Isaac, "I love how bare and how covered she is." Their only complaint? She maybe looks too cool. Okay. (That's me shrugging again.)
Anthony's romper is beloved by the judges, but they feel he didn't live up to the challenge because he used too much Mood material. (Jerell was right about that!) Still, the hockey dude says, "I would do a double back at a woman if she walked past me wearing that!" I think he means "double take." Then, he nudges Isaac and asks, "Would you?" From the runway, Anthony shakes his head and chides, "Don't ask him that!" Has the hockey dude just had a minor stroke or did he really not know that Isaac Mizrahi is gay? We'll chalk it up to TV nerves.
Austin's punky outfit is also a success. Says Georgina, "I love the proportions." Says Isaac, "It's fabulous. It's divine."
The Outcome
The Winner: It's between Austin and Mondo and Mondo rightfully wins, but I'm almost too distracted by Austin's weird black church lady hat to notice.
Going Home: It's between Michael and Anthony and Michael has won the last two challenges, so it's obvious who is going home. Still, Michael is the one who ends up sobbing when they tell him he's safe.
Angela Lindvall shows more sympathy than I've practically ever seen from any "Project Runway" judge. Her voice almost breaks as she says, "Anthony, I'm sorry to say that you're out."
But Anthony seems just fine. It is sad though ... He was good TV.
"Project Runway" airs at 9 p.m. EST on Thursdays on Lifetime.