As our plane touched down in the Philippines, I peered out the window into a soup of pollution and humidity. Manila looked like the jungle was trying to overtake it. My buddy Shane and I were halfway through a yearlong odyssey, backpacking around the world, and travel karma had placed us in the tropical nation of 7,000 islands.
Our first day in Manila we wandered around looking for a basketball court, getting impossibly lost before finally finding a game. We were both hoop junkies so naturally we looked to play anywhere we traveled; balling at a park or university was a great way to stretch our legs after a long flight and make local friends who could show us around. Shane was a great player but I played more like a professional athlete -- unfortunately, a hockey goalie. Still, I usually could hold my own, but I was amazed how fiercely athletic our Filipino opponents were, stunned when the man I was guarding drove past me and soared to the rim for an effortless layup.
He was wearing flip flops.
Manila fit all of the stereotypes of a megalopolis in a developing Asian country: desperately poor, an impossible snake pit of traffic and so polluted that even the shoeshine boys wore ski masks. But the people couldn't have been more warm and well-dispositioned, including the ones who told us about another conspicuous American who lived in the country.
"Rodman. You should go find Rodman if you like basketball," our new Pinoy friend mentioned after an exhausting pick-up game at a makeshift rim that hung off a telephone pole in a local market. I thought he was talking about Dennis Rodman but he quickly clarified in broken English: "Dennis Rodman dad lives in Angeles. Owns a bar. They make good party and only two hour North from here. You should go see!"
I was a big fan of the Bulls teams with Jordan, Pippen, Kukoc and company that had won three titles a few years back so I thought it would be cool to take a day trip to go say hello. Shane and I went to the bus station the next morning and asked for a ticket to this place called Angeles - in search of Rodman's dad.
We squeezed in three to a seat on a sweltering converted school bus with sparkly diamond plating, Filipino flags, and colorful stickers plastered on every inch of the outside. I was jammed in between a mother breast-feeding her screaming baby and a farmer holding a cage with a live rooster in it. At least it was going to be a short ride, like our friends had promised.
Seven hours later we arrived in Angeles City, my shirt soaked in sweat and baby puke and my face blackened by diesel fumes. We found a cheap hotel with white tile floors and walls like an insane asylum where I changed my shirt, and we hit the streets to have a look around.
The dusky streets were packed with paunchy and pale older white guys, wearing socks and sandals and chain smoking, arm in arm with attractive Filipina ladies thirty years their junior. It seemed like there were hundreds of bars, all blasting horrible house music at deafening levels and advertising the coldest beer with chromatic neon signs. An endless harem of Filipina bar girls in bikinis gyrated to the music and pretended to not be nauseated by the tourists.
What the hell was this place all about? We went into the first watering hole and bellied up to the bar, ordering San Miguel drafts. I noticed a that a tattoo chair sat in the middle of the dance floor just in case a drunk patron wanted to make yet another permanent bad decision.
The bartender was a burly gringo wearing a Hells Angels leather vest. He told us that we were now in Balibago, the seediest nightlife district in Angeles City. Angeles had boomed from a dusty village into a playground for GIs on leave from nearby Clark Air Force Base, originally a stronghold in World War II for Allied planes to launch campaigns against the Japanese. Whenever the GIs had 48 hours leave they would rush to Angeles to drink, fight, and chase skirt. But in 1991 Mount Pinatubo erupted in a volcanic blast that did serious damage to the area and soon after the U.S. lowered its flag and vacated the base. With the GIs and their dollars gone virtually overnight the town went from a bustling bazaar of sin to a sad shell of its notorious infamy.
A few muscled-up U.S. military servicemen came in and sat down at the bar next to us and drank Jack Daniels neat. They volunteered that they were Marines, bouncing around all sorts of dangerous hot spots in the Pacific Theater, and just in town on weekend leave. The soldiers asked us what we were doing in Angeles.
"Oh nothing - just tourists," I replied.
They looked skeptical. Shane and I were athletically built, looked young, and I had a buzz cut.
"No really man, where are you guys stationed?"
I laughed. "I'm telling you, we're just traveling around on vacation and happen to be in Angeles."
No one "just happened" to be in Angeles. When we denied being in any military service they looked us up and down with newfound curiosity. How many confirmed kills did we have? How many pushups could I do in a row? We all fell silent for a few sips of whiskey before they inquired again, this time in hushed tones after looking over their shoulders.
"Jakarta? Are you guys doing a mission in Jakarta?"
"Seriously dude, we aren't in the service - just travelers backpacking around the world."
Yeah, right. They weren't buying it, and every time we denied the obvious they mentally promoted us to a higher rank in a more secretive unit of the military. As the night went on they came to the only viable conclusion: we were CIA agents. I had to chuckle. The CIA? Come on now, I didn't even pay my taxes probably couldn't get a library card. But they treated us with a new reverence and bought us tequila shots, damn near saluting before we slammed them down. I took the shot but declined the lime and salt; Special Ops soldiers like myself don't need training wheels.
We'd had about enough of that little brown sin city, so we excused ourselves from the bar and strolled towards our hotel, talking about taking a bus back to Manila the next day. We stopped at a local vendor who was fanning hot coals furiously, selling whole roasted chickens and rice for only $2. As we chowed down I happened to look across the street and noticed a middle-aged tall black gentleman sauntering past us with a Filipina woman on each arm. He was wearing a Chicago Bull's jersey with number 91 on it --Rodman. He had to be the tallest guy in all of the Philippines and was the spitting image of Dennis himself. I hollered over good-naturedly that the Knicks were gonna win it all that year, and he looked back and smiled. That's how we got to meet Philander Rodman, Dennis Rodman's biological dad.
He slapped me on the back like we were old friends, almost knocking me over.
"Well hey -- Americans! Its good to see you guys! Come on to my place a couple of blocks down and I'll show you around."
He introduced us to his girlfriend, Rosie, and his other girlfriend, Gladys, as we all walked back to his bar. Interesting.
We were the only customers inside the Full House, and the gals ran around bringing us cold beers and plates of adobo and pancit as we sat with Philander and chatted.
Philander certainly had no problem advertising his paternal link to Dennis; his entire bar was a kitsch shrine: badly printed calendars, t-shirts, and baseball hats proclaiming "Dennis Rodman's Dad" He wasted no time bringing up his son and jumping into their (lack of a) relationship. He offered no apologies or explanations for their estrangement.
"Yeah D and I haven't talked in a long long time -- since he was a kid and I left the states. I had a bunch of kids -- he's got a lot of brothers and sisters."
"Really - you have a big family?" I asked.
"Yeah I have 29 kids -- count 'em, 29."
I choked on my beer and some came through my nose.
"I'm sorry Philander, I thought you just said 29."
"I did! 29 kids! Poppa was a rolling stone!" he said in a folksy way, like he was describing how many fish he caught on a Sunday morning.
"I keep in touch with most of them and help a lot of them out. Or, at least some of them."
He was definitely an interesting cat. Just when I wanted to condemn him as a typical dead-beat dad and ...well, a philanderer, he showed me a flyer for an upcoming barbecue he was hosting at his bar. The proceeds were all going to help out local orphans. In fact he revealed that some of his children had been adopted in the Philippines, and the calendars he was selling were raising money for medical care for poor local kids. He seemed to be a legend in the Philippines, as everyone who passed on the street poked their head in and waved and wished him well.
"When Dennis won those championships and told reporters he had hadn't seen his father in forever a few of the talk shows contacted me and wanted to pay me to be on TV. But I didn't want to do it."
But his reasons definitely weren't for respect for his privacy or because he didn't want to make a buck.
"I'm planning to write a book about our relationship and sell a million copies!"
It was growing late, which means they were just warming up in Angeles, but Shane and I were beat from a long day and told him we were heading back to our hotel.
He gave us bear hugs and thanked us for hanging out, even though he was the one who bought all the beers and food. We asked where we could get a bus out of town the next day and he insisted on taking us to the station himself.
Sure enough the next morning he showed up at our hotel in a white passenger van with the name of his bar, the Full House, stenciled on the side. Rosie and Gladys got out and wished us "mabuhay" in Tagalog, a toast to long life.
"Hey fellas! Here, let me help you with your bags," Philander offered with a big smile.
Maybe I had been too quick to judge him - maybe he was deep down a really good guy? He grabbed my bulging sixty-pound backpack and dumped in on top of Rosie, almost crushing all 4 foot 10 of her before she steadied herself, and then thrust Shane's oversized duffel bag at Gladys. The little Filipina women didn't protest but heaved and grunted as they loaded our things in the van.
What a guy.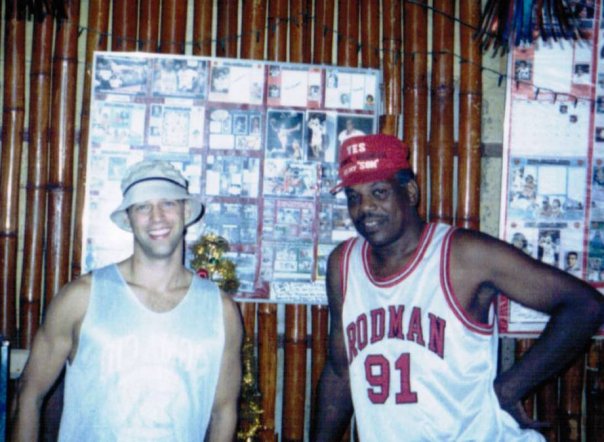 To read more about Norm Schriever's wild adventures around the world, go to www.NormSchriever.com.