This post was written by Nourish International student interns from Penn State University and Duke University, currently working with Community Concerns Uganda, a non-profit organization in Uganda.
Our first full week of work with CCUg was a huge success! Through leading GSP meetings and visiting schools to teach about reproductive health, basic hygiene, drug/alcohol abuse and life skills we can already feel the impact we are making within this community. We are welcomed with open arms to each GSP meeting we lead and greeted with bright smiles at the schools we visit. The support we feel from the men, women, and children we have met so far is more than we could have wished for.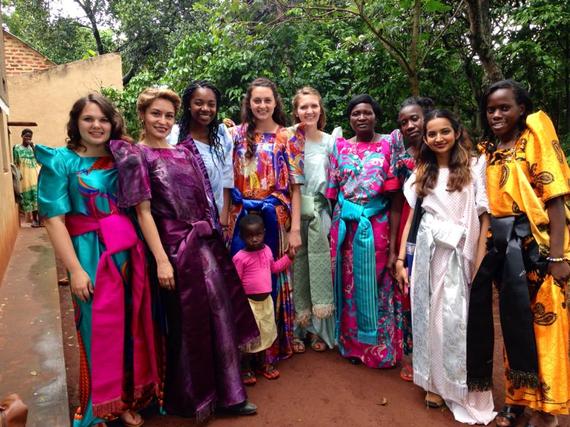 Ashley and Vanessa led GSP meetings this week by creating templates for the women in each village to base their daily record books off of. Our hope is that through learning to write down and organize their spending and profits within their businesses the women will be able to better manage their money. They also taught about budgeting and how to create a manageable inventory list. We have made it mandatory that each GSP member obtains a record book by next week. The women seem to be excited about these new steps toward success in their businesses.
We visited two schools this week! For as silly and distracted as all kids are, the students we talked to were also eager to learn and asked valuable questions towards the end. The first school we visited was Jinja Preparatory Primary School. Our nerves were immediately calmed and taken over by excitement as they greeted us through song and cheers. Later that week we visited Bunya Senior School. Though it was a little more intimidating because each of us had to take on our own group of students, we still managed to overcome our doubts while bonding with and teaching older students. We had so much fun while providing potentially life-saving information to the students. Anika focused on HIV/AIDS awareness and prevention, Christina talked about puberty and adolescence, Leanna focused on basic hygiene (hand-washing, dental hygiene, nutrition), Ashley spoke about self-esteem, Vanessa talked about alcohol and drug abuse, and lastly Madison focused on basic life skills. Most importantly, we made the value of education very clear to the students we spoke to.
Lauren Trinh, Nicole Trinh, and their mom, Carol, have just joined our journey. They are staying at a home not too far away with a loving woman named Sarah. We know that they will be a great addition to our team and can't wait to show them around our new home. We love giving back to this BEAUTIFUL country. Thank you for all of your support at home! See you soon (but not too soon), America!