This post was written by Nourish International student interns from Penn State University and Duke University, currently working with Community Concerns Uganda, a non-profit organization in Uganda.
Happiness is a universal emotion that can be felt by all and reach across every boundary. This week, which marks the halfway point of our time here, has been full of happiness. We were all excited to begin our first full week with all of the interns. It was such a joy welcoming Lauren, Nicole, and their mother Carol to Uganda and to finally work with them. After a productive and rewarding office day, we traveled to Nakalanga on Tuesday to work with the Group Savings Program women and to see the pit latrines. Two weeks and thirty feet later, the digging of the pit latrines is finished, and after constructing a wall, they will be ready for business. We continue to see progress in the savings and success in the businesses the women in Nakalanga have. It is truly relishing knowing that we are apart of such a program that is bettering the lives of these women. Tuesday also marked Martyrs Day. Hundreds of people walked from all over Uganda, Kenya, Rwanda, and other surrounding places to Kampala in order to celebrate those who have fallen. Seeing the amount of people making the trek from their respective homes was truly beautiful. Ugandan unity is something that can be seen in many different ways. We have seen it among the villagers, among the school children, and now in this commemorative day.
We were also fortunate enough to be able to attend two schools to conduct presentations on health education. The first school we went to was Good Heart Academy, a secondary school (high school in U.S. terminology). Since these students were older many were well informed and inquired about some tough, but good topics. A few students even asked for one on one time in order to discuss personal questions and receive counseling. The second school we attended was St. Patricks primary school, an elementary and middle school mix. We could see how well connected the professors and the principles were to their students. The caring and disciplinary environment that the teachers provided, further enhanced the academic success of the students. As we attend more schools every week we are able to better understand the students more and improve our teaching and presentations to better fit their accustoms. This helps us to ensure we leave these students with the most helpful and accurate information that each students can implement into their daily lives.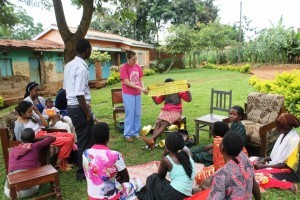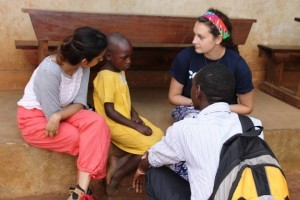 This week we also had the opportunity of replanting some of the passion fruit in the garden and crafting with some of the GSP women. To physically help these women is a great pleasure all of us were able to share. Another highlight of this week was dancing with the women of Wairaka. This GSP location is always lively and happy. The women clapped their hands and sang as some of us took our turn at the traditional dance. Moments like these show that people can truly be happy in any situation and do not have to let their environment steal their joy. Uganda encompasses true happiness.