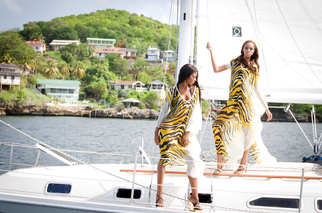 Gillian Harding Kaftans - Photos courtesy Gillian Harding
It is time to be vivacious and regal again as you travel and descend upon your favorite vacations spots -- to lounge seaside with only a single thought, "Heaven." However, before you can get to Heaven there is always the looming question beforehand, "What to wear?" The mysterious kaftan of course! What is the allure? Exotic, sensual and a definite must have! If you are fashionably minded, then the effortlessness of a kaftan is the confidence and beauty every woman needs in paradise.
Now that you know what to wear, let's take a peek at several must know designers whose creations are as timeless as the kaftan itself.
Some designers recognize that Kaftans are an art of the Haute Couture kind while remaining faithful to the roots of the garment. They give painstaking attention to detail in order to achieve a high degree of beauty and luxury that is evident in each dress. These designers include: Oscar De La Renta, Brienne DeBeau and Gianfranco Ferre.
L to R: Kaftans by Oscar De La Renta, Brienne De Beau,
Gianfranco Ferre - Photos: AP Press
Gillian Harding creates exquisite kaftans that are very much about an inspiring lifestyle, as they represent every woman's desire to feel regal and exquisite. Gillian's designs offer bold hues in sumptuously rich fabrics -- all of which speak to her background as an artist as well as her passion for the Caribbean, especially her native Trinidad & Tobago, the unforgettable island of Barbados and the very seductive island of Mustique.
Photos courtesy Gillian Harding
Naeem Khan, offers an array of opulent silhouettes that has garnered him a following among the glitterati. Committed to creating the finest dresses possible, his aesthetic embodies decadent styling that is matched equally by his skill as a designer.
Photos courtesy Naeem Khan
While the Kaftan has humble origins, its status as an accessible garment is long lived without the fuss that every day wear can fall into. The elegant yet simple kaftan is an excellent choice and works seamlessly into every occasion with ease, without you having to wonder whether or not you made the right choice. Therefore, trade in the threat of a harsh winter for sandy beaches in the Caribbean and beyond -- and do not leave home without your worldly angelic sheer dresses.
By Nova Lorraine | Founder and Editor in Chief of Raine Magazine | www.rainemagazine.com