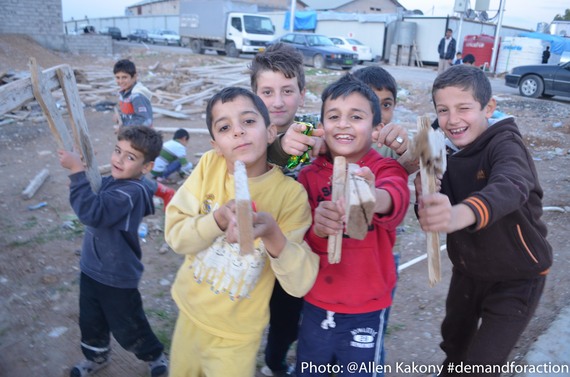 Assyrian refugee children in Iraq pretending to protect themselves from terrorists
The other day I was babysitting. The girls, five and three years old, and I were setting up Christmas ornaments, eating gingerbread and lussebullar -- a traditional Swedish saffron bread, and drinking Christmas root beer. We also did some talking, we talked about children who aren't fortunate enough to have food. We talked about children in Iraq, who don't have blankets to keep warm during cold nights and we talked about children who aren't able to go to pre-school or school because they are refugees, away from home.
"What toys do they play with?", asked one of my nieces. I answered that when you can't afford or don't have access to toys, you still can play, you can actually create your own toys. You can make balls out of yarn. You can make dolls out of a piece of rag. You can use empty cans -- imagination really has no limits and children are quite inventive.
While we sat there and were ornamenting, I received a text message: "A hundred and fifty women, many of pregnant, have been executed because they refused to marry jihadists". One of my nieces took notice that something was wrong. While she decorated a heart out of clay which we had bought in the toy store, she asked:
"Ammo (uncle), has something happened? What did your text message say?" I was stunned, I didn't really think before I answered: "Children have been killed", I said. I was referring to the unborn fetuses. "Who killed them?" she quickly asked. "Evil humans", I answered. "What are evil humans? Is it like in The Little Mermaid, Ursula she is evil, isn't she?" She quickly fell into despair, the fact that children had been killed had sunk into her. She cried. "We have to do something, you always say that we have to do something. Can we gather money to protect them?"
Prior to the last Christmas she gathered 3200 kroner from family and friends to send to the children of Syria. For that amount of money I bought shoes for the refugee children residing in Turkey. Now she believes collecting money is the solution for all things.
When my nieces had left I called a friend in Iraq to confirm. Yes, over a hundred and fifty women, many of them pregnant after have being raped, had been executed because they refused to marry islamists.
This had happened the day after hundreds of children were brutally butchered in a school massacre in Pakistan. We have seen these pictures of this unimaginable attack. Pictures that remind me of the slaughtering of the children in a church in Baghdad during the winter of 2010. Children who were mutilated, blown into pieces, children, children, children... I come to find myself in deep despair and furious from an incredible amount of anger.
2014 will go down in history, as the year when children were sold as as sex slaves on the markets while we were watching. The year when thousands of children had been kidnapped and abducted from their families. Children who were forced to marry and become sex slaves pleasing disgusting older men. Or brainwashed into killing other children.
How can we allow this? How are we supposed to explain to the children brought up in the west why children in other parts of the world aren't granted even the tiniest of safety?
Over three million human beings are on the run in Syria and Iraq because of the terror organization IS, the vast majority children. Children who are being tattered and torn. On the 10th of June this year I started a grass-root organization called A Demand For Action, now active in nineteen countries worldwide. Several of our members have collapsed emotionally, all for the same reason: having seen pictures of children raped and butchered, having been forced to realize that this is really happening. In our world. Today. In 2014.
But still, Merry Christmas.