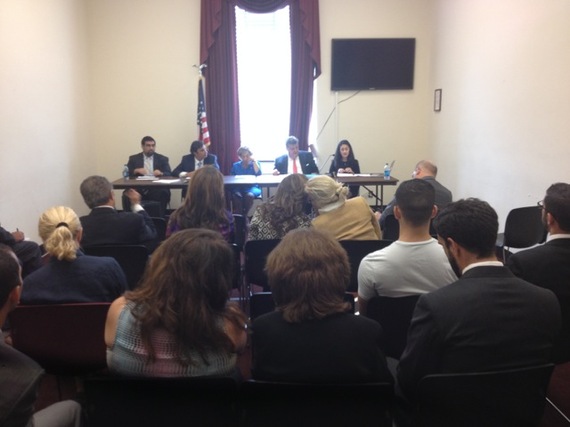 We are in the White House. The others get blue badges. I get a red one. They are Americans. I'm Swedish. They go in. I have to wait for an escort, standard procedure where someone has to walk me up to see President Obama's staff. It's an informal meeting and I'm invited not as a journalist but as the founder of the grassroots movement A Demand For Action that now operates in 19 countries. Hundred of thousands have echoed our demands for action against the Islamic State: to put an end to its genocide against minorities and anyone who refuses to submit to its ideology of violence and terror.
We have an hour to discuss the fate of hundreds of thousands of IDPs (internal displaced people) in Iraq: Assyrians, who also include Syriacs and Chaldeans, Yazidis, Turkomen and other minorities that are all facing genocide.
Minutes before the meeting at the White House, A Demand For Action holds a press conference, read more about it here. And read my speech here.
I'm still waiting to be able to go in and meet the president's staff. Ten minutes pass: fifty left. My heart starts to jump. I ask the security guard to please call someone -- they have to bring me to the meeting. He can't find the people that should fetch me. And he cannot allow me to enter without an escort.
Fourteen minutes. I beg the guard. I have promised to give a voice to the so far silent victims of this genocide; I have said that if we must go to the White House we shall. Two months ago I recruited Steve Oshana. I cursed and shouted at him that his nation is being slaughtered and that he had to come back to lobbying: that women and children living on the streets need him. He left politics for the restaurant business a couple of years ago, but has now returned. My cursing and shouting were well worth it. We are in the White House.
Sixteen minutes. I panic. I will not be able to stay true to my word. The doors opens. "Are you Mr. Nuri Kino?" We go in: endless halls, long, too long. And I need to go to the toilet. I tell my body I don't have time, but it's urgent. I lose a couple of minutes there too.
While people are getting slaughtered and I came to make a difference! I have forgotten to turn off my cell phone and a text messages arrives. Must be Steve telling me to hurry. "Please, buy an iPhone 6 before you leave the U.S.," my middle brother has written. Bizarre.
At last, I enter the room where the meeting is: a round table with ten persons around it. Steve seems relieved. I'm in. They have not started yet, turns out that a couple of the other attendees are also late.
We are asked to present ourselves. "My name is Nuri Kino and I'm a Swedish journalist ..." Someone is interrupting me. This is an informal meeting and I was not invited as a journalist. I damn myself. I am no longer the international leader of A Demand For Action -- which is why I'm in D.C., not because of my skills as a journalist, at least not just those skills. My writings and TV and radio reporting have of course helped us to get appointments at the White House and with other governments.
Last week, Steve Oshana and ADFA, along with signers of the Detroit and San Diego Chaldean community, had submitted a 3-point proposal to the National Security Council which we went to discuss that included humanitarian aid, Safe Haven, and a request to raise the visa ceiling to allow for more refugees to come to the United States. We had requested this meeting to begin discussing the details of what such a plan would encompass and how exactly to implement a Safe Haven effectively.
One of the members of the delegation has made a list: 70,000 people who have registered themselves in Erbil in Iraqi Kurdistan and, according to the man who made the list, they want to get out of the country. The matter becomes repetitive, I interrupt, raise my voice -- former radio reporter that I am -- and say that this is nothing but a romantic and desperate act. He says that four countries will, that they have said that they will take in thousands. I object. No country in the world will take in 70,000 refugees. This contradicts immigration laws in Sweden, Canada, France, and Australia. I have 15 years of experience of covering immigration. Let's say that 20,000 will be allowed, for example, by UNCHR and will be resettled to European countries and North America -- what will happen to the rest of the 380,000 that live on the street now?
Two hours after our meeting at the White House we hear the President, in his address to the world, use the language we had submitted in our request and almost identical to the very words we spoke earlier that afternoon "We cannot allow these communities to be driven from their ancient homelands" We are of course very excited and happy that we have contributed to the plan to push the IS out of the Nineveh plains and "eradicate this cancer".
But we are not there yet, we will not give up until every single one of our people are safe.
We are now working towards a more comprehensive hearing in Congress to present our demands. Stay tuned.