By Christina Knight for NYC-ARTS.
On March 19, the 10th anniversary of the U.S. invasion of Iraq, a young Arab-American composer was wrestling a problem of his own making in Kansas -- how to record two wind ensembles simultaneously playing "One Nation Under Two Flags." The cacophonous movement represents the clash of American states, red and blue, in Mohammed Fairouz's "In the Shadow of No Towers," his fourth symphony. Inspired by Art Spiegelman's graphic novel of the same name, the piece gives sound to the charged aftermath of 9/11.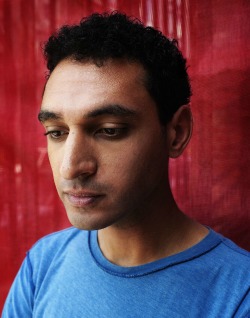 The world premiere at New York City's Carnegie Hall on March 26 will be performed by the University of Kansas Wind Ensemble and benefit the 9/11 Memorial and Museum. But as Fairouz, a New Yorker, explained a week prior from Lawrence, Kan., "I never set out to write a piece memorializing the victims. What it's about is how we reacted in a longer term sense, and the political ramifications of the last 10 years." The work, his first for a wind ensemble, was commissioned by Reach Out Kansas.
Fairouz's creative partners are an interesting pair: the Pulitzer Prize-winning cartoonist Art Spiegelman, who lives in SoHo, and an esteemed, 125-year-old wind ensemble from the heart of "red state" country. Fairouz, 27, is already a prolific composer who has written for the Borromeo String Quartet, The Imani Winds, violinist Rachel Barton Pine and clarinetist David Krakauer, among others. He often sets work to poetry ("there's too much poetry almost always running fire through my veins," he says), which like world events, fuels much of his music. He has addressed the Egyptian uprising in the "Tahrir" concerto, civilian massacres in "For Syria," and the post 9/11 reality in a piano sonata, "The Last Resistance," that includes a section, "Freud Goes to Abu Ghraib."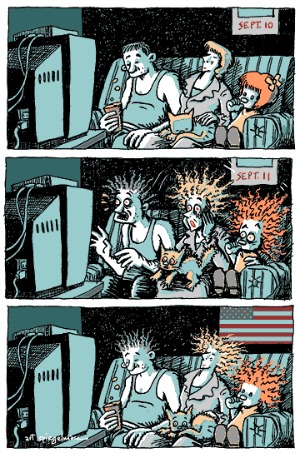 "In the Shadow of No Towers" is based on specific images from Spiegelman's comic book that he drew between September 11, 2001, and 2003, reflecting both his post-9/11 personal trauma and his disgust with the Bush administration's actions.
For Fairouz, writing music comes as naturally to him "as a fish swimming in water," but he said conveying narrative was difficult, even when following a book as a guide. "There's a wrong notion in music that it can only be either deep and searing, but inaccessible, or accessible, but light and fluffy and fun. The challenge is to write a piece that is deep and searing and lucid to people who might not be specialists in music."
The first movement, "The New Normal," depicts a family watching television on the days surrounding September 11. "There are unmistakable things that happen musically," Fairouz explained. "The first section of slumber, the second of shock (there are two distinct moments of collision for each deadly plane crash), and then there is a return to the slumber but not everything is right, something has changed, and that is the solo trumpet."
Rarely inspired by visual art, Fairouz admitted, "It was surprising for me after crafting the first movement that I crafted it [based] on panels that had no text. I felt the gestures and heard the music in the image, which I translated into a score."
The work's second movement, "Notes of a Heartbroken Narcissist," echoes Ground Zero with piano, harp and percussion. Percussionists scrape the cymbals with coins "to get the sound of metal scraping metal, digging in the aftermath, digging in the rubble. It's an eerie, introspective sound. Bells resemble the sounds of bells of Trinity Church on Wall Street," said Fairouz.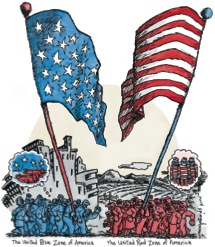 In the contrapuntally complex third movement, "One Nation Under Two Flags," notes representing the red states "bring back the sound of bells, but in a jingoistic, loud sense," Fairouz described. "There's a religious fervor." The aural clash of the 80-member ensemble divided into two sections represents "the polarization of the country, the division of the states and ideologies, urban versus rural," said Fairouz. He wrote this section as if for two different ensembles, with one score on the left of his piano and one on the right - "I guess there's a joke in here somewhere," he mused.
He did joke with the ensemble director Paul Popiel that he'd like two conductors to take the podium for this movement. "Perhaps Rachel Maddow conducting the Blue Zone and Bill O'Reilly the Red Zone." But the score is constructed so one conductor can handle the metering simultaneously. "It's a real workout. With wind ensembles, you can sort of go nuts and be the crazy composer and ask for whatever you want because they'll give you rehearsal time," explained Fairouz.
While telling the emotionally complex story of a troubled country, Fairouz never abandoned form for content. "Music is architecture in motion and that resounds for this piece, not only because of Art's and my obsession with structure but because of Yamasaki's structure of the World Trade Center, it's a piece about structure inspired by another structure...it's a piece about animations frozen in time."
The choice of composing for wind ensemble is itself critical commentary. "The wind band is uniquely American. Marching band music was written for that medium, its music designed for propaganda, like Souza's," said Fairouz. "There's a lot of political baggage in the wind ensemble that can help a modern composer comment on that patriotic turf."
A wind instrument uses the breath of life to create music, which along with the youth of this particular ensemble, is significant to Fairouz. Given that so much of the music written for wind ensemble is occasional music, such as for a graduation or wedding, Fairouz enthused, "They [the KU Wind Ensemble] now have a piece that is about something, and at Carnegie Hall. It's a medium that is starved for this. They're so hungry and they attack it so well."
The University of Kansas as a rich website documenting the creation of "In the Shadow of No Towers." The performance of the University of Kansas Wind Ensemble will open with Philip Glass' "Concerto for Two Timpanists and Orchestra."