A naked woman escorts ticket-holders in a van to an unknown destination, a soundtrack splices horror film with punk rock, and shadowy figures grab, gently guide and then abandon participants between bouts of hurtling themselves at each other. These are hallmarks of The Shining, a gritty dance installation by choreographer Yvonne Meier. First performed in 1993 at Performance Space 122 and remounted in 1995 at P.S. 1 Contemporary Art Center, Meier revived this legendary monster of a piece in 2011 thanks to an American Masterpieces grant from the National Endowment for the Arts.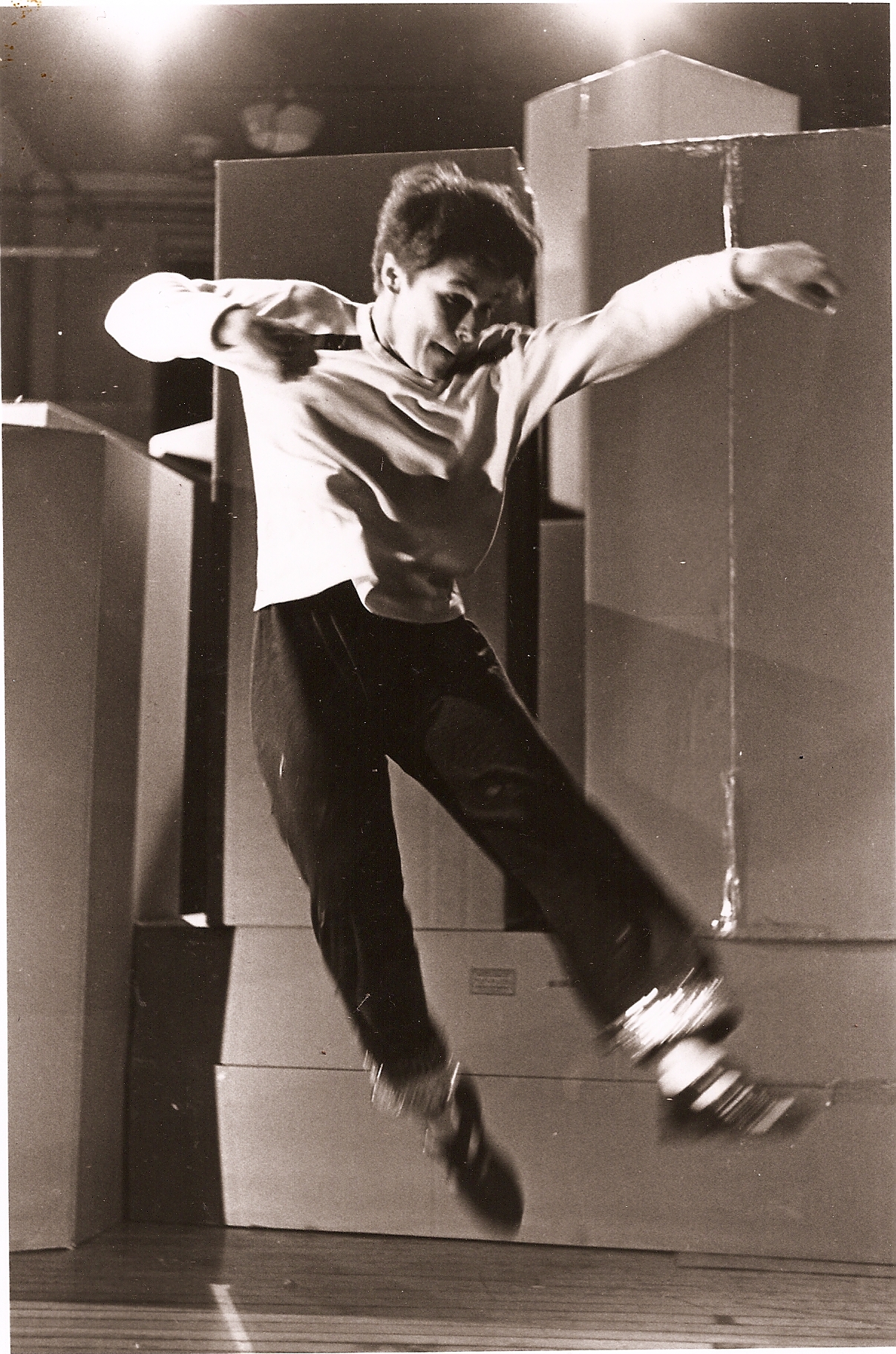 Yvonne Meier in "The Shining" in 1993. Photo by Donna Ann McAdams
.
Swiss-born Meier is a nimble fixture at St. Mark's Church and Judson Memorial Church -- staid, homey performance venues that incongruously host the most experimental dance in New York. Famous within that world for her physical improvisation skills and absurd use of props, Meier has worked in New York since 1979 and in more recent dances, has given instruction over cell phone to performers encased in black garbage bags, and from a balcony, dropped yards upon yards of fabric onto a dancer until she resembled a creature not unlike Mr. Potato Head.
"Yvonne is singular in her approach to making work and she has the kind of magnetism that attracts other artists who are also good improvisers and willing to explore edges of possibility," said Carla Peterson, artistic director of New York Live Arts, which is presenting The Shining Dec.11-22 after first doing so through the American Masterpieces funding in December 2011.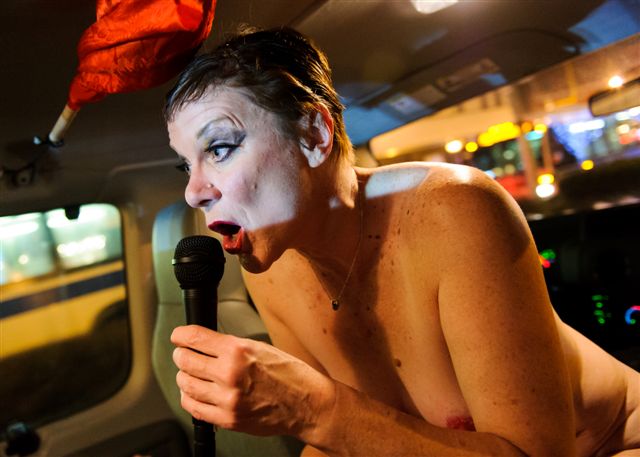 The Naked Lady. Photo by Ian Douglas, courtesy of New York Live Arts
Meier's body of work draws audiences who are keen on witnessing the unexpected and watching creation in the moment as dancers make choices based on a prop's possibilities and in relation to those moving around them, who are also making decisions in real time.
The last thing The Shining is about, however, is spotlighting the intricacies of a performer's subtle choices. Instead, one's own reactions, impulses and feelings of solidarity with other audience members become central. In a work fueled by the idea of fear, Meier thrusts a dozen participants into a warehouse-like space where nine stealthy performers generate chaos within mazes and structures built out of 350 refrigerator boxes. Nothing is easy to observe in the near pitch-black space, except when visibility is ripped open by the zigzags of flashlights.
Video Excerpt of The Shining
Yvonne Meier: "The Shining" (excerpts) from Ben Pryor on Vimeo.
The work's title references the Stanley Kubrick film starring Jack Nicholson, but The Shining is not an adaptation. "I'm playing with 'tickling fear,' like watching a thriller," said Meier. "I'm trying to find good fears and bad fears and mix it all up." How much fear you experience might be predicted by your comfort with darkness and how you respond to being touched by others (always firmly, but not forcefully) and orders to move or stay still. "The piece is really up to you and what you see," said Meier. "It leaves lots of stuff open that you can interpret by yourself. On a gut level, people will understand it."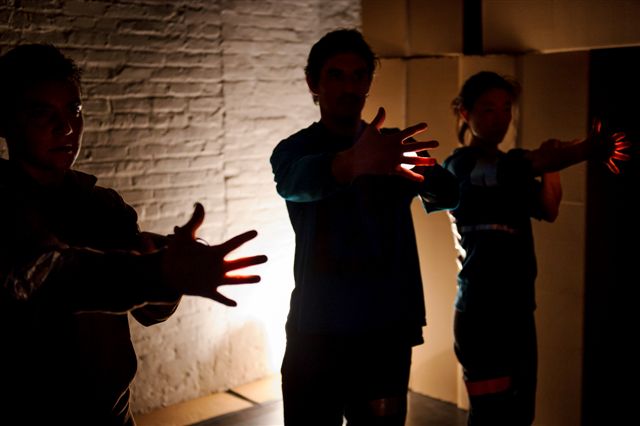 Hands, "The Shining." Photo by Ian Douglas, courtesy of New York Live Arts
Though the piece may seem spontaneous, the performers have carefully rehearsed Meier's athletic choreography, which bursts into dim pools of light, rough and full of attack, though the fights scenes are actually too well-matched to come across as abusive or malicious. The energy instead comes across as primal, and the urgency believable. One can often feel one's hair being blown by the speed and proximity of a dancer's swinging leg or arm, but before the action really lets loose, participants have obediently pressed their backs up against a wall, or followed orders to hunker down in a protective box.
To gain orientation in this realm of compromised vision, the sounds of battle cries, grunts, rustles and the crash of boxes become clues as to what is happening. For a work so hard to "see," The Shining has the distinction of being the only dance to have won two Bessie awards, New York dance world's equivalent of the Tony Awards. Its first honor was for best performance in 1993 and the second was for its revival in 2011, edging out Merce Cunningham's Roratorio and John Jasperse's Fort Blossom in that category. Despite its acclaim, few people have seen The Shining since its elaborate staging and premise can only accommodate 12 people per performance.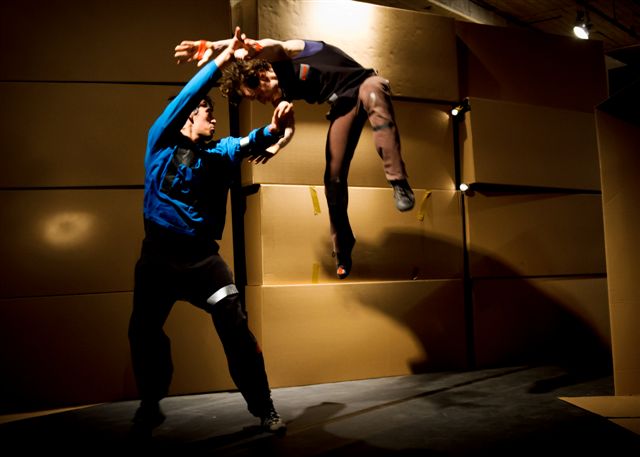 Osmani Tellez and Arturo Vidich, "The Shining." Photo by Ian Douglas, courtesy of New York Live Arts
This dance of audience manipulation begins well before attendees realize it. In the lobby of New York Live Arts, Annie Iobst, part of the duo DANCENOISE and reprising her role as "the naked lady," arrives in the buff to lull the group into relaxed amusement. After a serenade of Tonight from West Side Story, she corrals everyone into a van outside where seating is a tight fit. "The naked lady" introduces the group to her sidekick, "Nurse Baby Asparagus K-Starr," an effeminate male character in a grey wig, and proceeds to spend the 25-minute journey sharing breathy confessions, songs, and other diversions.
Once at the undisclosed location, the group is ushered through an unmarked doorway and into a narrow stairwell. "The naked lady" gets down to business, ordering people to drop their belongings and jackets into a container and to line themselves up, backs against the wall. After dramatic deliberation, she selected people one by one and gave them personal instruction. She assigned each person a number and urged him or her to scream it as loudly as they could when she pushed them through a metal door, behind which occasional shouts and music could be heard. Passing through the door ends part one of the performance and the next begins without guidance.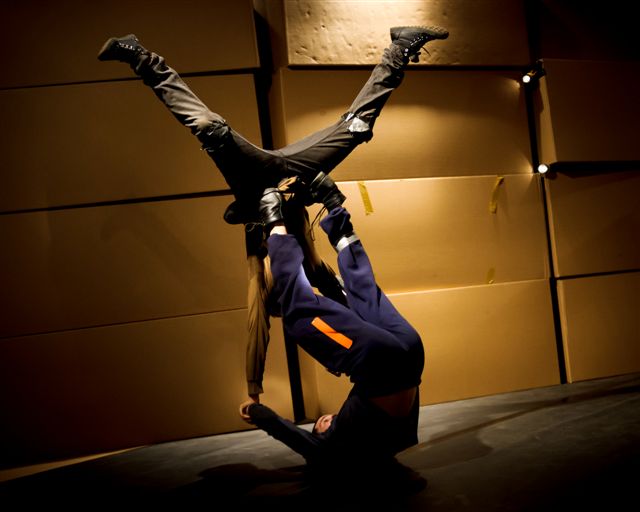 Arturo Vidich and Jeremy Pheiffer, "The Shining." Photo by Ian Douglas, courtesy of New York Live Arts
The disorientation is immediate upon entering the dark space, then someone grabs your hand and hurries you through a maze that requires crouching while you move at a jog. When feeling lost inside the dark space or banished to a side room, participants turned to each other, laughed with each other in response to fright, and huddled uncomfortably close to one another against a wall when ordered to.
Just as the beginning of The Shining isn't obvious, neither is marking when the experience comes to an end. All goes quiet and the lights come up, but it's easy to distrust this usual sign that a performance is over, given everything else that's happened. People might just find their veins coursing with adrenaline, ready for fight or flight, long after leaving "The Shining."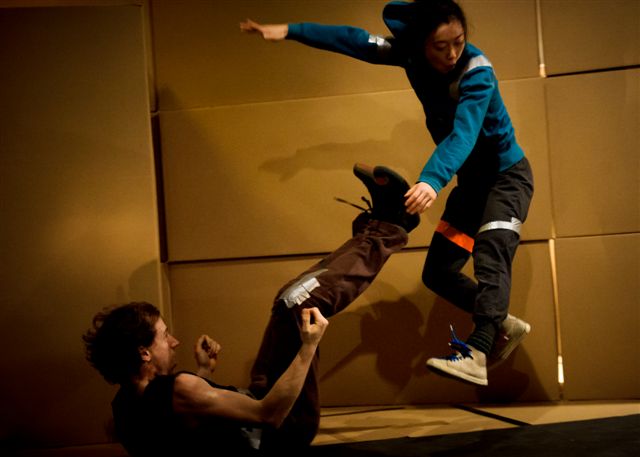 Arturo Vidich and Aki Sasamoto, "The Shining." Photo by Ian Douglas, courtesy of New York Live Arts
Yvonne Meier's "The Shining" at New York Live Arts, Dec. 11-22 at 8 and 9:30 p.m. On Dec. 18 at 6 p.m. The public is invited to the symposium, Exceptional behavior in East Village Dance: Spotlight on Yvonne Meier's "The Shining,"with Doran George, Carla Peterson, Amy Smith and Jennifer Monson.